Riding the North Coast 500
Ever wanted to ride the North Coast 500? Canyon Ambassador Liam Yates shares his experience.
As winter finally came to an end and travel restrictions began to lapse, I started chatting to friends about getting away for a while. Flying overseas was still out of the question, so we dug out the maps of mainland UK for inspiration.
The North Coast 500 is a route of 500 miles around the coast of Scotland. Punctuated along the route are some of Scotland's most picturesque towns and villages including the Highlands, Sutherland and Inverness Shire. I'd never given it much thought before but as friends and acquaintances completed their own NC500 rides, it piqued my interest.
North Coast 500 key stats
Start/Finish: Inverness Castle
Distance: 500 miles/800 kilometres
Total elevation: approximately 30,000 ft/9,000 metres
The route begins and ends at Inverness Castle which is perched on top of a hill. It is the perfect starting point to the route and offers panoramic views over the capital city of the Highlands. It's a road cycling route and I chose my Canyon Ultimate as company for the duration.
Not wanting to miss out, my friends Lawrence, Ollie and Gabe joined me and so we hatched a plan. We caught the train from London's King's Cross all the way to Inverness where we'd start our adventure. A group train fare meant it was affordable and convenient.
Lawrence is a successful YouTuber, so we left the photos and videos to him, while the rest of us focused on riding our bikes. His photos also make the perfect souvenir at the end of a great adventure.
Just before we left, my other friend and photographer Alex Duffill got in touch to say he didn't want to miss out either. He opted for a nice warm car as his mode of transport but as you'll find out, this worked in our favour. After a quick whip round the supermarket next door to our hotel to stock up on snacks, we rolled out of Inverness with Alex not far behind.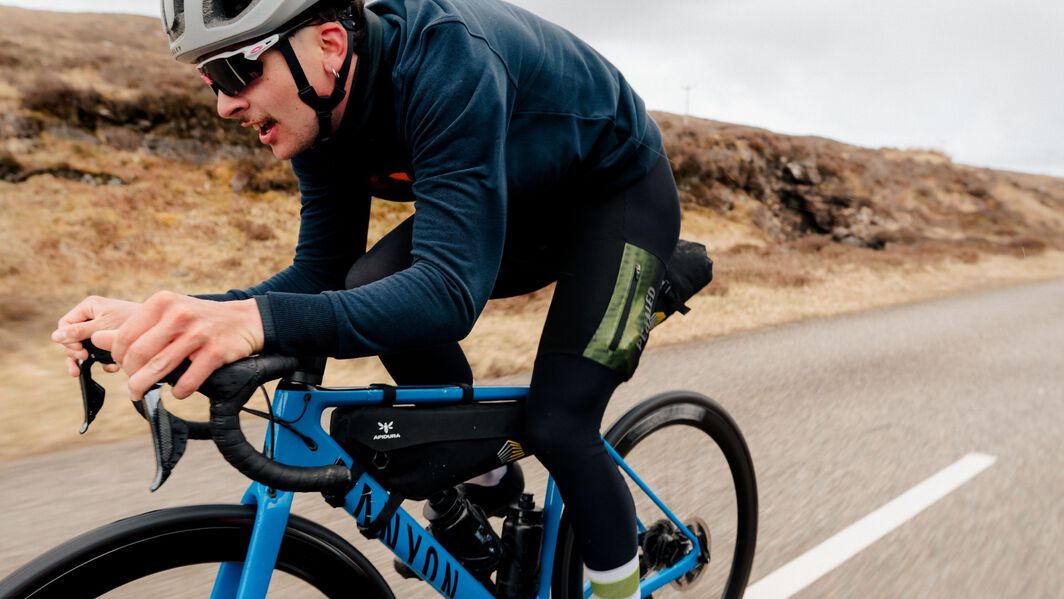 North Coast 500: Day 1
We didn't want to start off too hard, so we planned to do the shortest distance and least amount of climbing just to warm up. Our hostel for the first night didn't allow check-in until 5pm at the earliest, so we had all day to get there. In practice, this was more difficult than I thought: three friends, riding bikes, full of excitement and fresh legs!
Scotland's sparsely populated geography meant our daily riding distances were largely dictated by where we could stay that night. While this could be inconvenient to some, it actually helped plan our days knowing we had to stop at certain points.
Having reached the hostel, we dismounted our bikes, unstrapped our bike bags and ran inside to dodge the rain that threatened on the horizon. We sat down for dinner, reminisced about the day so far but equally shared our excitement for the days ahead.
North Coast 500: Day 2
The second day of the North Coast 500 brought with it a level of trepidation: the famous Bealach na Ba climb on the Applecross peninsula. It's Scotland's third highest pass and since it starts at 2,000ft (600 metres) above sea level, it has the greatest ascent of any road in the UK. It's a beast of a climb and anyone who's done it will tell you the same. As we crested Bealach na Ba, the sweeping views and surrounding mountains took our breath away (it wasn't just the cruel gradients, I promise!).
Unfortunately for us, the remainder of the day brought with it a headwind but the roads that led us to our next port of call, Gairloch, muted the gales. As soon as we arrived there, we booked a hotel right on the beach. The onsite restaurant meant we didn't have to move for the rest of the day!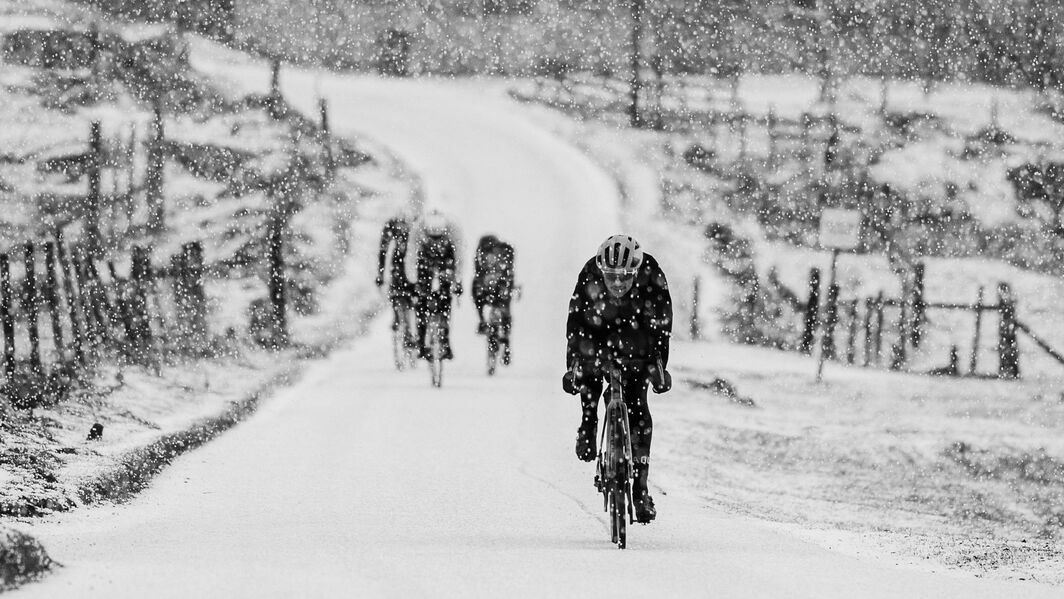 North Coast 500: Day 3
An early morning alarm was mitigated by blue skies and ocean views. We quickly gathered our belongings and prepared to leave under the cool but bright rays of the beating sun. Distance and elevation were similar to that of day two but we had one huge climb to tackle. After just 10 km of riding we entered Poolewe where the Bridge Cafe provided a mouth-watering menu that we just couldn't resist.
After filling our bellies, we satisfied the hunger of our eyes with the beautiful views on the many winding roads in front of us. There was a glistening coastline, snow covered mountains and ribbons of tarmac for as far as we could see. Just when we didn't think Scotland could get any better, the day's tough climb was rewarded by even more panoramic views.
What goes up, must come down and the sweeping descents were a real treat. We headed for Ullapool where we refuelled with quality food and sat out a brief hailstorm. You can't miss this harbour town if you decide to ride the North Coast 500!
Our accommodation for tonight was booked in Lochinver some 50 km away from where we were. The route between was once again a sight to behold and took a lot longer than it needed to because of all the photos we stopped to take!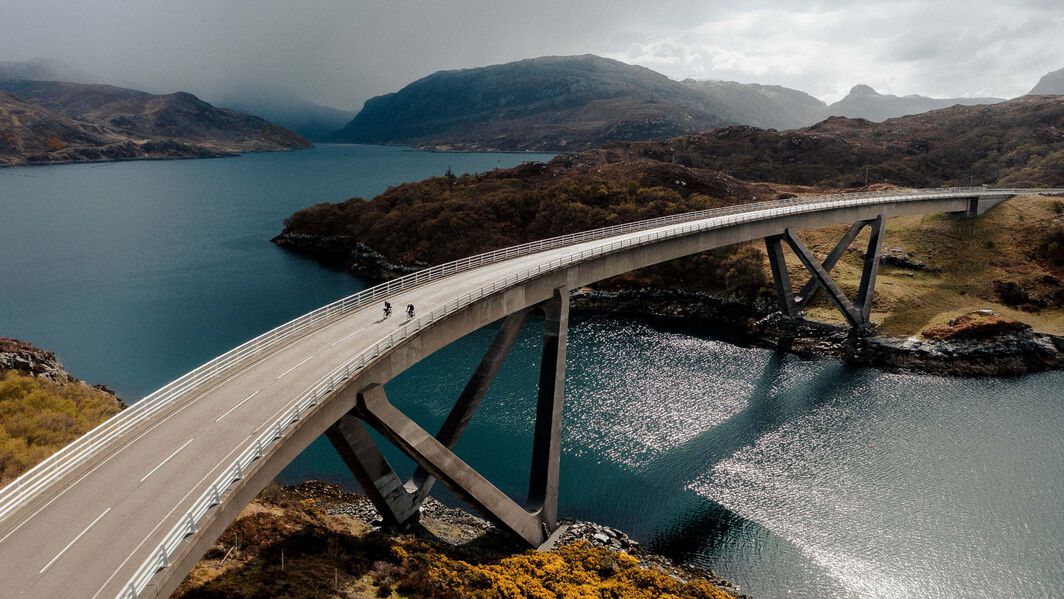 North Coast 500: Day 4
The fourth day of our adventure packed a punch: 215 km with 3500 m of climbing. We knew we had to maximise the day, so we stopped talking and started pedalling. Along with the beating sound of our own pulses, the day was punctuated with hail and snow on almost every climb!
Around half way and rather soggy, we squelched into Cocoa Mountain in Durness to warm up. Stopping when you're wet and cold isn't always a good idea but on this day, it was needed. To give you an idea of how damp we were, I used two small plastic bags in a somewhat vain attempt to keep my feet warm!
As usual, the views were worth it and we made it safely to Thurso to our accommodation ready for warm showers and a comfortable bed for the night.
North Coast 500: Day 5
Compared to day four, this route was a walk in the park. Our first port of call was John O'Groats, the legendary finish line of its namesake ride from Lands End. Of course, we couldn't resist stopping for a group photo at the famous sign before relaxing over a long lunch in a nearby restaurant.
In one swift pedal stroke, the headwind we'd battled to get there turned into a relieving tailwind as we pointed our bikes south. The day couldn't be too easy, therefore mother nature made sure to deliver a bit more snow and hail to keep us on our toes!
North Coast 500: Day 6
Just 120 km stood between us and our destination of Inverness to complete the North Coast 500 loop. With time on our side, we called into Dunrobin Castle for some sandwiches and a quick look around the Castle and gardens. If you want a spot of sightseeing en route, be sure to visit Dunrobin Castle as it's well worth it.
See you again, NC500
The final 50 km stretch involved meandering the suburban streets of Inverness on our way back to where it all began. There were mixed feelings of accomplishment and comfort between us as our journey came to an end.
A lot of us hadn't met each other before the trip and those of us who were friends hadn't seen one another for quite a while due to lockdowns and a long winter. A journey like this allowed us to share the road, push our boundaries, overcome obstacles and be vulnerable together. Acquaintances became friends and existing friendships became lifelong bonds.
As we parted ways and giggled at the many had-to-be-there moments, we couldn't help but think when we'd be able to do it all over again.
---
About Liam Yates
A lifelong cyclist from the Ashdown Forest in the South of England, Liam is not one to turn down a new opportunity or adventure and has cycled his bike as long as he can remember with everything from BMX to racing Road, Time Trials and Fixed Gear crits, and more recently Bikepacking and Touring. Coming from a family of cyclists, it's no surprise Liam feels at home on two wheels.
---
About the author

Liam Yates

Get to know Liam, the adventurous cyclist from the South of England who has a lifetime of experience riding everything from BMX to Road Racing and Fixed Gear crits, and now enjoys exploring new horizons with Bikepacking and Touring.
From gravel bikes and hardtails to full-suspension and fat tire rigs, a lot of bicycles can be used for adventure, but which ones fit the bill best?