Cycling Jerseys Buyer's Guide
What is a cycling jersey and which style is best for you? Find out here!
Cycling jerseys are a staple of every cyclist's wardrobe. Every rider has their favourite jersey that they love wearing year after year. With so many types of jerseys that it can be a bit bewildering for newcomers to find the best cycling jersey. This buyer's guide will unpick the features and benefits of each style of jerseys, so that you're armed with the right knowledge.
What is a cycling jersey?
A cycling jersey is a garment worn on a rider's torso while cycling. Jerseys often have pockets to store your snacks and spares while out on the road. Most jerseys are full-zip to allow for added ventilation in summer. Importantly, a cycling jersey fits close to the skin to help with temperature regulation and aerodynamics.
Why should I wear a cycling jersey?
While it's not mandatory to wear a cycling jersey, it's certainly more comfortable if you do. Unlike a standard cotton t-shirt, a jersey is constructed of technical fabrics designed to wick sweat away from your skin to keep you dry.
Jerseys are also designed to accommodate the riding position, whether that's road cycling, mountain biking or urban riding.
What are cycling jerseys made from?
Back in the early days of cycling, jerseys were made from wool, which proved to be itchy and uncomfortable. Nowadays, you'll see a blend of synthetic fibres that have been engineered for superior comfort. Depending on the season, you can choose a jersey that is water-resistant, a little more insulating against the wind or super lightweight for hot, summer riding.
Benefits of synthetic fabrics:
Moisture-transfer properties

Breathable

Fast drying

Stretchy

Affordable


Some jerseys are made from natural fibres such as merino wool and cotton blends. Merino in particular is a popular fabric in sports clothing due to its natural wicking properties and its ability to keep you warm in wet conditions.
Benefits of natural fabrics:
Naturally odour resistant

Warm in winter, cool in summer

Hypoallergenic and good for sensitive skin

Biodegradable
Jerseys for the seasons
Like other items of cycling clothing, cycling jerseys are optimised for the time of year for which they're designed.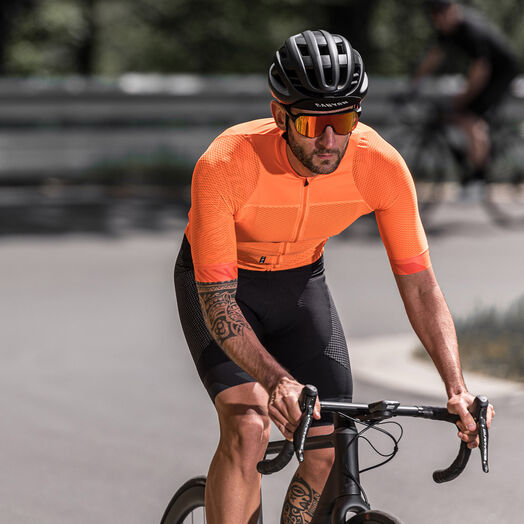 Features of summer jerseys:
Short sleeves or sometimes sleeveless

Tight fitting to wick away sweat

Lightweight fabrics to keep you cool

Synthetic fabrics for increased breathability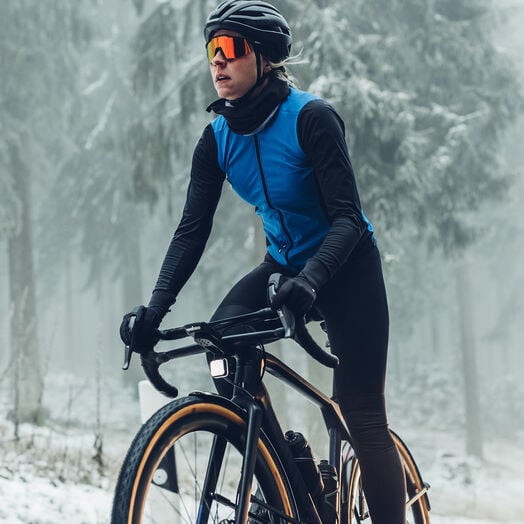 Features of winter jerseys:
Long sleeves

Looser fitting to allow extra or thicker layers underneath

Thicker windproof or water-resistant fabrics

Often feature natural fibres such as merino wool to help insulate
Road cycling jerseys
Jerseys are most commonly associated with road cycling due to the history around them. For decades, professional road cyclists have worn jerseys adorned with their team's logos and/or sponsors. In some races, like the Tour de France, a jersey is awarded to the winner.
The fit is the most important aspect of a cycling jersey. They're a little longer at the back, so that your skin isn't exposed when you reach for the drops of your road bike. The jersey might even be slightly tighter across the shoulders when worn. If in doubt, adopt the riding position and see how it feels.
Road cycling jerseys usually feature three rear pockets for all your mid-ride essentials such as tools, snacks and valuables. Silicone grippers around the sleeves and hem keep the jersey in place throughout your ride.
Our range of road cycling jerseys include two fit options:


Signature Pro: designed for racing and performance using the highest quality fabric technology. These jerseys are more aerodynamic and fit tightly against the skin to wick the sweat away from your body during your ride.

Classic: designed for everyday riding with a slightly looser fit. These jerseys are more affordable while still using premium materials.
Mountain bike jerseys
MTB clothing should be extra durable, reflecting the rough and ready nature of this ridestyle. MTB jerseys are looser so that your movement isn't restricted. A looser fit also means they can accommodate body armour in disciplines such as downhill mountain biking. Some riders love wearing long sleeves year round as they offer protection from overgrown trails and branches.
Another great feature of these jerseys is the goggle wipe included in the zipped rear pocket. Some of these jerseys also come with a hood to keep you warm before, between or after your runs. Neat, huh?
Cross-country mountain biking jerseys take most of their style cues and fit from the road cycling world where there's plenty of tight-fitting lycra for high speeds.
Our MTB jerseys come in a Signature Pro fit. This style uses the ultimate in fabric technology and is designed with racing in mind. These jerseys were developed alongside the Canyon Factory Racing Enduro team.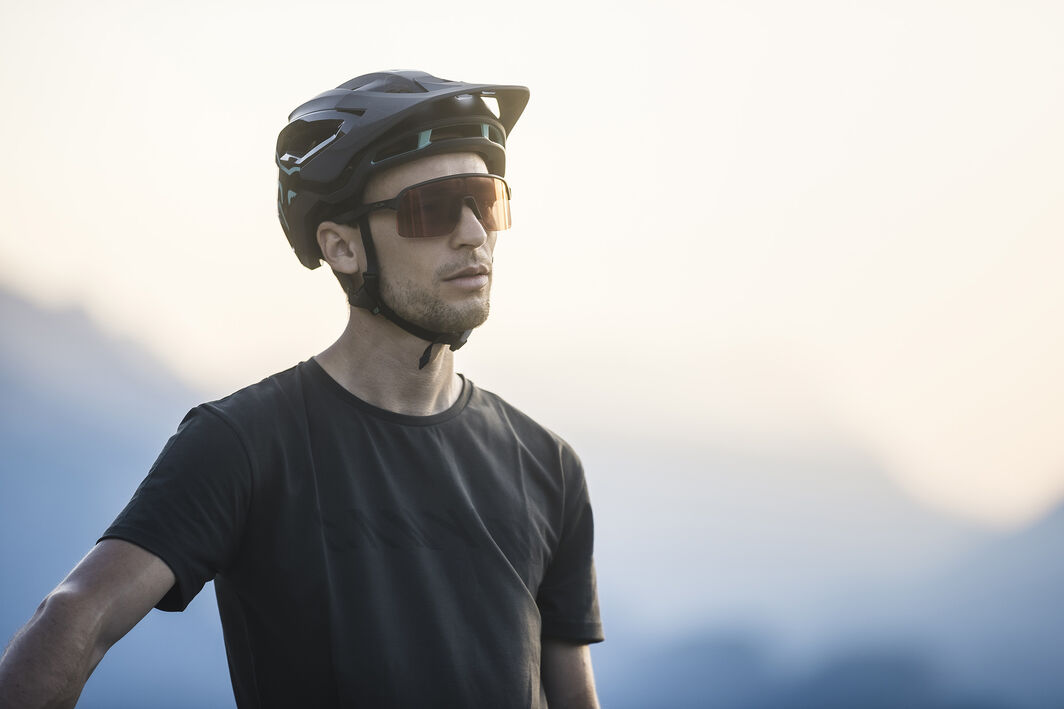 Technical t-shirts
If you're riding at 7am but meeting friends for lunch at 12, we've just the answer. Wearing a technical t-shirt is perfect for those looking for a more casual look. They pack in a load of technical features such as quick-drying fabrics but with the classic cut of a t-shirt. These are particularly popular with mountain bikers hitting up the bikepark and urban cyclists who don't want to use their best clothes for commuting.
Our Drirelease Tees come in a number of colours with the option of long and short sleeves for year- round riding.
Gravel cycling jerseys
With gravel cycling on the rise, we've got you covered with a wide range of gravel specific apparel. Occupying a halfway house between road cycling and mountain biking, gravel specific apparel incorporates elements of both ridestyles.
Gravel jerseys are tighter than most mountain biking jerseys but not to the same degree as a road jersey. They're constructed from the same durable fabrics as their mountain bike counterparts but are still lightweight enough to keep your riding speed high. Perfect, right?
Shop your perfect jersey
Now that you have more of an idea of the best jersey for your style of riding, it's time to get out there and enjoy nature.
What type of road bike do you need? We'll guide you through everything from groupsets and geometry to must-have accessories to complete your ride.