Do I need an e-mtb or e-touring bike?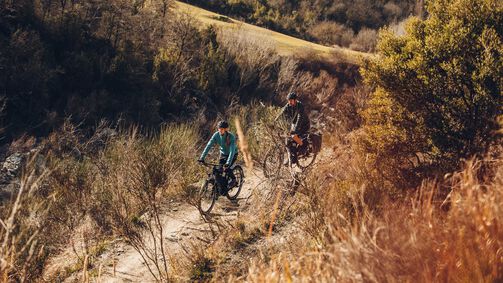 If you're looking for a bike to cover the widest possible range of use, certain questions usually arise in advance. Can I ride it uphill on forest gravel paths? On trails? How suitable are the bikes for riding in everyday urban traffic? Some people want a bike both for commuting and leisure alike while some people stick to the forest. Well, to make your decision easier, we'll explain the differences between e-touring bikes, such as our Pathlite:ON, and e-MTB hardtails (e-mountain bikes without rear suspension), such as the Grand Canyon:ON.
The terrain is vital
When picking between an e-mountain bike and an e-touring bike, your choice primarily comes down to what kind of terrain you want to ride on. E-touring bikes are designed for riding on light terrain such as field paths, roads, and cycle paths. This makes them well suited to city riding and exploring your local countryside. E-mountain bikes like the Grand Canyon:ON hardtail, on the other hand, are designed for off-road riding, from forest and gravel paths to narrow trails in the forest or mountains.

E-touring bikes are extremely versatile. They are ideal if you're looking for a bike that you can use in a wide variety of ways: from workout rides on the road, trips to the shops, or a relaxed weekend outing. Furthermore, their stable ride feel makes them ideal for heavier people, or for transporting luggage. You can even use a special pannier rack on the rear to ensure your items are safely packed away when riding.

But if you want to ride rough, uneven terrain and on trails you should choose an e-mountain bike. With their more robust construction, comfortable suspension and wider tyres, you can carry on going even after the asphalt or gravel ends. These bikes are designed less with practicality in mind, and more on the pure fun factor. The seating position – and therefore the comfort – varies between designs accordingly: on an e-trekking bike you sit more upright, in a more comfortable position. But the sportier, more stretched-out position on an e-mountain bike creates more agile riding dynamics and improves off-road manoeuvrability.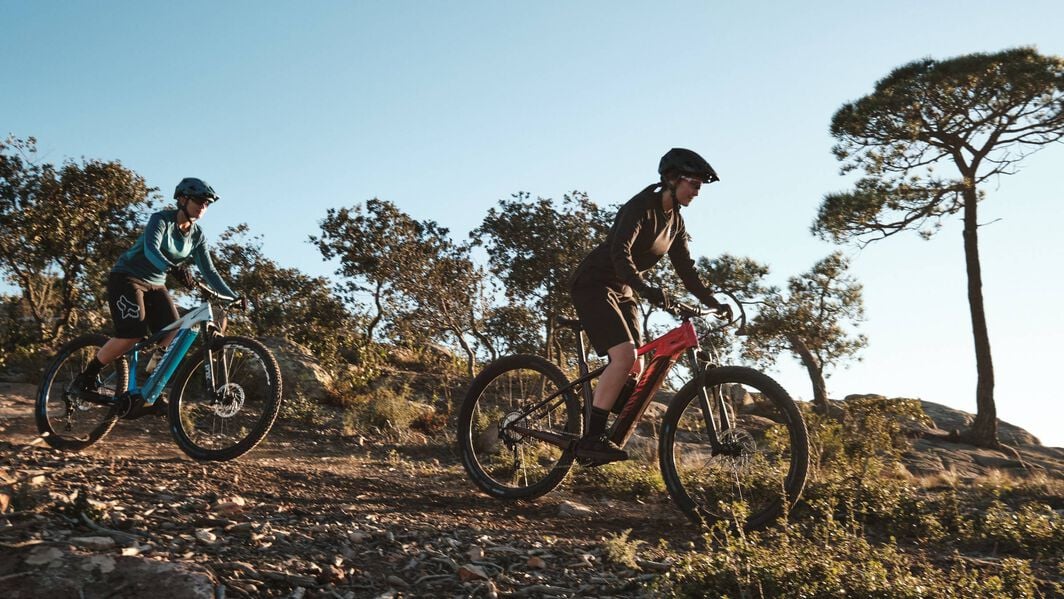 Wheel sizes
Our Pathlite:ON e-touring bike is available in five sizes: from XS to XL. As usual with other Canyon models, smaller frame sizes have smaller wheels: XS and S bikes roll on 27.5-inch wheels, and M to XL bikes utilise 29-inch wheels. This lets us guarantee a consistent ride feel across different frame sizes. All models feature Schwalbe G-One Allround tyres for grip and comfort. MT200 Shimano disc brakes provide controlled braking off-road. Shimano also provides fast, precise 11-speed Deore XT M8000 shifting.

On the Grand Canyon:ON e-mountain bike, the wheel size also scales with frame size. XS and S bikes come equipped with 27.5-inch wheels, while we fit M, L and XL models with 29-inch wheels. All feature a robust Race Face AR30 wheelset with proven Shimano hubs and combined with 2.6-inch wide Schwalbe Nobby Nic tyres, selected for all-round performance. There's also huge braking power on tap, with a four-piston caliper up front, and a two-piston caliper on the rear.
Safety first
If you're going to be riding in urban areas, be aware that e-mountain bikes are not automatically approved for riding on the road. You will need additional accessories, such as lights. E-touring bikes, on the other hand, are normally already approved for road use according to the local road traffic regulations: they have the appropriate lighting and reflectors to keep you safe on the road.

When it comes to carrying luggage, e-touring bikes are the clear choice, as they are usually equipped as standard with a rear rack that you can easily mount bags on to. This gives you plenty of storage capacity on your tours. Furthermore, mudguards keep you dry and protect your bike from dirt. This also reduces wear on your components. E-mountain bikes don't come equipped with mudguards or rear racks from the factory, as these would be more of a hindrance on technical terrain, and they would increase the weight of the bike.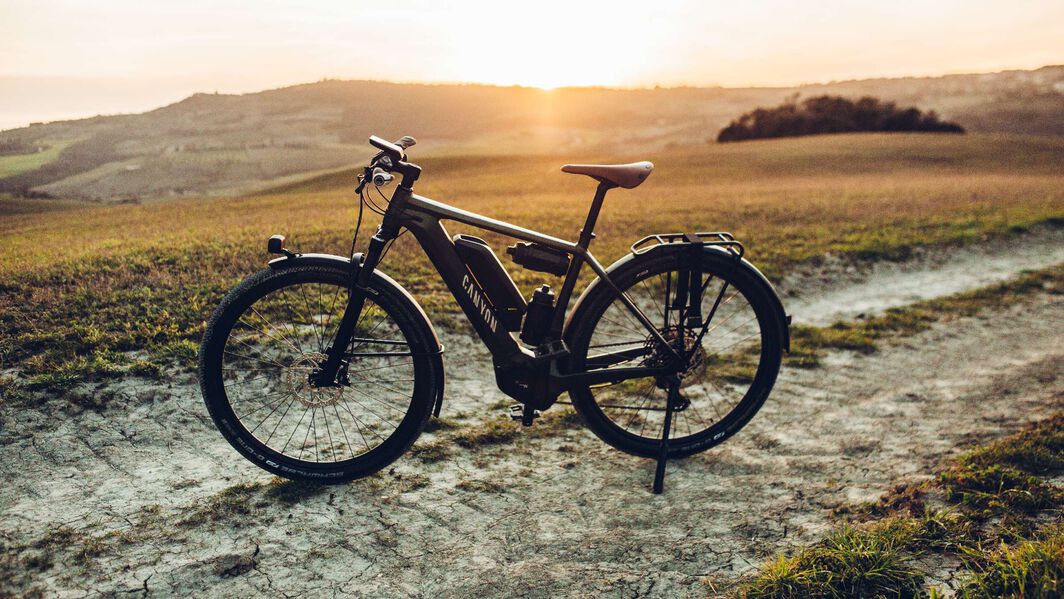 It's your choice
To sum it up, how and what you ride makes the key difference. You can go on trips with both e-bikes. But if you prefer to ride in urban areas or on paved roads and paths, then our Pathlite:ON e-touring bike with its lights, rear rack and mudguards is just right for you. If you prefer to explore and enjoy nature on narrow, twisting trails in the forest and mountains far away from busy roads, then you should choose our Grand Canyon:ON e-MTB.
Learn how to decide between our range of e-MTBs and give yourself a boost on the trails.