How much are electric bikes?
Find out the reasons behind the price tag of your favourite electric bike including frame types, motors, battery sizes and accessories.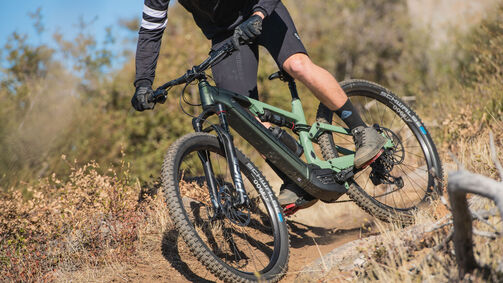 Price tags on electric bikes range from the hundreds all the way into the thousands. Price is one of the first aspects people consider when it comes to bikes, particularly electric bikes.
Canyon's most affordable electric bike costs while our feature-rich electric bikes can be over €10000.
There are many reasons for the range in price, some of which we'll cover right here:
We'll also who you how you can make owning an electric bike affordable with our flexible ways to pay.
How frame types affect electric bike prices
It's widely known that aluminium frames are more affordable than carbon bike frames. The main reason is that carbon manufacturing is labour intensive and raw materials are more expensive.
Carbon bikes can be much lighter than aluminium bikes. The real world benefit of weight on an electric bike is however negated by the addition of a motor and battery. This is compounded on electric mountain bikes as they feature suspension components which also add weight.
The value of carbon lies in the looks and stiffness. Some people prefer the smooth finish of a carbon bike. A carbon bike is also stiffer in the areas that matter most: the bottom bracket, chainstays and head tube while maintaining flexibility around the seat tube and seat stays for comfort.
All about motors
Motor manufacturers can't get away with poor performance when it comes to motors. Motor quality has improved astronomically over recent years thanks to the e-bike boom and customers demanding reliable equipment.
Shimano, Bosch and FAZUA are three of the most reliable motors on the market. We spec our electric bikes with them for this reason.
Shimano motors can be found on some of our electric mountain bikes. As many mountain bikers are familiar with the brand, they're a popular choice.
Bosch has been pioneering in the e-bike space for a few years now. Not only are their motors very impressive across a range of electric bikes, they have a useful app. Many of our electric hybrid bikes and electric mountain bikes use Bosch for the connectivity and high standards we've come to expect from the brand. The Bosch eBike Flow app is an excellent tool for navigation, ride data and other useful features. Simply mount your phone to your handlebars and enjoy the ride.
Fazua is the leader in lightweight motors. You'll find FAZUA motors on many of our electric commuting bikes and electric road bikes. The motor provides gentle power to avoid lurching forward at traffic lights. It's there, but you'd never know.
Larger battery means higher price. But why?
Electric bike batteries are arguably the most important component on the bike. The range of your electric bike depends on the battery capacity. As a general rule, the greater the capacity of the battery, the more expensive the bike. Manufacturing batteries is no easy feat with lithium being a valuable yet scarce resource.
The capacity recommended for your bike depends on its use. If you carry a lot of luggage or climb a lot of hills, we recommend a bigger battery. They type of terrain you ride also has an impact. An electric city bike like the Commuter:ON riding on smooth roads does not require the same capacity as an electric enduro bike like the Torque:ON being raced off-road.
Accessories and components
Like other non-electric bikes, e-bike accessories and components vary based on your needs. Some of our electric city bikes feature integrated gadgets such as a pannier rack, a kick stand, front and rear lights. A bike without these additions will be much cheaper.
Every electric bike we stock has hydraulic disc brakes. Why? They've got the power that's required to bring your bike safely and swiftly to a halt. E-bikes are heavier than their non-electric sisters, which means they have a higher rotating mass. Stopping a heavier vehicle requires more powerful brakes.
E-bikes are capable of higher average speeds. Rim brake pads would wear out a lot quicker and destroy the wheel rims faster. Add in a sprinkle of wet weather and it gets dicey.
Hydraulic disc brakes are the industry standard on mountain bikes simply because they perform better. Full-stop.
Better performance and, let's face it, better safety adds to the price: we will never compromise on safety when it comes to our bikes.
Other components, like carbon handlebars, high-quality tyres, durable wheels, and drivetrain options (such as hub vs derailleur gears) all affect the overall price of the bike.
Not as expensive as you expect
We want you to feel excited every time you climb on your bike. We believe our electric bikes offer this feeling of freedom, reliability and fun all in one neatly parcelled package.
We also get that you want bang for your buck. With public transport delays, the ever increasing costs of driving a car and cities at their most congested, we believe an electric bike is worth every penny. Even the cost of maintenance and replacement parts are low if you look after your electric bike.
We want to inspire to ride, and we know bikes are where it's at. Consider purchasing your new bike through one of the following methods:
Easy ways to pay
We offer so many ways to pay for your electric bike, like credit cards and financing via Splitit, Klarna, and PayPal.
Riding your
e-bike
is fun and all but the prospect of having to clean it after a day splashing in puddles not so much. It needn't be a dreaded task with our guide to cleaning your electric bike no matter how mucky it gets.