One Family, any Trail – Canyon release the new Spectral Range
The all-new Canyon Spectral: one bike, two frame materials, three wheelsize options.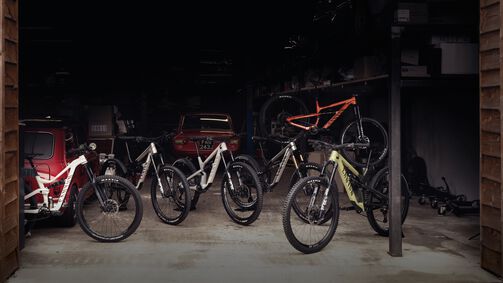 Last year, Canyon launched the all-new Spectral 29 CF: one of the most versatile trail bikes we've ever made. A 150mm travel all-rounder that could take on just about anything you could throw at it. And boy, did it rip. Fast, dialled, and hugely capable. We called it one bike for any trail.

However, there's one mountain that not even greatest MTBs will ever be able to climb – catering to the tastes, needs, and styles of each and every rider. Because, when it comes down to it, we all do things our own way. We're not all looking for a carbon 29er chassis. Different styles call for different wheel sizes. And some of us just flat-out prefer the budget-friendly, no frills attributes of aluminium. Period. Well, guess what? Now, with a wider and more diverse range of models than ever before, the Spectral family has an option for everyone. We're talking about so much more than just one bike for any trail. Don't get us wrong: we still believe if you can have one bike in your garage, the Spectral is it. Only now, with a new, expanded range, you can choose the one bike that fits your ridestyle. Introducing the new Spectral lineup. One Family, Any Trail.

Let's start with one of the hottest topics in MTB right now: wheel sizing. The Spectral family does away with all the debates and keeps things simple and universal, by offering all the options modern riders expect – 29, 27.5, and mullet. Why? Because of the awesome variety of styles in MTB, and because every rider's reasons for picking their setup is just as valid as the next. Whether it's the rollover, traction, and confidence of a 29er setup, the agility, precision and playfulness of 27.5, or the flat-out fun factor of a mullet – now all riders can ride their trails, their way.

In the name of making true trail performance available to budget-conscious riders, Spectral AL models are now built around a brand-new alloy frame engineered to feel as close to the CF chassis as possible on the trail. To get it done, the AL uses advanced alloy-specific manufacturing processes and design innovations – for starters, the AL features bespoke tube profiles with less tight radii vs the CF. The tube sections are also straighter and the overall form less organic than the CF. Why? Because to build the best AL bike, you cannot treat the material the same as carbon. At just over 3 kg, the frame weighs virtually the same as the previous Spectral AL, all while improving stiffness, handling and performance across the board. In the end, our AL and CF bikes have never looked so different, yet been so close in ride quality.

For riders who demand the very best, we are also introducing a CFR flagship model. The Spectral CFR takes a no-holds-barred approach to design, engineering, and equipment, saving a huge 300 g over the already light Spectral CF with no drop-off in stiffness or strength. Add in world-class components like carbon DT Swiss wheels, Shimano XTR shifting, and FOX Float X Factory suspension, and the CFR surges up the climbs and feels even more agile, more precise and more playful than anything out there on the way back down. A truly world-class trail bike in every sense of the word.

The new Spectral family also has something to offer for younger riders too, with the Spectral Young Hero – the youth trail bike we all wished we could have had as kids. It's suitable for riders from around 145-160 cm, and with a rock-solid spec to make help little shredders enjoy getting themselves up and down the trails. With slightly less travel than the adult bike (150 mm front, 140 mm rear) the Spectral Young Hero also has a trick up its sleeve – kinematics designed specifically for lighter riders, letting them get the most from their suspension travel.

The Spectral range starts with the €2,499* Spectral 5, with its class-leading alloy frame, Shimano Deore groupset, reliable Fox Rhythm fork, and tubeless-compatible tyres and rims. The flagship Spectral CFR (€6,499*) has Shimano's outstanding XTR groupset, flagship CFR frame, Fox Factory suspension, and superlight DT Swiss XMC 1200 carbon wheels. And for an extra shot of flair and style, riders need look no further than the mullet Spectral CF 8 CLLCTV – with its Fox DHX Performance coil shock, a solid mix of Shimano XT and SLX, and bombproof aluminium DT Swiss EX 511 wheels.

The complete Spectral family will be available to order on Tuesday 26 October 2021 at canyon.com.
About Canyon Bicycles
What started life in founder Roman Arnold's garage as Radsport Arnold has evolved into one of the world's leading manufacturers of road, mountain, triathlon, hybrid and kids' bikes as well as modern e-bikes. Officially renamed in 2002, Canyon works hand-in-hand with the best athletes on the planet to produce an array of award-winning bikes that embody a pure passion for riding. With a strong reputation for true innovation, implementing leading technologies, clean and clear design as well as the highest standards in quality and service, Canyon continues to expand worldwide, selling more bikes outside of its native Germany than within since 2008. As a pioneering direct sales brand, Canyon products are exclusively available online at www.canyon.com.