Cycling Gear – What to Wear in Summer
Summer cycling clothing is essential if you want to enjoy the best season for riding your bike. Dedicated cyclists know that there's no better time of the year than the summer. Take a look at our buyer's guide, and explore the summer cycling must-haves.
Summer Cycling Clothing – A Buyer's Guide
Summer cycling clothing is essential if you want to enjoy the best season for riding your bike. Dedicated cyclists know there's no better time of the year than the summer – the sun is shining, the days are long, and there's much less rain or wind to impede your progress along the roads and trails. But the specific cycling conditions in summer mean you'll need to pick out the right gear to make the most of your time. Take a look at our buyer's guide, and explore the summer cycling must-haves.
What to Wear For Cycling In Summer
The hotter weather means summer cycling clothing will be noticeably different from your sporting gear in the colder months. Above all else, you'll want to stop yourself from getting too sweaty. As you're exerting yourself on your bike and the sun is beating down, losing your cool and getting a little clammy or uncomfortable is easy. But you'll also have to stay covered up as much as possible to prevent too much exposure to the sun, particularly if you're heading out for a long ride.
The most important things to remember are:
Breathability - Clothing that lets air circulate will prevent you from getting too sweaty.
Comfort - Wear gear that fits you properly and is gentle on your skin, and you'll have an easier time on your bike.
Flexibility - Make sure you wear stretchy clothing that allows you to move around freely.
Sun protection - Pick out gear that will cover you up where necessary, and also remember to protect your eyes from those harmful UV rays.
Best Summer Cycling Gear
The best summer cycling gear covers all the bases we just mentioned for maximum practicality and performance. Here are some of the essential pieces you'll need in your wardrobe: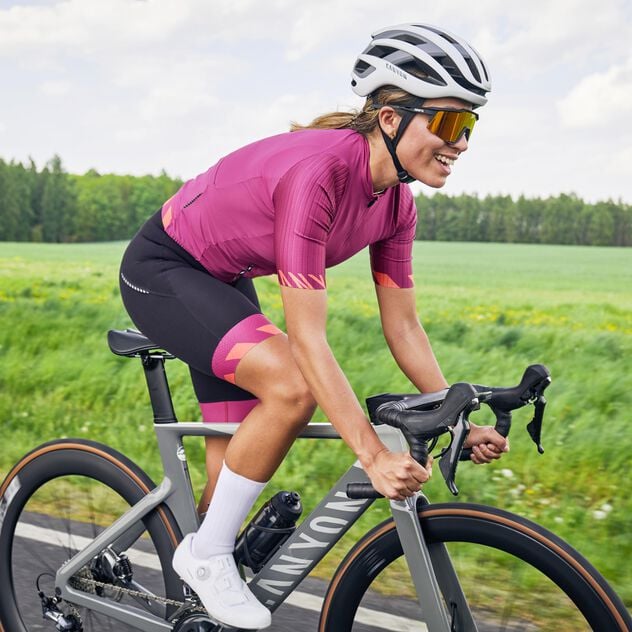 Summer Cycling Jersey
Maybe the most crucial piece of kit is your summer cycling jersey. You'll want to find a jersey as thin and lightweight as possible, so you're not adding any excess bulk or warmth to cramp your style out on the roads or trails. It should also be well-ventilated. Many high-performance jerseys are sculpted from polyester or other advanced fabrics, including mesh panelling to allow for improved airflow. Short sleeves cut off halfway up the bicep will be cosy for warm days. If you're an experienced rider trying to ride as quickly as possible, you'll want to find a piece that clings to your body, limiting any slack fabric that will flap around and increase air resistance. At the higher end of the market, you'll also find silicone grippers and dimples that help improve aerodynamic capabilities even more.
Serious cyclists should check out our Canyon jersey collection. The Racing Signature Pro Aero Jersey has been race-tested for optimal performance, and its Microsystem Airplus body system enables next-level temperature regulation. There are three handy pockets to store all your essential items, so you won't need to bring any extra bags. And that's before we even mention its multi-coloured pattern, which has a funky retro appeal. Looking good and hitting a new personal best at the same time? It doesn't get much better than that. For other high-performance options, take a look at our cycling jerseys buyer's guide, and find the ideal cycling outerwear piece for you.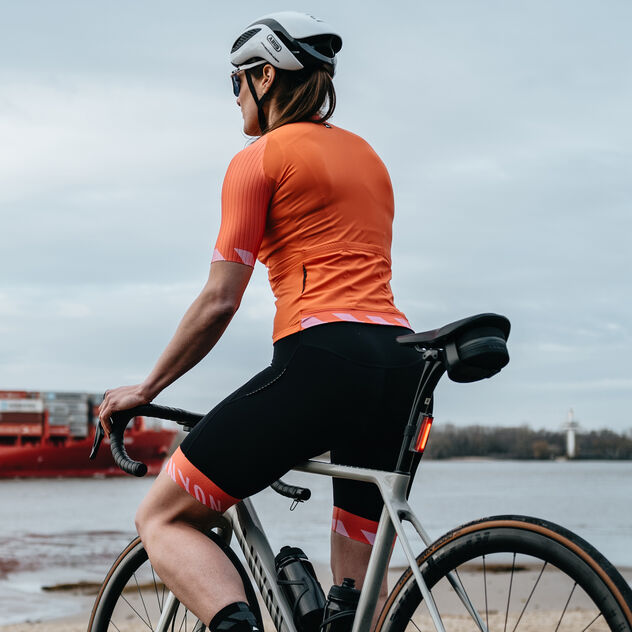 Shorts
The best cycling shorts share many of the same characteristics as the best jerseys. They're lightweight, flexible, figure-hugging, and breathable. You can pick a regular pair with a stretchy waistband or try bib shorts with shoulder straps to improve stability and comfort.
Explore the Canyon shorts collection. The Classic Bibshorts are sculpted from special Lycra Power fabric, which will wick away sweat from your skin to ensure you stay as dry as possible. Their Elastic Interface chamois construction also provides impeccable comfort and has perforations for better airflow. To find your ideal cycling shorts, check out our buyer's guide.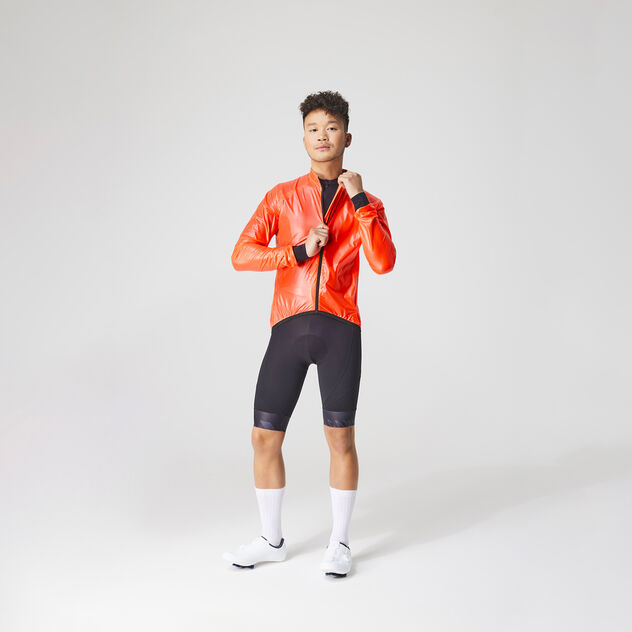 Waterproof Jacket
Just because it's summer doesn't mean that you won't need protection from the rain from time to time. There's nothing worse than heading out on your bike on a sunny, humid day and getting caught in a downpour, with the rain and your sweat combining to slow you down and make you doubly uncomfortable. An advanced cycling jacket will offer a high level of water resistance without adding excess weight, and you should also find one that's as tight-fitting and well-ventilated as possible.
Canyon crafts a variety of impeccable jackets and outerwear pieces to support cyclists. Try the WMN Signature Pro Packable Jacket if you're heading out on a day with unpredictable conditions. It weighs just 123 grams, so you'll barely notice the extra bulk even if you're wearing it. The outer polyester layer resists water, and its heat-sealed seams prevent any water from seeping into your lower layers. There's also an innovative over-layering back vent, which ensures maximum breathability.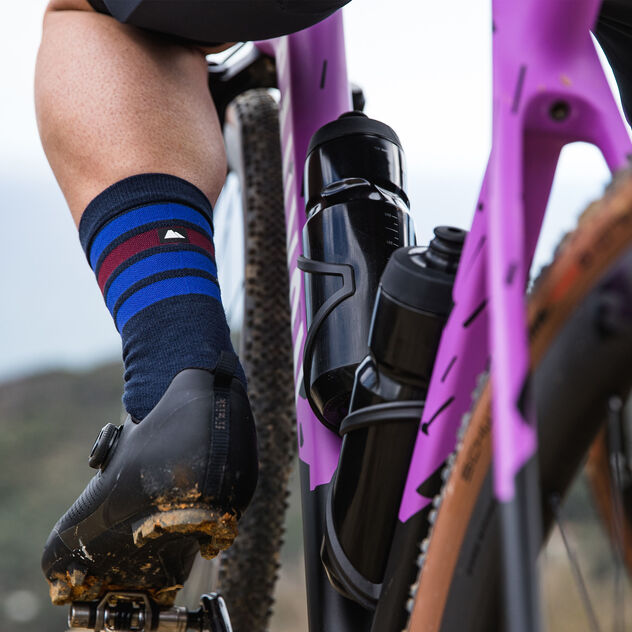 Socks
A good pair of socks can make a surprising difference to your summer cycling days. The feeling of getting sweaty inside your shoes can spoil your enjoyment, and the discomfort will also affect your performance if you're training or competing in a race. You should pick out a nice lightweight pair, as thin as possible. Antibacterial properties are ideal for more strenuous multi-stage cycling events or adventures, preventing sweat from leading to unpleasant smells.
Canyon Signature Pro Aero Socks are designed to be as aerodynamic as possible. They have an inner silicone cuff for a more stable fit, and their soft polyamide/elastic construction provides maximum comfort. Check out Canyon's full range of shoes and socks.
Gloves
Wearing a great pair of gloves can give you extra comfort and control when gripping the handlebars. They're also essential if you're trying to keep warm in the evenings or on fresher mornings. Explore Canyon's range of high-performance gloves.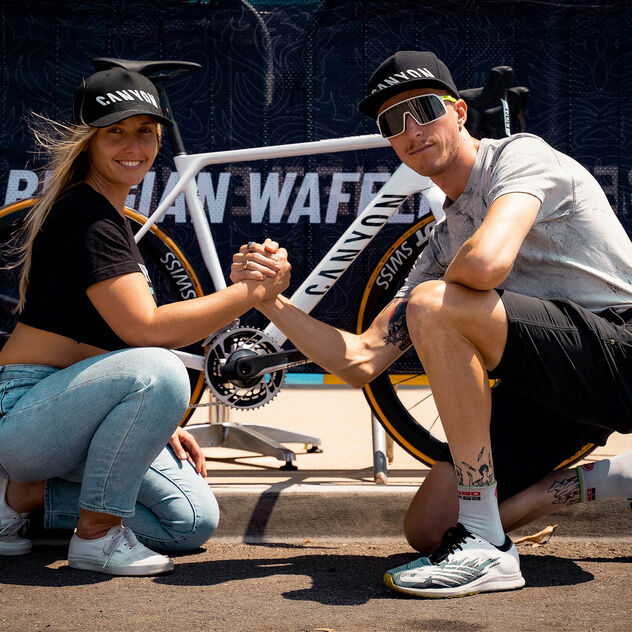 Cap
Protect your skin from the sun and keep it out of your eyes with a hat. In Canyon's range of caps and other lightweight headwear, there are a variety of styles and materials available for safer, more convenient cycling in the summer
Water Bottle
Hydration has to be a top priority when heading out on a long cycle in the hot weather, and a nice water dispenser can make the difference between a good day and a great one. Try one of Canyon's precision-engineered ergonomic water bottles and holders.
Sunglasses
You don't want to let the glare of the sun's rays affect your vision while you ride, which can be a real hazard on busier roads or at higher altitudes. A nice pair of shades will let you enjoy the summer weather and perform effectively at the same time. Check out Canyon's collection of sunglasses, designed specifically for cyclists by leading eyewear brands.
Summer Cycling Clothing: What You Need to Know
Must be breathable, comfy, and flexible
Figure-hugging jerseys with storage and aerodynamic features
Well-ventilated shorts
Lightweight jacket
Thin socks with anti-bacterial properties
For more options for your cycling gear, check out our cycling clothing offers. The Signature Pro collection is where Canyon's most advanced pieces can be found, crafted with care to help cycling professionals achieve their full potential.
Rain doesn't need to stop you having a great time on the bike. Read our rain wear guide for advice on what to wear.