Canyon Midloader
The Canyon LOAD Midloader is the ideal storage solution for bikepacking and big rides. The typically sleek and integrated design fits all gravel and road bikes in almost all frame sizes
The Canyon LOAD Midloader is the ideal storage solution for bikepacking and big rides. The typically sleek and integrated design fits all gravel and road bikes in almost all frame sizes
Product only available to members. Register .
Additional information
Current delivery times information.
Read more
What the stock status means
What the stock status means
Three sizes available

Find the right bag for your frame.

Waterproof

Protect your precious cargo

Custom zipper

Easy access to your bone-dry ride essentials!

Integrated design

Fits all Canyon gravel and road bikes
Product description
The ideal match for Canyon bikes with its understated but elegant design, this pack integrates perfectly into our road and gravel frames. Made from a robust waterproof material, this bag is ready for the long haul. Silicone inserts are placed at all contact points to protect your frame, and a glued waterproof custom zipper ensures easy access and protection of your precious cargo. Available in three sizes.
Details
Size S: 460x120x45mm, Volume 1.9L
Size M: 465x155x45mm, Volume 2.3L
Size L: 490x160x45mm, Volume 2.5L
Contents
1 Canyon LOAD Midloader incl. 4 velcro straps with rubber inside
Compatibility
Disclaimer
We're in Control
Our business model gives us the advantage of knowing exactly where our products come from, how they are made and what they are capable of. Canyon products are exclusively available at Canyon.com, so you can trust the quality you are getting.
Disclaimer
Subject to technical modification without notice. Errors and omissions excepted.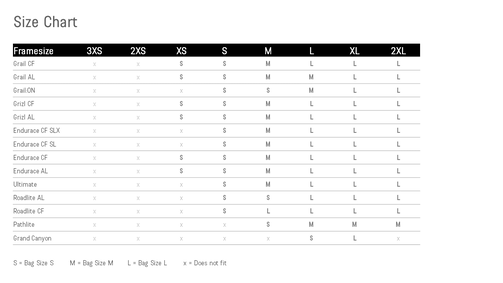 Ready-to-ride Delivery
With Ready-to-ride Delivery, pro mechanics will ship, assemble, and set up your e-bike.