Canyon Northwave MTB Team announced
A new name on the marathon scene - Canyon Northwave MTB team announced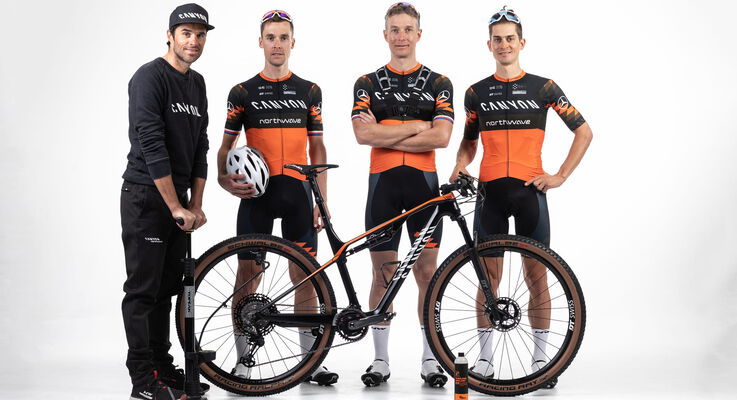 For years, Canyon's Topeak Ergon Racing Team was a top name on the global MTB marathon scene, taking centre stage at the most prestigious races in the sport, from Bike Transalp to the Absa Cape Epic. And even a 2018 rebrand, which saw the outfit changing its name to Canyon Topeak Factory Racing, did nothing to check the team's consistent excellence. Throughout it all, one of the key players in the success story was the 40-year old Kristian Hynek – one of the world's most experienced marathon racers, with a palmarès to show for it: two World Championship bronze medals (2012, 2016) and one silver (2019), a European Marathon Championship (2012), two Czech XCM National Championships (2013, 2018), and a Cape Epic win in 2014 (together with Robert Mennen). When Canyon withdrew as the team's main sponsor at the beginning of 2019, Kristian moved on and started his own XCM project, still supported by Canyon. And now, these two forces are reuniting to take the next step together – with the launch of the Canyon Northwave MTB Team.

"Over the past two years, Kristian – together with Martin Stosek – has proven himself a committed, reliable, and successful operator" reflects Canyon Pro Sport Manager Andreas Walzer. "So, it was a logical next step to ramp up our commitment, and support Kristian's vision of leading his own multinational marathon team."

"On a personal level, this partnership means everything to me –the most successful part of my career has been connected with Canyon," Kristian Hynek states, explaining his relationship with Canyon. "For me, it says a lot that Canyon aren't only continuing to put their trust in my team and me – but that they're ready to double down on us, too."

The Canyon Northwave MTB Team is starting out its first season with a superb line-up: Kristian Hynek (CZE), Martin Stosek (CZE), Dominik Buksa (CZE), and Andreas Seewald (GER). Depending on competition and conditions, they will compete on either the full-suspension Lux CF SLX or the hardtail Exceed. The undisputed highlight of the season will be the battle for the rainbow stripes at the XCM World Championships on 2 October at Elba, Italy. But the team is already aiming to make a big statement before that at the European Championships on June 20 in Evolène, Switzerland and at other important events like South Africa's prestigious Absa Cape Epic race, the Marathon World Cup series, and National Championships in the Czech Republic and Germany.


Everyone shopping for a new mountain bike will inevitably face the choice between selecting a full-suspension bike or a hardtail ride. But the configuration that's right for you depends on different factors, such as weight, terrain, maintenance and cost. There are many things that come into play when deciding on your ideal setup.

Oct 30, 2020