Find your ideal full-suspension e-mtb: Canyon Neuron:ON vs Canyon Spectral:ON
Canyon Neuron:ON vs. Canyon Spectral:ON - Not sure which e-mtb is the right for you? Just check this post!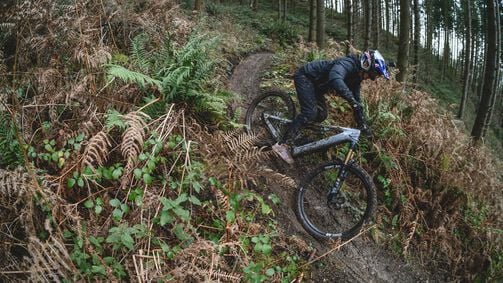 Picking out your first e-mtb or upgrading to one of our new, flagship models, deciding on an e-mountain bike can be hard. So to help you out we broke down the differences between our two award-winning models: the Neuron:ON and Spectral:ON.

Whether you're after long, epic rides out in the mountains or are more interested in shuttling all day to dial it in on the downhills, there's a Canyon e-mtb for you. Both the Neuron:ON and the Spectral:ON utilise powerful motors, long-lasting batteries and modern geometries that will please beginner and expert e-mountain bikers alike, but which one is right for you?
Handling
The days of clunky e-mtbs are gone and while battery life and pedal assist are essential, it's the handling that makes the real difference. Like with any mountain bike , when selecting your new e-bike you should think about the kind of riding you're going to be doing.

Longer, slacker, more travel: The Spectral:ON is built for the most technical terrain you can find – flattening out rough singletrack climbs, and smashing big descents at will. Short chainstays make it playful and easy to manoeuvre while a long wheelbase and slack head angle keep it stable on big drops and at high speeds. If you're an aggressive rider looking for technical singletrack, this is your enduro e-bike!

With its shorter travel, the more nimble Neuron:ON is a strong climber and descender on anything but the roughest of the rough stuff. Its geometry uses a more linear rear shock progression to improve comfort in the saddle as well as offer solid sensitivity over smaller obstacles. 29" wheels hold speed well while a shorter wheelbase keeps steering snappy on both up- and downhills. If you're excited for long days in the saddle riding over mixed, rolling terrain, then the Neuron:ON is for you.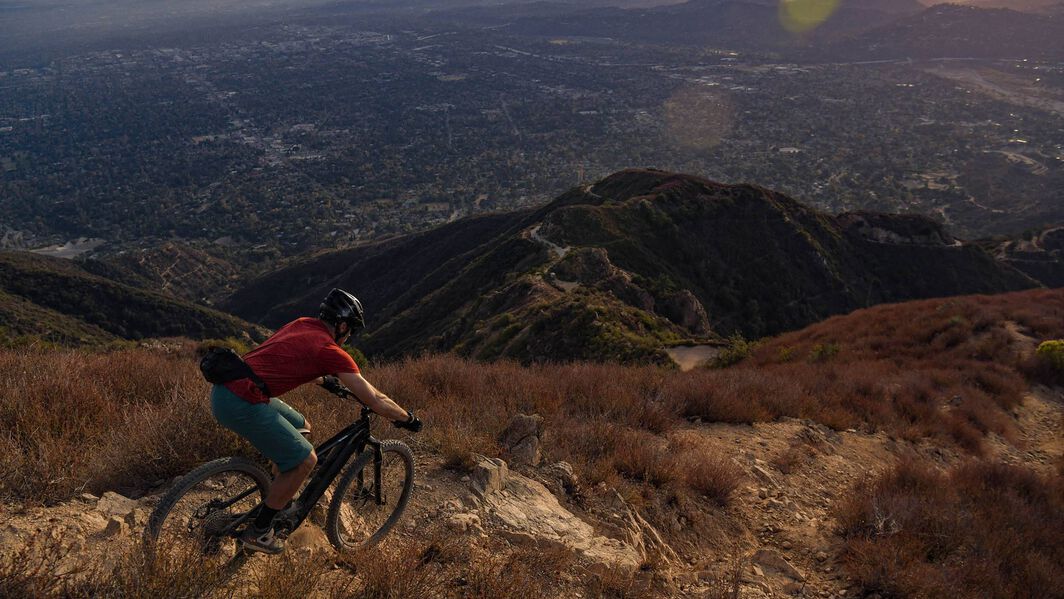 Drivetrain and Battery
Both of our full-suspension electric mountain bikes rely on the state-of-the-art Shimano EP8 system for pedal-assist power. Both the 504 Wh and 630 Wh batteries are all but sure to last a day's riding and the intuitive control system will keep you moving uphill or down at up to 25 km/h.

The whole system is compact, lightweight and integrates well with the bike's dynamic design. At just under 2.6 kg and its placement at the bottom bracket, your downhill performance will be improved thanks to a lower centre of gravity.
Suspension
The Spectral:ON uses 150 mm of burly front and rear suspension to give you the confidence to properly attack the descent. The rear linkage depends on the Three Phase Kinematic developed for the Sender to properly engage the rear shock and compensate for the bike's weight. The stroke provides a stable platform through the middle phase before ramping up so you can really go big.

With 130 mm of front and rear travel, the Neuron:ON makes the perfect companion for a long rolling day of ascending and descending where comfort is key. The responsive suspension is stable for easy climbing and supple enough to take big hits moving quickly through the mountains!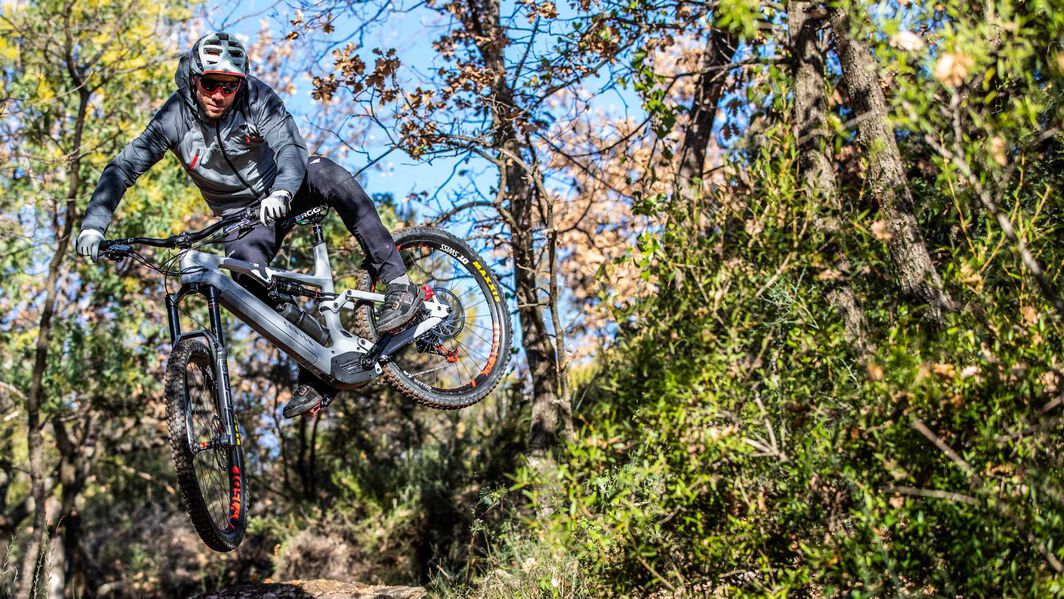 Weight
The Spectral:ON is the lightest in our range of E-MTBs but only by a mere 1.5kg and this is largely due to its carbon frame. Since they both use the lightweight EP8 motor, they're more differentiated by their handling than they are by kilograms.
Wheels and Tyres
With the Neuron:ON we focussed on finding the optimal wheel size for riders of different heights. That's why sizes M to XL use 29" wheels while XS and S use 27.5". This guarantees consistently agile handling across the entire range. All sizes come shod with 2.6" tyres for excellent traction and control.

The Spectral:ON uses a 29" wheel with a 2.5" tyre in the front and a 27.5" wheel with a 2.8" tyre in the back. This innovative setup was Inspired by motocross bikes and it works. The larger front wheel improves momentum and rollover ability while the narrower 2.5" rubber maintains agile handling. The smaller rear wheel with wider rubber creates a larger contact patch to find next-level traction when scrambling up steep climbs or hitting fast corners.
Learn how to decide between our range of e-MTBs and give yourself a boost on the trails.