Developing the new Aeroad required one of the most resource-intensive development projects Canyon has ever undertaken.
Starting in 2016, it's taken over four years to get to this point. The end result is the flat-out fastest race bike on the market.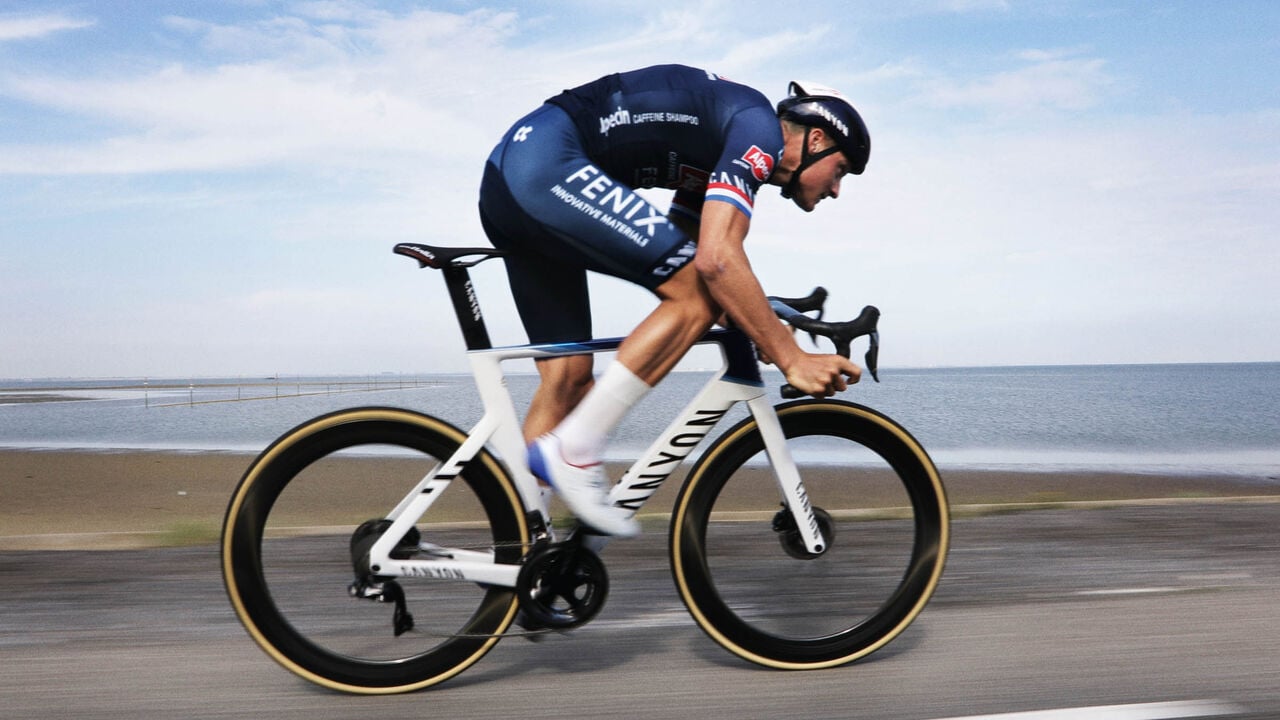 It's a Drag
One fact matters above all else: Aerodynamic drag is the biggest resistance in cycling. From just 14 km/h on the flat it is the greatest force you have to overcome, trumping both weight and rolling resistance. Beyond that, the power required to overcome aerodynamic drag increases to the power of three in relation to your speed.

Put simply, the faster you ride, the more the air is fighting to slow you down.

Aero performance is as relevant for a pro sprinting to the line at 65 km/h as it is for an amateur holding a 27 km/h average on a solo ride.

Aero affects everyone.
Invisible Forces
A light bike is a fast bike. True – but a bike that can cope better with aerodynamic drag is faster still. How can you tell? That's not so straightforward. You can lift a bike and tell light how light it is, it's harder to calculate its aero efficiency just by looking at it.

Airflow is invisible without the aid of proper testing conditions, expensive software, or a wind tunnel – all of which you're going to need if you want to build the fastest bike out there.
F1 Engineers & Supercomputers
To help seek out every gain in aero performance over the previous Aeroad CF SLX, we enlisted the help of Swiss Side. A company made up of former Sauber Formula One engineers; Swiss Side has the know-how and resources to make the fastest even faster and are the industry leaders when it comes to Computational Fluid Dynamics analysis.

Just like in Formula 1, new shapes are first tested with powerful CFD software that requires supercomputers to process. After months of running different test loops with thousands of variables, we have a solid idea of which forms will be fastest in the real world.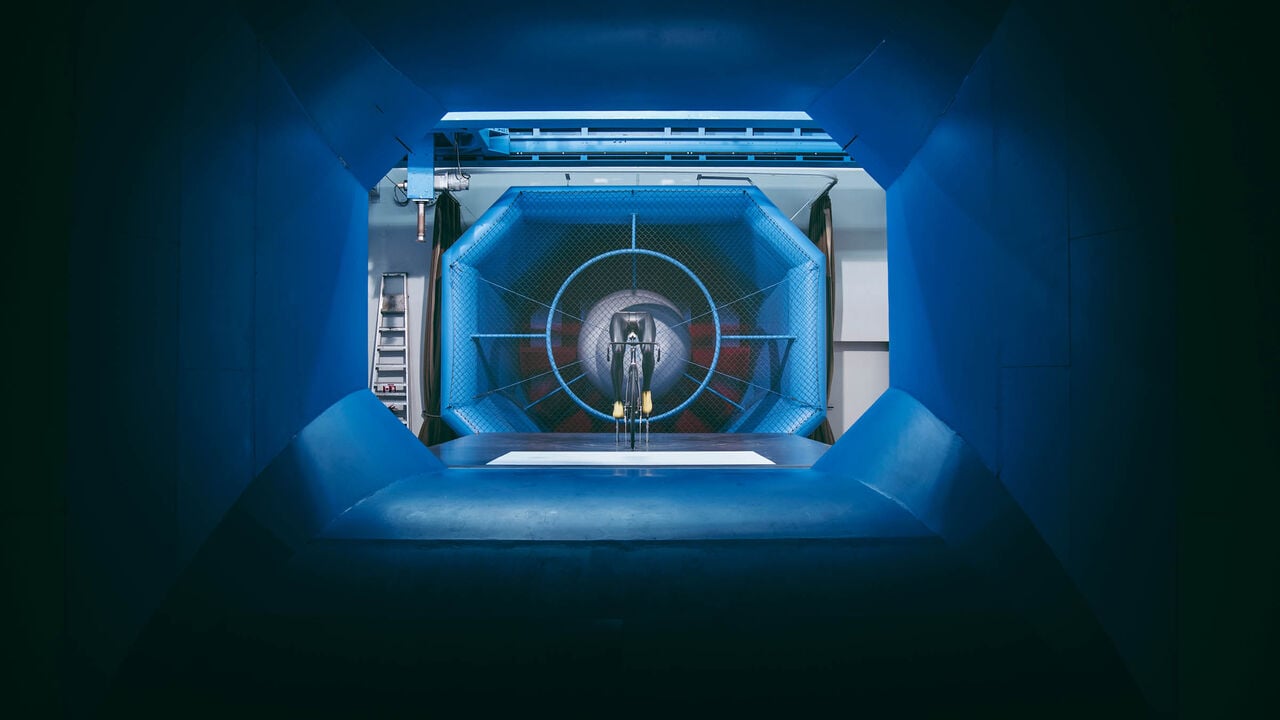 Into the Wind Tunnel
Before we go ahead and produce the fastest forms from CFD, first we have to validate them in the wind tunnel. Even the best CFD software cannot 100% replicate real-world airflow, so the wind tunnel is the ideal place to test our findings.

The bike is subject to airflow that replicates riding at 45 km/h, and then pivoted on a turntable between +/- 20° to simulate different wind angles. Meanwhile, highly accurate sensors beneath the bike are able to detect where and how much resistance is being produced and where, which gives us a picture of the overall aerodynamic performance.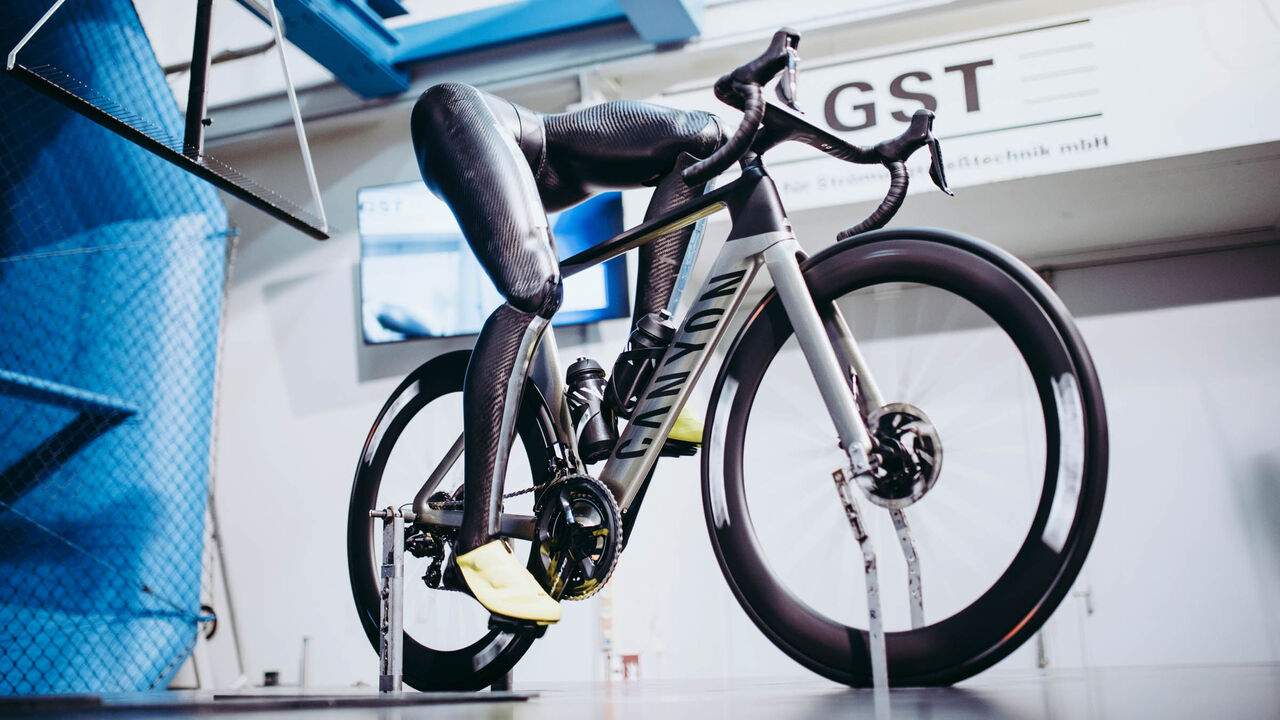 Meet Ferdi
Of course, bikes don't ride around by themselves in the real world. A rider's legs have a significant impact on air moving across the frame. It's essential however that the dummy is as light as possible so as to provide the most uninterrupted readings.

Ferdi, a superlight, one-off carbon fibre leg dummy, was built by Canyon engineers specifically with this purpose in mind. In the wind tunnel we gather results from three different scenario – bike on its own, bike with our leg dummy, Ferdi, and bike with Ferdi and two water bottles.
Flat-Out Fastest
The new Aeroad raises the bar considerably, especially when stacked against the previous Aeroad which had been a benchmark for years.

- Bike alone we measured an improvement of -7.4 w

- With Ferdi we measured an improvement of -4.4 w

- With Ferdi and 2 bottles we measured an improvement of -5.4 w
Color:

New Stealth

Color:

Dark Blue

DT Swiss ARC 1400 Dicut, SRAM Force eTap AXS 12s

Color:

Hot Salsa

Color:

Pale Green

DT Swiss ARC 1600, SRAM Rival eTap AXS

Shimano Ultegra R8000 SS, DT Swiss ARC 1600

Shimano Dura Ace R9270 wheelset, Shimano Dura-Ace Di2 R9250, 12-speed

Color:

Campagnolo Edition

Campagnolo Bora Ultra WTO, Campagnolo Super Record WRL, 12-speed

9.999 €

10.999 €

You save 1.000 €

Color:

CFR Stealth

Color:

Canyon-SRAM Replica

SRAM Red eTap AXS 12s, ZIPP 454 NSW TL Hookless

9.999 €

10.499 €

You save 500 €

Color:

Dark Blue

Color:

Stealth

DT Swiss ARC 1400 Dicut, SRAM Force eTap AXS

5.999 €

6.299 €

You save 300 €

Color:

Stealth

Color:

Pale Green

Color:

Dark Blue

DT Swiss ARC 1400 Dicut, Shimano Ultegra Di2 R8150, 12-speed

6.099 €

6.299 €

You save 200 €

Color:

Alpecin-Deceuninck Replica

Color:

CFR Stealth

DT Swiss ARC 1100 Dicut, Shimano Dura-Ace Di2 R9250, 12-speed

8.699 €

9.199 €

You save 500 €
Brand new Aeroad
Faster, stiffer, lighter. The new benchmark.