UK's most bike-friendly cities
Where are the most bike-friendly cities in the UK? We uncover the best places to ride your bike in the UK.
A lot of cities in the UK are often best explored by bike, but which are the most bike-friendly cities? Government investment in cycling infrastructure is typically focused on these places due to higher population densities and booming economies. Whether you live and work in one of these cities or simply want to visit and get around, jumping on two wheels will make your day easier.

According to the Bicycle Association, over 3.1 million bikes were bought in Great Britain in 2020 and it's expected to grow further in the coming years as cycling becomes more popular. Though the pandemic reduced the number of bicycle commutes in 2020 and 2021, data shows that cycling for leisure is still on the up.

With safety a primary concern for a lot of newcomers to cycling, we've listed Britain's most bike-friendly cities. Whether you ride a road bike, hybrid bike or an E-Bike, we look forward to hearing how you explore these great places.
Top 5 cities for cycling
We're certain there are perks to riding in just about every city in the UK (we're cyclists and we'd cycle just about anywhere!) but we want to showcase the best of the best. Most of these cities have an abundance of purpose-built cycle ways away from traffic.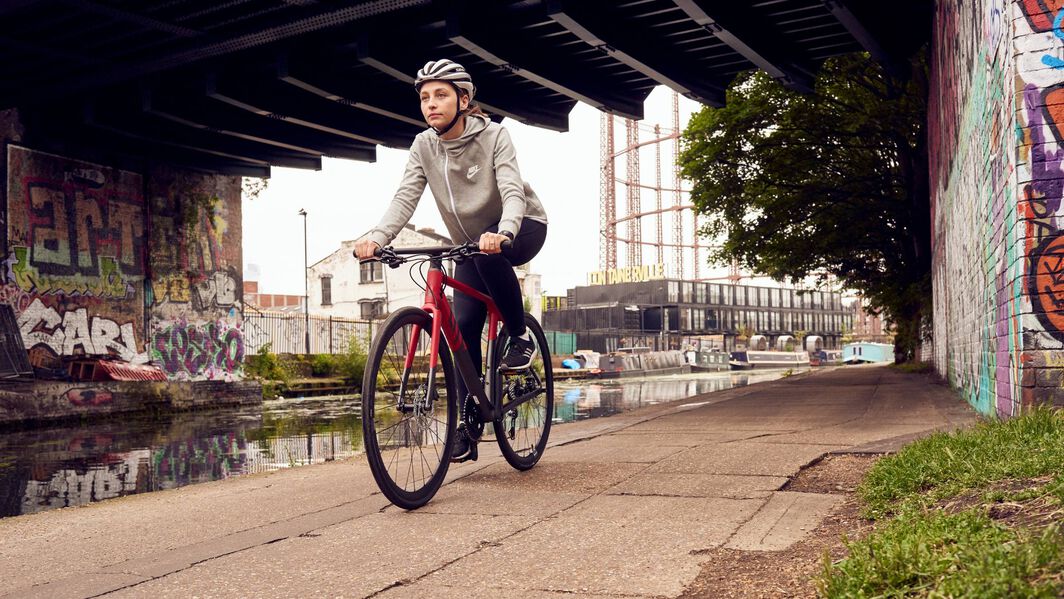 London
A somewhat obvious contender for one of the UK's most bike-friendly cities is the capital London. Transport for London and the Mayor of London are on a mission to transform London into a cycling haven through its cycle superhighways, quietways and other outstanding bike paths around the city.

Some of the best cycle routes in London incorporate the city's unparalleled infrastructure making cycling more attractive to less regular riders.

As one of the more congested cities on our list, residents and visitors are opting for pedals over pollution. It's often faster and more enjoyable to travel by bike compared to private cars and public transport.
Cambridge
Cambridge is perhaps not the first city you think of when it comes to the most bike-friendly cities in the UK. In actual fact it's flat terrain, relatively dry weather and investment in infrastructure makes it ideal for commuters and leisure cyclists alike.

The government's cycling and walking data shows 40.3% of people in Cambridge ride more than 3 times per week – more than in any other city!

One of the country's best cycle paths links Cambridge with St Ives along a disused railway. It's popular with everyday cyclists as well as road cyclists whether they're heading to work or out into the fens.
Bristol
Bristol is booming when it comes to bikes. The city is home to one of the most well-known and most-used bike paths in the UK: the Bristol and Bath Railway Path.

Bristol is considered one of the greenest cities in the UK so much so that it won the European Green City Award back in 2015. This isn't the only accolade Bristol has earned itself. In 2008, it received the title of England's first cycling city.

It's easy to get around Bristol by bike, so next time you're there make sure you have two wheels at your disposal.
Glasgow
As the most populated city in Scotland, Glaswegian dwellers have had to adapt how they get around the city over the years.

Glasgow is oozing with culture. It hosts thousands of gigs, festivals and sporting tournaments every year including the Commonwealth Games in 2014 and the upcoming UCI Cycling World Championships in 2023.

Glasgow has over 300 km of cycle ways and a bike hire scheme. You can explore the rivers, canals and historic monuments of Scotland's second city very easily by bike.
Edinburgh
The capital of Scotland has earned its notoriety as one of the best places in the UK to ride a bike. It is brimming with traffic-free cycle paths and is becoming increasingly safer for people who ride bikes.

Arthur's Seat in the city centre is a great park through which to ride and is often abuzz with cyclists throughout the day. The many art galleries, museums and eateries in Edinburgh are best visited by bike, so ditch the car and explore by bike.

Whether you're staying within the confines of the city limits or venturing further afield to discover some of Scotland's most underrated lanes, Edinburgh is a great place in which to base yourself.

Look out for the Edinburgh Festival of Cycling if you're planning a trip there and watch the city become alight with the sound of freehubs everywhere.
The UK's best cycling cities await
Where will you ride your bike next? We hope we've given you inspiration to jump in the saddle and explore the UK by bike. Let us know where your favourite cities are by tagging us on social media and using the hashtag #MyCanyon.
Our wide range of city bikes are perfect for everyday use and weekend adventures.
See the bikes
Want to know more about bikes with a belt drive? We've made a list of the pros and cons of belt drives here.