Canyon x Swiss Side: Speedmax, the new triathlon benchmark
After five Hawaii victories in a row, there's only one bike left out there for the Speedmax to beat. Itself.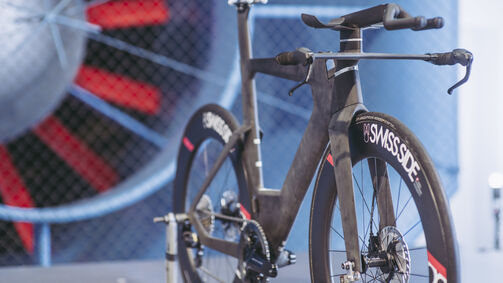 But how do you take the best, and then make it better? When Canyon and Swiss Side collaborate, it's a meeting of world-class minds – the best bike developers and the best aero experts, working together. And by leveraging all that aerodynamics expertise and racing experience, together, we did it. We built the fastest triathlon bike. Ever.
The Speedmax is far and away the most successful bike in the short history of professional triathlon racing. With five Kona wins in a row, a world-record full-distance time, and multiple European and 70.3 World Championship titles, the successes speak for themselves.
So why create a new Speedmax? Quite simply, to build the best triathlon bike of an era. Set a new benchmark. Raise the bar. For everyone – from World Champions, to ambitious age groupers, to athletes new to the sport.
To build the fastest full-system bike in triathlon, we had to take the limits of aerodynamic performance in cycling. And move them forward.
Speedmax Disc: Canyon's most sophisticated bike
The sheer complexity of the Speedmax meant that undertaking this project required a huge amount of specialist knowledge. Even the rim brake Speedmax has more individual parts than any other Canyon bike.
And the Speedmax Disc has even more. In this respect, it's the most advanced bike in the entire Canyon portfolio. It's no exaggeration to say that this bike sets a new standard in terms of engineering.
The significance of aero development in triathlon
If you've ever completed a long-distance triathlon race, you'll know. In the bike split, reducing aerodynamic drag means everything. In terms of physics, it has by far the most significant impact on your time. The more aero your bike, the more watts you save, letting you go faster at the same effort level.
To level up the outstanding aerodynamics of the Speedmax, we teamed up with Swiss Side – world leaders in aero development, from CFD analysis to wind tunnel work to real-world aero measurement. With over 50 years of Formula 1 experience, Swiss Side are constantly developing new, revolutionary, and game-changing technology with their unrivalled engineering knowledge.
"For me, aerodynamic advancement is key" states two-time Ironman World Champion Patrick Lange: "In long-distance triathlon, achieving maximum efficiency makes all the difference. That's why I've always been happy to rely on the expertise of Canyon and Swiss Side in this area. Working together, we've managed to make a lot of steps forward in terms of my equipment and riding position over the years."
Canyon and Swiss Side: developing a top-class complete triathlon system
One challenge during the aerodynamic development phase is to reduce drag while keeping the stiffness-to-weight ratio high. It's possible to make super-aero tube forms, but if they are too extreme, then stiffness and overall system performance can suffer as a result.
The same rule applies to the relationship between aerodynamics and comfort: high aerodynamic values at the expense of comfort will always lead to a reduction in overall performance. Because you can have the most aerodynamic position possible – but if you can't hold it for as long as possible, it means nothing.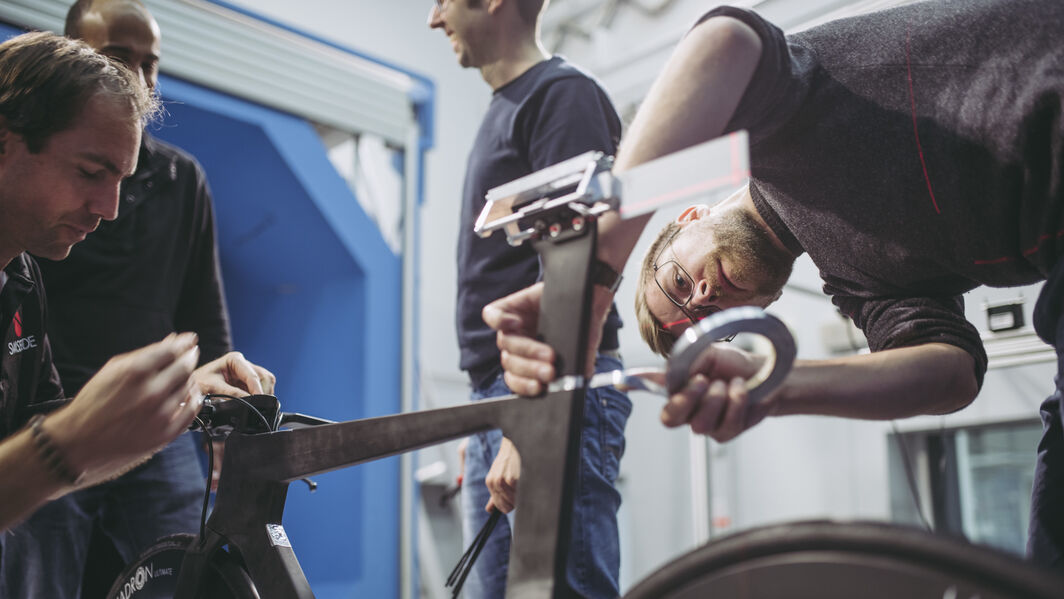 Swiss Side CEO Jean-Paul Ballard: "A new performance benchmark for triathlon bikes"
The Speedmax underwent the most comprehensive aerodynamic development process of any bike at Swiss Side to date – and throughout, their engineers were in constant exchange with our counterparts here at Canyon. This intense collaboration meant we took all relevant performance factors into account to create the optimum overall system solution.
Jean-Paul Ballard, CEO and co-founder of Swiss Side, explains: "We left no stone unturned, carrying out extensive CFD and wind tunnel testing to develop the best concept, and then extracting every drop of potential from the bike. The new Speedmax sets a new performance benchmark in triathlon."
Product Manager Daniel Heyder: the Speedmax CF also gains from Swiss Side's expertise
Another unique point: all Speedmax platforms benefit from the collaboration with Swiss Side. The gains made from this complex development process don't stop at the top-end CFR and SLX platforms – they also trickle down to the Speedmax CF.
"With the Speedmax CF, we also achieved a level of development usually reserved for the pros," explains Daniel Heyder, Product Manager Speedmax. He continues: "The Speedmax CF is just as aerodynamic as the previous-generation Speedmax CF SLX, which Jan Frodeno rode to Hawaii gold in 2019. We did it together with Swiss Side by using tube shapes that were originally intended for our Aeroad CFR. These were CFD-optimised using supercomputers, but originally deemed too extreme for road racing."
So, not only pro athletes benefit from these high levels of aerodynamic advancement – but also ambitious amateurs at all levels of triathlon racing.
An enormous investment in the pursuit of aero perfection
When you're at the cutting edge of aerodynamic design, making improvements requires a huge amount of effort and resources – in terms of money, time, and physical effort.
Without going all-in on expensive software, working with supercomputers, and carrying out laborious wind tunnel tests, you can't make any significant improvements. The massive 456 CFD test runs and 97 wind tunnel validation runs we carried out with Swiss Side made a deciding contribution to the bike's creation and design.
Laura Philipp: the challenge of keeping the same position in a cold wind tunnel
Wind tunnel testing is a big challenge for engineers and riders alike: to make the results consistent and comparable, conditions must be the exact same on every run. Withstanding the cold conditions is especially tough for the athletes. Wearing only thin race suits, they have to get through active phases – where they ride on the Speedmax facing the cold wind generated by the turbines – with breaks, waiting for the next run.
Ironman Champion Laura Philipp explains: "the biggest challenge is keeping the same position all day long, so you get consistent values. And then there's the cold, and the on/off nature of the work. We'll normally do 15-20 runs on a test day. A run takes about 15 minutes, including setting everything up beforehand and wrapping things up after riding. I ride with a moderate resistance – approximately the same amount of watts I push during an Ironman race."
The new Speedmax: a huge step forward
After countless test runs with our pro athletes, the new Speedmax made impressive watt savings across the board compared to its predecessor:


the bike alone: 8.9 W

the bike with Ferdi: 8.0 W

with (male and female) pro athletes: 9 and 10 W
"Right from the outset, we set ourselves ambitious goals when it came to the aerodynamic development of the new bike. Leveraging Swiss Side's expertise and technical resources, we collaboratively developed a process that was truly next level in the industry" states Kohl. Continuing, Kohl explains how Swiss Side's advanced equipment made some huge steps possible in a short timeframe: "We managed to drastically reduce the frameset's aerodynamic drag. Without precise, rapid CFD and wind tunnel development methods, this would not have been possible in the short time we had."
The aero expertise of Swiss Side – combined with our years of expertise in carbon engineering and design – has resulted in a bike that meets the demands of the highest levels of triathlon racing.
Speedmax CF: a bike for ambitious triathletes
But it's not only world-class athletes who benefit from having a fast bike. Our aim at Canyon is to make the highest standards of design and engineering available to as many athletes as possible. We call it Democratising Performance.
The Speedmax CF is the platform that embodies this vision. The absolute best triathlon bike at the absolute best price. Race-ready and engineered to meet the exacting demands of ambitious triathletes.
Speedmax CF: World Championship-level performance
Like all Speedmax platforms, the CF is the product of an intense, highly technological development effort.
Thanks to deep aerodynamic optimisation through extensive CFD analysis – combined with performance DNA inherited from old rim brake CF SLX – the Speedmax CF almost as fast as the previous Speedmax CF SLX. The bike that won five World Championship races in a row at Kona. The between the two platforms is a miniscule 0.2 W.
This is how we give every triathlete world-class performance in our most affordable package.
Patrick Lange: Hawaii's wild winds complicate aero development
In addition to aerodynamics, there are other factors that go into creating a triathlon bike with the best overall performance. For example, wind can come from any direction. It's about so much more than just unidirectional, directly head-on air resistance.
Patrick Lange explains: "Especially at the World Championships in Hawaii, you don't just have to deal with 'normal' air resistance, but also with strong, gusty winds. That makes the issue particularly complex."
The role of the sailing effect
In recent years, scientific research yielded important insights into the sailing effect, which lets you ride faster with no extra effort. Kohl is well aware of its importance: "of course we want to use the sailing effect with the Speedmax – but at the same time, the bike also has to be easily controllable, even in crosswinds."
As Kohl explains, this is another area requiring close coordination between Canyon and its development partners: "this represented a challenge when it came to our collaboration with the design agency. We have to select the forms that best unite aesthetics with technical performance, such as exploiting the sailing effect.
Laura Philipp: striking the key balance between aerodynamics and biomechanics
When combined, aerodynamics and comfort are key factors when it comes to performing your best in the bike split. But by themselves, they mean nothing. When it comes to building these into the bike to create the optimal overall system, the most important factor is rider/bike interaction – the body makes up 80% of the overall frontal surface area. So all those wind tunnel hours are worth it once the athlete finds their perfect riding position.
Laura Philipp explains: "Biomechanics play a key role here, because in an Ironman race, you have to push the pedals hard and, most importantly, hold the same position for four hours at a time. It's no use saving 10 watts in the wind tunnel if your position is so uncomfortable that you're generating 20 watts less, or if you can't run properly afterwards. Finding this balance – the perfect point between aerodynamics and biomechanics – is the biggest challenge for us."
A new level of adjustability
To enable this perfect interaction between bike and rider, the bike must be extensively adjustable to achieve the rider's optimal seating position. With its huge range of adjustment options, the new Speedmax reaches a whole new level. It's never been possible before to achieve such a wide range of positions. The bike is equipped with the most advanced and adjustable cockpit we've ever developed.
For optimal adjustability, we include a specially designed fitting kit with the bike in the box. Using it, riders can dial in a range of options from comfortable to aggressive. This lets all triathletes dial in their perfect fit for the most efficient performance possible. And thanks to a rider-friendly design, the athlete can make all the adjustments themselves or together with a bike fitter, without needing support from a mechanic.
Riding an aero bike is the obvious way to get faster but what else can increase your aerodynamics?