Canyon release new Stitched 2022
The bike that legends Tomas Lemoine and Thomas Genon have been landing on the podium for years, known for its balanced handling and bombproof durability.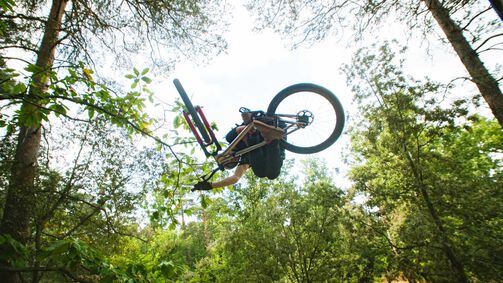 Proven at the world's top slopestyle events. This is the Canyon Stitched – a jump bike that feels as at home nailing pumptrack laps as it does nailing big-time tricks, thanks to its dialled geometry and pinpoint weight distribution. And now the 2022 Stitched is starting the new season in style, with a range of new colours and components.

There are three Stitched models in the 2022 range: two hardtails, the Stitched 360 and Stitched 360 Pro, and the full-sus Stitched 720. They're all built around hard-as-nails aluminium frames, with an oversized BB junction for maximum rigidity and strength around the crankset. The hardtails are offered in Short and Long sizing options for the perfect fit and feel, and all models come specced with parts built to take a serious beating.

The Stitched 360 comes with a Manitou Circus Sport fork, SRAM Level T brakes, and a Race Face Aeffect crank. Further up the range, a super tough, super rad, super reliable spec puts the 'Pro' in the Stitched 360 Pro – a Marzocchi fork, DT Swiss 533 D wheels with MAXXIS DTH 2.3 tyres, and a Canyon G5 gravity cockpit tested to the limits and put through its paces by CLLCTV pros around the world. The 360 Pro really is a bike after Tommy G's own heart – and in honour of the Belgian legend, for 2022 it comes in his very own signature colourway, Genon Replica Grey.

With its 100 mm of progressive rear travel, the Stitched 720 built for the huge jumps and heavy landings riders have come to expect in certain slopestyle events– where high speeds, big airtime, mind blowing tricks, and insane features are par for the course. And this season the Stitched 720 is raising the stakes, turning the style dial all the way up to 10 with its awesome new Purple Trasher colourway.

In both hardtail and full-suspension trim, the Stitched absolutely nails the balance between bombproof construction and manoeuvrability – it's the ideal ride for anyone who wants to level up their skillset at their local jump spot, pumptrack, or skatepark. And because big-time thrills don't come without the occasional spill, the Stitched has the same Category 5 frame classification as Canyon's downhill bikes. In simple terms- the Stitched is built to take a beating.

The Stitched 360, 360 Pro, and 720 are available from 28 October.
About Canyon Bicycles
What started life in founder Roman Arnold's garage as Radsport Arnold has evolved into one of the world's leading manufacturers of road, mountain, triathlon, hybrid and kids' bikes as well as modern e-bikes. Officially renamed in 2002, Canyon works hand-in-hand with the best athletes on the planet to produce an array of award-winning bikes that embody a pure passion for riding. With a strong reputation for true innovation, implementing leading technologies, clean and clear design as well as the highest standards in quality and service, Canyon continues to expand worldwide, selling more bikes outside of its native Germany than within since 2008. As a pioneering direct sales brand, Canyon products are exclusively available online at www.canyon.com.