Gravel bikes vs road bikes: Where they shine and where they differ
A gravel bike is the workhorse of modern bicycles. Although they look similar, they're very different. Let's take a closer look.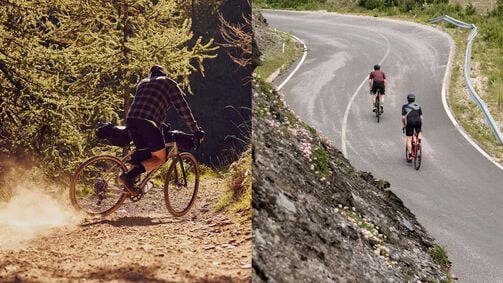 Gravel bike vs road bikes: What's the difference?
While remarkably similar in many ways, gravel bikes and road bikes differ in several key areas.

With a proud and celebrated history, road bikes are those streamlined, lightweight, aero machines engineered for optimal performance on smooth asphalt. But that specialisation comes at a price; venture off-road, and they'll challenge even the best bike handlers.

Designed to go where road bikes can't, gravel bikes are the all-rounders of the cycling world. They perform admirably on tarmac while also excelling on gritty, rocky or sandy trails. Adept across a wide variety of terrain, gravel bikes offer comfort, adaptability, versatility, and ruggedness.

But as with any all-rounder, gravel bikes don't offer the absolutely dialled feel on smooth surfaces that a road bike does. With their lower weight, narrow tyres, and aerodynamic tubing that slices through the air faster, road bikes are unmatched in terms of responsiveness and sheer speed.
The geometry of road and gravel bikes
The geometry of a gravel bike is often more relaxed than that of a road bike . The taller head tubes that enable a more relaxed position on gravel bikes often result in a sloping top tube that differs from the flat design commonly found on road bikes. This allows for more relaxed steering, and slightly less sharp on the road, it's of great benefit on off-road sections.

Engineered to provide extra stability and increased comfort over distance, gravel bikes ride higher than road bikes. With an elevated bottom bracket, they have more clearance for uneven surfaces, and generally have longer wheelbases for improved stability over rough terrain.


Wider tyres on gravel bikes: the benefits
With rims getting wider, 40 mm is the most common tyre width for gravel bikes. Many gravel riders find this the sweet spot between road efficiency and off-road grip. With ample tyre clearance, many gravel bikes let you fit far wider tyres if you choose.

Where skinny 23 mm tyres were once all the rage on the road, modern science on rolling resistance shows slightly wider tyres to be the optimal choice. 25 mm to 28 mm are most common, depending on the surface and conditions.
Are disc brakes a requirement on gravel and road bikes?
Disc brakes are increasingly common on both road and gravel bikes. On gravel bikes, hydraulic disc brakes are essential in that they provide that confidence-inspiring control and stopping power in less than ideal off-road conditions. And when it comes to tailoring the setup for different terrain, disc brakes are an essential aspect of their inbuilt versatility, because it makes changing out wheel sizes effortless.
Gearing differences on gravel vs road bikes
Gearing configurations on road bikes fall within a narrow range. They typically involve a double chainring consisting of 39 or 42 teeth on the inner ring, and 52 or 53 on the outer, although smaller compact options are also available. Standard cassettes fall in the range of 28-11 to 32-11 and provide robust gearing for pan flat courses to steep uphill riding.

On gravel, the debate isn't quite as settled. Two main options exist – single-chainring and double-chainring setups.

Shimano's gravel-specific GRX groupset offers both 1x and 2x setups. Depending on how tight you want the range, 1x configurations will likely have an 11-42 or 11-40 cassette paired with a 40 or 42-tooth chainring.

On 2x setups, 48 and 31 tooth chainrings with an 11-34 cassette are most common. Such configurations mean smaller gaps between the gears.

Chain slap is a significant problem on off-road riding with gravel bikes. Single chainrings have an alternating tooth width to help keep the chain in place on rough terrain. A clutch on the rear derailleur is also a necessity on gravel bikes.
Cockpit and handlebar design
While both bikes have a drop bar design, with gravel bikes, aerodynamics and weight are much less of a consideration when compared to road bikes. The drops on gravel bikes tend to curve outward for a wider grip that gives you more control on rough surfaces.

Carbon fibre dominates handlebar design on road bikes. While carbon offers better damping, it can also reduce control due to flex. Aluminium is less susceptible to flex, and although it doesn't provide the same damping, it's common on gravel bikes.
Can I upgrade a gravel bike to a road bike?
With a new generation of super versatile gravel bikes, many riders wonder if they can upgrade their gravel bike to perform as optimally as a road bike.

Due to the similar geometry, the dual bike idea has some merit. The most limiting factor on road performance for a gravel bike is tyre width and the associated drag. Designed for easy interchanging of different wheel sizes, road wheels on gravel bikes will make a tremendous difference to speed on both the flat and on inclines.

To further tailor a gravel build, things quickly get complicated. With a more upright handlebar position and a higher bottom bracket, saddle position adjustments may quickly become a tedious affair.

In short, gravel bikes can get close to emulating the performance of a road bike but will never be a true substitute for raw speed on the road.
A gravel or road bike: Which is best for me?
That depends very much on your needs and how much time you intend to spend off-road. A road bike can't go everywhere a gravel bike can, but a gravel bike can go anywhere a road bike can.
Canyon Gravel Bikes
Alongside the ever-expanding calendar of gravel events, we also have a range of gravel bikes to quench your thirst for adventure no matter the terrain. Whether you're racing, training or just getting out the door and having a great time with mates, our Grail and Grizl gravel bikes are the tools for the job.
Canyon Grail gravel bike
Our extensive Grail range will have you covered from smooth asphalt to gravel tracks.

Many models come equipped with Shimano's gravel-specific GRX groupset, all in a confidence-inspiring ergonomic design. With a geometry engineered for all-important tyre clearance in both carbon and aluminium designs, these bikes are designed to cover big distance off-road, fast.
Canyon Grizl gravel bike
New for 2021 is the Grizl bike that's ready to hit the trails when you are. While the Grail is the perfect bridge between rough and smooth, the Grizl prefers to be out in the wilderness away from civilisation.

Most models are equipped with Shimano GRX, one of the best dedicated gravel groupsets around. It's good news for the gravel aficionados among you: there's a 1x13 Campagnolo Ekar setup from the prestigious Italian component maker which is sure to turn heads.
Canyon road options
At Canyon, our road options are extensive. With several different ranges, all targeted toward different disciplines, requirements, and budgets; our designs range from Kona-winners to Grand Tour winning designs.
Endurace
Our Endurace range provides that 'all-day' ride. With our less aggressive sport geometry, it ensures maximum rider comfort for those long days in the saddle and relieves pressure on the lower back and arms.
Ultimate
The Canyon Ultimate range is our classic race bike and combines stiffness in a lightweight design in our more aggressive Sport Pro geometry. As at home on a race start line as it is on a long sportive, the ultimate range provides the best of both worlds.
Aeroad
An aero race bike par excellence. Our wind tunnel tested Aeroad range is precision-engineered to cut through the air with optimal efficiency and deliver optimal aero performance on the road.
Speedmax
The Speedmax range represents our time trial and triathlon bike range. Optimised for supreme aerodynamic performance and streamlined precision, the Speedmax offers long-distance comfort and comes complete with smart solutions for nutrition and hydration.
Discover our Gravel Bikes
Gravel bikes come in two frame options: aluminium and carbon. Which is the best material for your gravel bike?