Triathlon bikes
Wind tunnel-optimised bikes combining aero performance with the smart solutions you need to win triathlon races.
Discover your perfect triathlon bike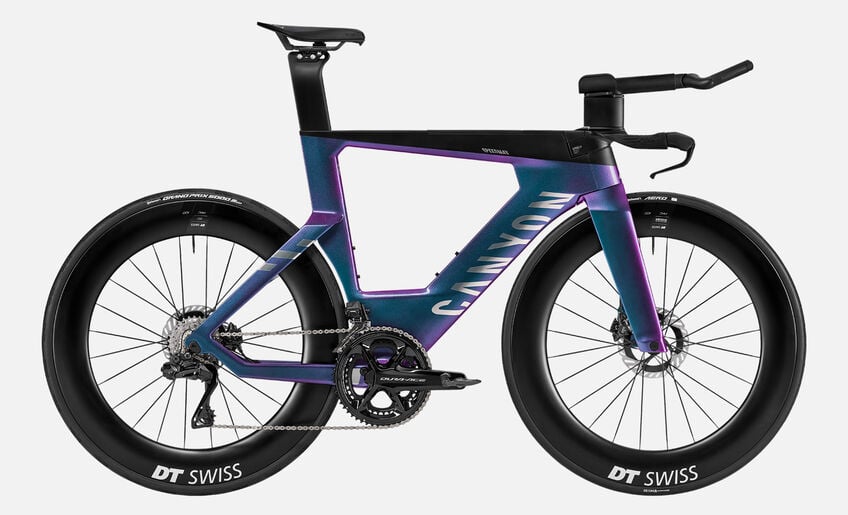 The triathlon benchmark
Speedmax
More speed, more adjustability, more integrations, more podium finishes.
DT Swiss ARC 1100 Dicut, Shimano Dura-Ace R9200, 12-speed

Shimano 105 R7000 SS, DT Swiss P 1800 Spline db
Three sports all part of one event is as exciting as it is challenging but with a little help from the experts, you'll be well on your way to smashing PRs, increasing your distances and perhaps even tackling an Ironman one day.
Triathlon bike: a race bike for ambitious athletes
With a triathlon bike, you can take your performance to the next level in your upcoming race. The frame's design guarantees peak aerodynamics and opens the door to achieving new personal records.
What is a triathlon bike?
A triathlon bike is a highly specialised racing bike. It was developed for time trials and for the cycling portion of a triathlon, where you have to cover distances between 20 and 180 km as quickly as possible.
A triathlon bike is optimised for achieving race speeds. This is evident in the frame design and component selection. The extremely aggressive riding position is typical, reducing air resistance to a minimum. A special handlebar attachment and the low position of the handlebars result in a very steep seating angle on the bike. This posture is called "aero position".
Features of Canyon triathlon bikes at a glance:
Aerodynamic design of the frame and components
Lightweight carbon material with very high rigidity
Internal cable routing
Wheels with high-profile rims and a reduced number of spokes
Aero or TT handlebars for a flat upper body position
Cockpit individually adjustable for ideal width and perfect angle
Optional electronic shifting for optimal handling
Integrated storage and hydration solutions in the frame
Classic racing bike or triathlon bike?
A triathlon bike is not an everyday bike. Geometry and handling are specifically designed for time trials. Since your riding position is directly above the bottom bracket, the centre of gravity is far forward. In turns, as well as on climbs and descents, triathlon bikes are more difficult to control compared to other bikes.
Tip: For a more leisurely experience on faster rides, we recommend different types of bikes such as endurance road bikes, gravel bikes, or minimalist city bikes instead of a triathlon bike.
Do I need a triathlon bike for a triathlon?
For your first races, you don't necessarily need a triathlon bike. For beginners, it's mostly about developing routines in the disciplines and transition areas. A classic racing bike is sufficient for that. If you want to get a little more serious about racing, you can use an aero handlebar and triathlon accessories.
The better you get and the longer the distances, the more you benefit from a bike specially optimised for triathlon. Only a few watts decide whether you win the race, and a top-of-the-line triathlon bike can give you the decisive edge. For certain competitions, only UCI-approved time trial bikes are allowed.
Which triathlon bike from Canyon is right for me?
Canyon's Speedmax series, which has been fine-tuned in the wind tunnel, provides an appropriate option for all triathletes, regardless of whether they are professional or passionate amateurs. The cockpit can be customised to your body position down to the smallest measurement. The shifting (Shimano Ultegra or SRAM Rival) is available as an eTap version if desired. For optimal aerodynamics, the storage of repair tools and refreshments is integrated into the frame.
Buy your triathlon bike at Canyon online
You can buy your triathlon bike directly from the manufacturer online at Canyon. We have the right Speedmax model specced exactly for your needs: chose between different colours and components to up your game in the next race.