Apidura X Canyon Top Tube Pack
Color only available to members. Register .
Availability:
Delivery within 3-10 working days
30 Day Return Policy

If you're not 100% satisfied with your Gear purchase, return it within 30 days in an unused condition for a full refund. The 30 day period starts once you receive your goods and is complied with by return of the goods to us within 30 days.

2-Year Guarantee

We take responsibility for defective products. If you notice any inherent issues with your Gear within a two-year time frame of receipt, please fill out a Guarantee Request under Customer Service below.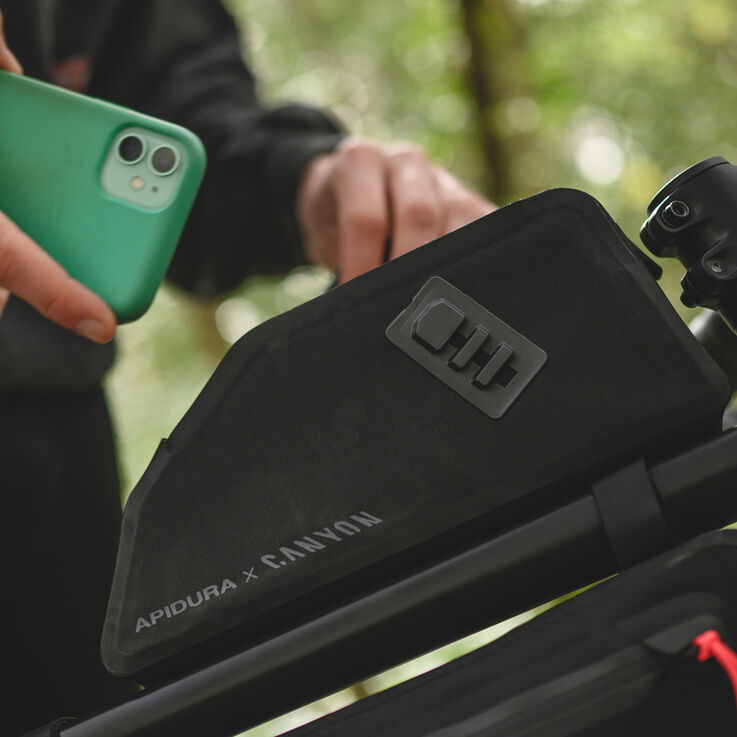 Apidura X Canyon Top Tube Pack A durable, lightweight and convenient place to store frequently-used items on any length of ride, reimagined to perfectly complement the Canyon Grizl.

The Apidura x Canyon Top Tube Pack fits securely to the Grizl's top tube bolt bosses and is perfect for storing battery packs, mobile phones and everyday essentials. Like the Grizl, the pack is lightweight and rugged enough to tackle any terrain.

This top tube bag is constructed from an ultralight, waterproof laminate developed for Apidura. It features an innovative magnetic quick-access flip-top opening for fast access and a clear view of the full contents of the bag, while also keeping your belongings dry. A closed-cell foam padding structure protects your frame and electronics from damage on rough terrain and for added convenience, a protected cable port enables charging of devices on the go.
Average customer rating
5 out of 5
1 customer reviewed
Apidura X Canyon Top Tube Pack Gallery
Features
Precision Crafted - using seam welding for unbeatable waterproofing, the frame bag has a lightweight minimal design and enhanced durability.
Made from Hexalon - an ultralight waterproof laminate, developed specifically for Apidura
Reinforced Structure - integrated thermoset material adds stiffness and strength
Abrasion-Resistant Panel - enhances durability, no matter the conditions
Cable port - enables charging of devices on the go
Ample Knee Clearance - designed to maximise storage space without getting in the way
Laser Etched Details - each Apidura x Canyon pack features laser etched coordinates for Canyon's HQ
Removable Padded Base - protects contents from damage, no matter the terrain
Tool Free Bolts - for quick attachment and removal
Optimised Bolt Placement - designed to perfectly fit the Grizl
Magnetic One-Handed Opening - quick access flip-top opening gives a clear view of the full contents
Contents
1 x Apidura X Canyon Top Tupe Pack
We're in Control
Our business model gives us the advantage of knowing exactly where our products come from, how they are made and what they are capable of. Canyon products are exclusively available at Canyon.com, so you can trust the quality you are getting.
Disclaimer
Subject to technical modification without notice. Errors and omissions excepted.
To finance your order:
Select the 'Financing' payment method at checkout and enter the amount you wish to be financed. You will be forwarded directly to the online application page of our partner, Consors Finanz BNP Paribas. After you have entered your information, the application will be immediately checked directly online. If your application is accepted, you have to confirm your identity (1. over the Internet or 2. in a post office) and sign the contract (1. online via mTAN (SMS), or 2. print out the credit agreement, sign it by hand, and send it in by post). Your order will then be processed and we will deliver the goods to you as quickly as possible.
Instalment Calculator
No credit checks, 0% interest. Pay monthly for your order with your existing credit card.
Instalment per month
null
How to order:
At checkout, select the 'Interest-free instalments' payment method.

Complete your order

You will be redirected to Splitit to set up your payment plan.
If your bike isn't in stock you will receive a payment link about 14 days before shipping.
How payment works:
The first monthly payment is charged on your credit card when your order is shipped.

Splitit will authorize the full amount on your existing credit card (Visa/Mastercard), but only charge you the first installment up front.​ Please note debit cards are not valid for the Splitit payment option. Please ensure that your credit limit is sufficient, otherwise your order will not be successful.

After every payment, the hold on your card is reduced until the purchase is fully paid. In case the re-authorization for the remaining balance doesn't go through, and there is no solution within the grace period of 7 days, the credit card will be automatically used to recover the full purchase amount. Splitit will inform you about any issues on the payment plan in a timely manner. Please also check your spam folder regularly.

Please note that when the new monthly authorization will be made from Splitit it might happen depending on the bank that double the amount needs to be available on your credit card. The old authorization will be canceled immediately after the new one is created.
The instalments appear on your statement as individual payments. Your order will be processed and delivered as normal upon passing our quality control check.
Klarna. Instalments
Pay with equal monthly instalments. Interest-free up to 6 months.
Pay in instalments by card over 6–36 months.

No interest or fees up to 6 months.

9.9% interest on 12-36 month terms.

Available for in-stock products & products with shipping date within next 30 days.
How to order:
Select 'Klarna. Instalments' at checkout.

Enter your details on the Klarna website.

Klarna will perform a credit check. Only takes a few seconds.

The first payment will be charged when your bike is shipped.

The remaining payments will be taken monthly.
You will receive notifications when payment is due and when it is collected.
Further information
If Klarna reject your payment, please:
You can view your Klarna purchases on klarna.com.
Ready-to-ride Delivery
With Ready-to-ride Delivery, pro mechanics will ship, assemble, and set up your e-bike.