How to ride longer distances
Riding longer distances is a true feat of endurance but it takes time, energy and preparation. We spoke to two Canyon riders who know all about it: Emily Chappell and James Hayden.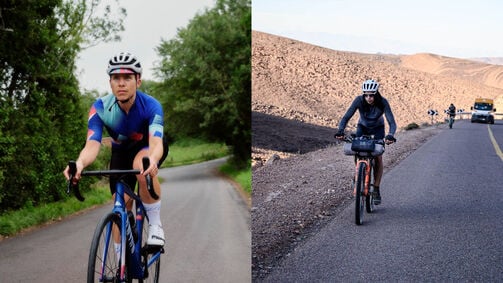 Every rider remembers their first 100 km and initiatives like the Rapha Women's 100 have encouraged many cyclists to take on the annual challenge. Knowing your legs and bold determination have carried you such a long distance gives a sense of accomplishment that is unmatched. If you're yet to spend longer than a few hours in the saddle, you needn't be put off. Long distance cycling requires not only fitness but also tactics and planning.
Long distance bike rides require high levels of endurance built up over a period of weeks, months or even years for ultra-distance rides. The best method of increasing your endurance is the one that works for you. Everybody's different, so you'd be wise to figure out what works for you and go at your own pace.
If there are two people that know more than most about riding long distances, it's Emily Chappell and James Hayden. Both riders have won the Transcontinental Bike Race which is a 4000 km ride across Europe. While Emily continues predominantly with long distance road cycling, James has jumped into the world of long distance mountain biking and gravel racing, too. We asked both of them for their tips for getting on your bike to ride longer distances.
What is long distance cycling?
The definition of what actually constitutes a long-distance bike ride is open to discussion. What's categorised as long distance for one person can be considered relatively short for the next. For the purposes of this article, we'll be referring to rides longer than 100 km.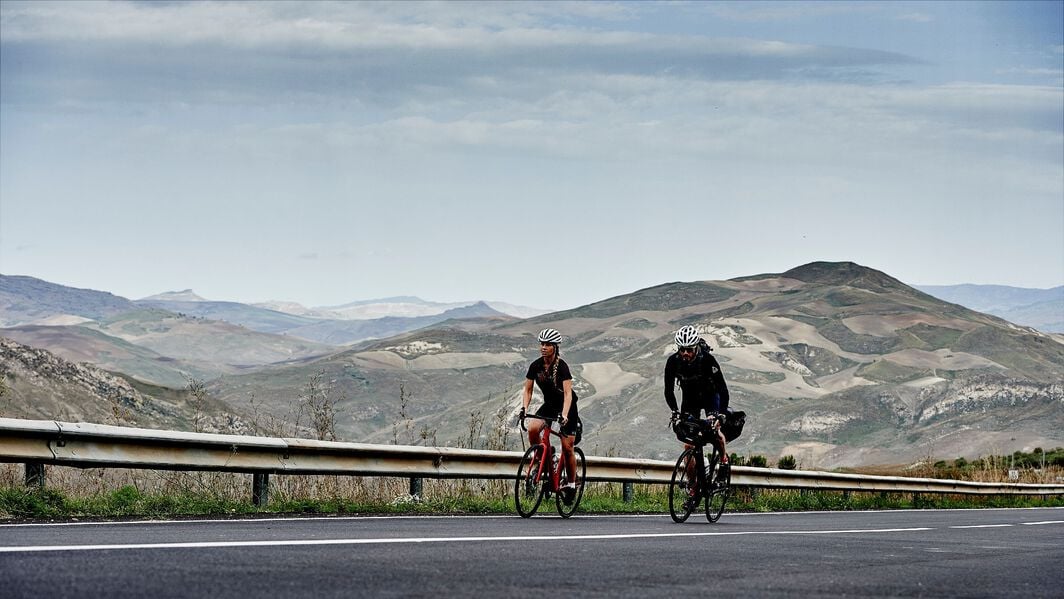 How to increase your distance:
Nobody goes from 0-100 km+ overnight. Like most other things, it takes practice, trial and error, and time. Emily Chappell's odometer means she is a real expert in this field so she's given us a few of her long distance cycling tips that have enabled her to conquer her cycling dreams.
Build up gradually
The most ambitious projects start small and long distance cycling is one of them. If you know you're capable of comfortably riding 70 km then try adding 10 km to that distance over the course of a couple of weeks.
"I always try to stretch further and further from home seeing more wonderful locations and routes," says James Hayden who is applying this exact mentality to his new home roads in Girona, Spain.
After the winter months, you'll want to ease yourself into it to get a feel for your current fitness. As daylight increases and the mercury rises, it becomes easier to ride for longer. Sign up for cycling events including sportives and races or even scout out your local audax or randonneuring club. Randonneuring is a form of ultra-distance cycling - a discipline steeped in history and tradition around the world.
"A super randonneur award (200 km, 300 km, 400 km, 600 km in one season or year) is a good way of creating stepping stones throughout the season," says Emily. "I also like to book in visits with friends and family who live a requisite distance away."
Pace yourself
One of the easiest mistakes is to be a little too over excited at the very start of your ride and blow up halfway around because the pace was just a little too spicy for you. We've all learned the hard way, but you can avoid making this mistake from the moment you set off.
If you're planning to ride for 8 hours, make sure you save some energy for later on in the day. It's easy to get swept up in the excitement of others at the start of an event but if you focus on yourself and ride well within your comfort zone at least for the first half, you can push on for the final part of your route when you know you're getting closer to home.
"I've discovered (over many years and thousands of miles) that I ride best in the morning, slow down in the afternoon then perk up again after sunset," reveals Emily though she confesses that it's easier when riding alone when you don't have others to whom you invariably end up comparing yourself. "Try taking a longer view and think about how much progress you make daily rather than whether you're falling behind in any particular moment," she adds.
Find like minded friends
Riding long distances means you're out and about for hours or days at a time. Some people prefer to ride alone but for others the motivation and company of fellow riders can help a great deal in persevering when the going gets tough.
"It makes a huge difference knowing that you have a cohort of people who get it," concludes Emily. She points out that these people can exist both in real life or within your mind, the latter she explains: "I call this my invisible peloton and when a ride gets really hard, I sometimes imagine they're riding around me or ahead of me to take me in the wind. This is one of the reasons why social media can be such a lifeline on long rides - it helps you feel less alone."
Finding someone else who has the same goals as you will work wonders for helping you reach your long distance targets.
Plan your route
When riding long distances, you're likely to ride into territory you won't have covered before but this is no bad thing. "I find that riding through new areas makes some rides go faster as my senses are overloaded," explains James, referring to the constant buzz of discovering new people and places. "Do your research before the ride: look for new, interesting areas and also determine the terrain, services available and potential weather," he advises.
Emily echoes many of his sentiments but highlights the different types of events will dictate your route. "If it's a race, you'll want the shortest, flattest route between A and B. If you're out for an adventure, I'd recommend giving yourself as much time as possible to allow for detours and quieter roads," she suggests. "My favourite discoveries have always been the ones I wasn't expecting!"
Apps like Strava, Ride With GPS, Komoot and Epic Ride Weather are essential for people planning their next great escape.
What to eat during a long bike ride
It'll come as no surprise that riding long distances also requires adequate fuel to get around. If you don't provide your body with enough energy, you will "hit the wall" so to speak. This occurs when your body is hypoglycemic (low in blood sugar).
The most important aspect of fuelling is figuring out what works for you. No two people are the same and what works for one person may not work for you. Eating while cycling for hours at a time can put your body under a lot of stress, so it's important to try different foods at different times of the ride.
Carbohydrates, fats and proteins all have their place in the human diet, however there's a lot to be said for eating what you crave while riding long distances. Importantly, don't forget to stay hydrated. Not only is this vital for your health but it also keeps you more alert when you're tired.
What to wear on a long distance ride
Comfort should be high on your list of priorities when riding your bike a long way. If you're not comfortable on your bike then things will turn sour pretty quickly. Kit can sometimes take quite a while to break in and it also takes time to figure out which items work best for you.
"Research and advice will only get you so far because everyone's anatomy and riding style is different," explains Emily. She acknowledges that indoor training can work wonders on your fitness but for kit, there's good reasons to venture outdoors. "You need to put your kit through all the horrible conditions you might experience during your challenge. As a general rule, I set myself the deadline of making no new kit decisions within a month of the event," she insists.
Important pieces of kit to test for long distance cycling include cycling shoes, bib shorts, gloves and upper body layers such as jerseys, base layers, gilets and jackets. Find out what's comfortable for you regarding the kit combinations that will survive rain, sun and everything in between.
What to take on a long distance bike ride
Just like any other bike ride, you should take a repair kit that includes one or two spare tubes, a pump and tyre levers. If your ride ventures into more remote territory, a spare derailleur hanger and a couple of spokes won't weigh you down and could save your bike ride from disaster. You'll need a multitool and a spoke key for any roadside repairs. Another useful tool is a chainbreaker (sometimes included on many multitools) and a couple of quicklinks. Broken chains are fairly common especially off-road, so don't be caught out.
If you're out for a whole day or longer, a battery pack and the relevant cables are useful for charging lights, a GPS computer and your phone. The last thing you want is to be lost in the dark with no phone battery! You can easily stash these essentials in a frame bag for easy access but it's good to keep your electricals in a waterproof dry bag just in case the weather turns unexpectedly.
Finally, a credit card can be useful for getting yourself out of unfortunate situations. Keep it separate to your other money in case you lose your wallet or it gets stolen.
Best bikes for long distance rides
Depending on the terrain, the best bike is also the most comfortable. Typically, the geometry of endurance bikes is more relaxed and less aggressive than other road bikes. Bikes like our Endurace are designed for going the distance on the road thanks to a lightweight frame and an ergonomic riding position.
For long distance off-road exploits, the Grizl is a clear winner for multi-terrain gravel riding over hundreds of kilometres. It's set up for carrying all your gear and is the reliable friend when you're seeking off-grid adventures.
James Hayden rides an Exceed mountain bike for long distance rides across harsh, rocky terrain like the Silk Road Mountain Race, Atlas Mountain Race and in training.
Where will your bike take you?
Now you're equipped with everything you need to know, it's time for you to ride off into the sunset. Which long-distance adventure will you take on? Make sure you tag us in your photos on Instagram!
Riding an aero bike is the obvious way to get faster but what else can increase your aerodynamics?