Hybrid Bike Buyer's Guide: all you need to know
So you're thinking of getting a hybrid bike? We've packed everything you need to know into our helpful buyer's guide to ensure you get the best bike for your needs.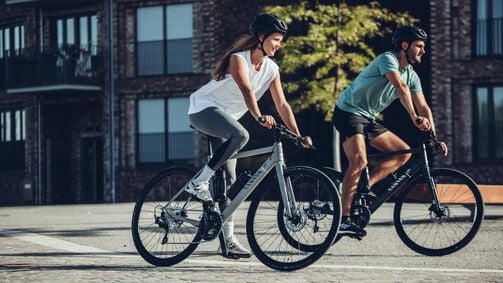 When it comes to actually parting with your hard-earned, you want to be safe in the knowledge you've made the right decision. Our Hybrid Bike Buyer's Guide is here to save the day! Grab a cuppa and take the stress out of buying a hybrid bike with our practical guide to owning a new set of wheels.
What is a hybrid bike?
A hybrid bike is a jack-of-all-trades bike designed to be comfortable over multiple terrains and for a variety of purposes. Hybrid bikes are a blend between a road bike and a mountain bike with some better suited for urban and city journeys and others designed to get a bit more mucky on traffic-free cycle paths.

First and foremost, hybrid bikes are fun to ride and allow you to explore your surroundings well within the safety of your comfort zone. A variety of options and setups mean you can choose between a hybrid that will get to work a bit faster or a more rugged hybrid bike to enjoy the roads less travelled.
Key features on hybrid bikes:
A more relaxed geometry with flat handlebars for added comfort on the journey

Hybrid bikes have tyres that are wider than average road bike tyres but narrower than mountain bike tyres: 30 mm - 40 mm tyres are standard

Expect disc brakes on hybrid bikes which enable you to ride in even the wettest weather

If you're thinking of commuting or touring on your hybrid bike, look for pannier racks and eyelets for mudguards
Which type of hybrid bike is best?
You first need to decide the style of riding you'll be using your hybrid bike as this will help you figure out which features you'll need on the bike. Our wide range of hybrid bikes includes budget-friendly options all the way to premium integration.
Hybrid Bikes for Everyday Use
Any bike can be used for commuting within reason, but there are many benefits to having a dedicated commuter bike. A hybrid bike will always be ready to go no matter the weather and it'll be more comfortable for the task afoot (or should that be awheel?) compared to any other bikes in your garage.
Canyon Commuter
Our reliable Canyon Commuter is a no-nonsense, easy to maintain bike for getting you to and from work, the pub or the shops. Its 40 mm tyres give a bit of extra squish on the road to town and with the Gates belt drive, you needn't worry about getting oil all over your favourite trousers midway through your ride. Most Commuter models already come with racks and mudguards making this bike an obvious choice for commuting.

The Commuter frame is made from robust and lightweight aluminium making it both comfortable and practical for the duration of your trip into the big smoke. Our range of Commuter hybrid bikes includes something for everyone: a no-fuss, ready-to-ride Commuter 5 and at the other end, the Commuter 7 or 8 with all the bells and whistles for extra comfort and visibility.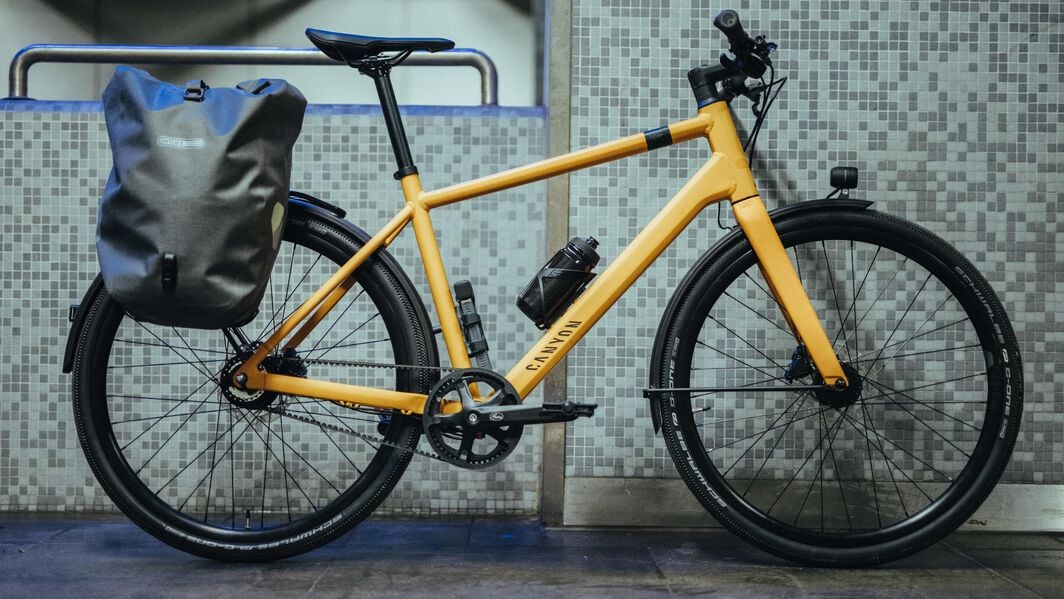 Canyon Roadlite
Our lightest hybrid bike, the Roadlite, is designed for improving fitness and enjoying your local scenery by bike. The ergonomic flat handlebars give you full control throughout your ride even when your heart rate is pulsing.

With options at every budget, the Roadlite is a good investment if you want to dip your toes into the world of cycling. The Roadlite will also complement indoor gym workouts by adding an outdoor element to your health and fitness routine. The Roadlite hybrid bike is also perfect for a bit of 'me time' on a balmy summer evening and weekend trips to discover more of your local hidden gems. Eyelets for mudguards still make it a great choice for cycling to work while narrower tyres and a wide range of gears mean you'll be able to speed along the streets and cycle paths with ease.
Hybrid Bikes for Everyday Adventure
Canyon Pathlite
You won't have to choose a different bike for a quick afternoon spin in the park or a multi-day micro-adventure on dirt roads with the Canyon Pathlite - this bike can do it all! Unlike the Commuter and Roadlite, the Pathlite comes with front suspension to add even more comfort to your ride no matter how many potholes you have to swerve on your ride.

As it teeters more towards the mountain bike end of the hybrid bike spectrum, it also comes with a huge range of gears so that you're guaranteed amazing views no matter how steep the climb is to get there.

Knobbly tyres give you additional licence to go off the beaten track and straight into nature, safe in the knowledge you'll have the traction and comfort to enjoy every stretch of your ride.
Canyon Grand Canyon
If traffic-free terrain deeper into the mountains is more your thing, the Grand Canyon could be just what you're after. As a versatile aluminium hardtail, it's designed for adventure both close to home and further afield.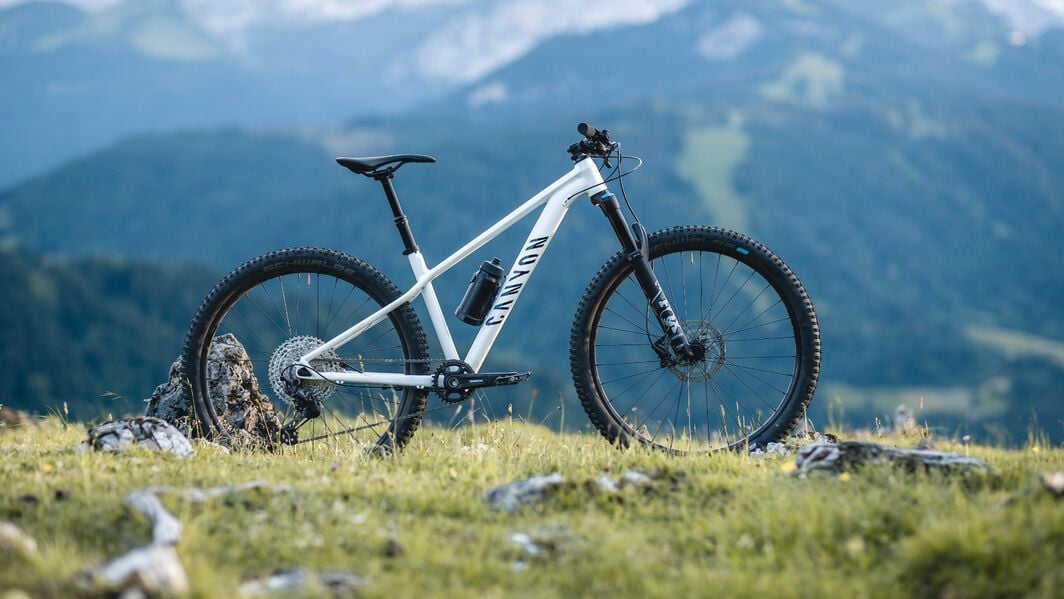 Electric Hybrid Bikes
Our ever-expanding range of e-bikes keeps getting better and better. Not only are the Canyon Commuter, Roadlite, Pathlite and Grand Canyon bikes available with the power of electric, we also have a fully-integrated hybrid e-bike designed for every city scenario.
Canyon Precede:ON
The Precede:ON is as stylish as it is practical. With its powerful Bosch motor and battery, comfort on this electric hybrid bike is unparalleled. An ergonomic design and upright riding position ensure you arrive at your destination relaxed and ready to go.

No stone has been left unturned when it comes to integration on this bike. Every detail has been carefully thought out from the Bosch Kiox display on the handlebars to the shape and position of the brake levers. We've even included front and rear Supernova lights that run off the battery so you can get around no matter the time or weather.

Like our Commuter range, we offer this hybrid e-bike in both a step-through and step-over frame design to suit everybody. The Precede:ON is also available in carbon or aluminium to suit all budgets. A single charge can take you up to 100 km which is more than enough to get you to and from work with a few errands in between.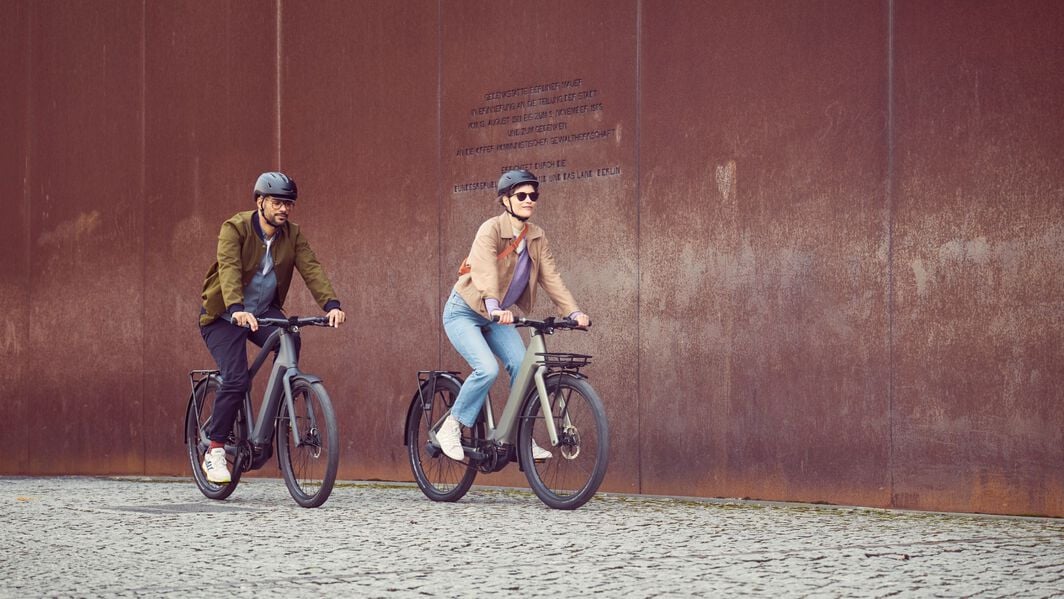 What size hybrid bike do I need?
The size of the bike will depend on the model you choose but our handy Perfect Positioning System (PPS) will help you decide which size hybrid bike you need to get the best fit. All you need to do is type in your height and your inner leg length measurements and we'll do the rest.
Would a women's specific hybrid bike be the best for me?
Our women's specific hybrid bikes offer improved comfort for women through their women's specific geometry and frame designs. We offer the Precede:ON, Commuter and Commuter:ON in a step-through design to make mounting the bike easier for men and women depending on their preference.

As always, the most important factor when buying a bike is ensuring you get the correct size so that it is comfortable for you to ride.
Can a hybrid bike go off-road?
By their very nature hybrid bikes are designed for multiple terrains. The wider the tyre, the more comfortable you'll be off-road, so our range of hybrid bikes are suitable for both smooth tarmac and traffic-free trails. The Pathlite and Grand Canyon hybrid bikes are better designed for rougher roads with their added front suspension, so bear this in mind when you're considering the best hybrid bike for you.
There's a hybrid bike for you
Feel the wind in your hair, put a smile on your face and save money by riding a hybrid bike. Trade your car for a Canyon, swap four wheels for two and reap the health benefits to be had from moving more in the great outdoors come rain or shine.

As a wise person once said, you only regret the rides you didn't do!
Flexible easy ways to pay

To make paying for your order as simple and flexible as possible we support multiple payment methods. You can choose at the end of the checkout process.
Discover our Hybrid Bikes
Leaving your bike unattended for any amount of time is nerve-racking. Using our top bike security tips below, you can ensure your bike is safe from would-be thieves.