Why an aero bike might be right for you
Aero road bikes: with their futuristic looks and undeniable speed advantages, they can be somewhat divisive. More and more pros are using aero bikes, so why shouldn't you?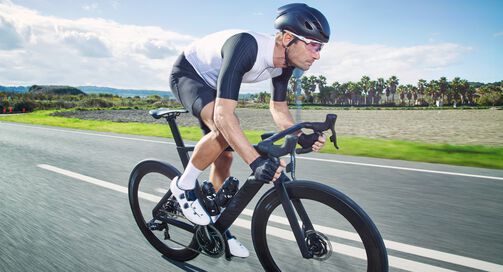 What makes a road bike an aero bike?
When we talk about an aero bike, we mean a road bike that is designed to offer lower wind resistance whilst still conforming to the rules set forth by the UCI. In the past, building a faster bike primarily meant cutting down on weight, but modern high-end bikes now routinely undercut the UCI minimum weight. More importantly, the benefits of good aerodynamics outweigh those of a lighter traditional frame design. Starting at speeds starting around 21 kph, aerodynamic drag becomes the single most important factor, so even amateurs can benefit significantly from an aero bike. The only situation where a superlight traditional road bike will beat its more aerodynamic counterparts is when it comes to long, slow climbs. Aero bikes are often associated with sprinting and time trials, but the watts you save will add up over long distances as well. The Canyon Aeroad has been used by pros to win anything from cobbled classics to grand tour mountain stages.


Aero bike characteristics
So how are these almost magical aero benefits achieved, and what does an aero road bike look like? At first glance, you will notice that the frame tubes are thicker and may have quite peculiar shapes. The seat tube often clings to the curvature of the rear wheel, shielding it from the wind. Brakes, seat posts, and other components may be integrated into the frame. Cables and wires are hidden as well to offer less wind resistance, which is aided by specially designed combined handlebar and stem units.

Carbon frames have come a long way since the early days of the aero revolution. Thanks to modern frame building techniques, a good aero bike will still offer just as much vertical comfort as a more traditional frame style. However, its geometry will often be optimized for a more aggressive riding position, with a lower stack to reach ratio (around 1.45 or less) and a shorter head tube (around 140 mm). This means you will sit on the bike with your torso down low, while a seat angle between 73 and 74 degrees keeps you centered above the bottom bracket for maximum power transfer.

The right wheels on your racing bike can maximize the so-called sailing effect, where the right rim profiles can act like a wing or sail to generate additional propulsion at certain yaw angles. This is especially noticeable with high-profile wheels and at high speeds. The larger the surface of your rims, the lower the wheel's overall air resistance. However, with rim depths ranging from 40 to 80 mm, aero wheels carry a weight penalty and can be less stable in crosswinds.

Aero bikes are every bit as versatile as other race bikes. Whether you prefer electronic or mechanical shifting, disc or rim brakes: take a look at our Aeroad family to find the right setup for you!


How to get aero on your bike
75% of the air resistance is caused by the rider, not the bike. That means your seating position should be as low as possible, but not so low that it negatively affects your performance because it hinders digestion or breathing. While riding on the hoods, simply tuck your elbows in to get more aero. Of course, your kit makes a huge difference as well: if you're still riding in baggy shorts and a t-shirt, the best way to boost your aerodynamics will be changing into a proper cycling jersey and bib shorts. For maximum aero gains, you could go one step further and invest in a skinsuit and an aero helmet.


Considered the ultimate test of physical, mental, and emotional resilience, the triathlon has rightfully earned its reputation as the iconic global sport event.

And it's undergoing a historic change.