Mathieu van der Poel gets podium in epic race.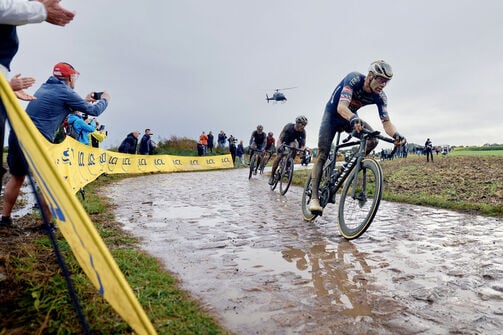 The 118th edition of Paris-Roubaix will live long in the memory. We had to wait a huge 903 days since the last running – but in the end, all the waiting was so worth it.

On Saturday, the Queen of the Classics got underway with the first-ever women's Paris-Roubaix event. And only a few short kilometres into the race, the Hell of the North already lived up to its name – the treacherous course leading through narrow, muddy alleys, threading through vast crowds of roadside spectators, all over long sections of the rough, unforgiving cobblestones of Northern France.

The story of Kasia Niewiadoma's race shows just how brutal Paris-Roubaix can be – and the luck factor you sometimes need to just stay rubber side down and in the hunt. One week after winning World Championship bronze, the 27-year-old from CANYON//SRAM Racing arrived in Compiègne firing on all cylinders: only to have her race cut short before it even got going with a crash in the early stages.
An all-out shootout in the mud
In the men's race on Sunday, the conditions were even worse than on Saturday. It was the first rainy Paris-Roubaix since 2002, and the weather transformed entire scene into an epic spectacle. A gripping battle against the elements ensued with dramatic image after dramatic image – mud-caked riders, mired team vehicles, camera motorcycles falling victim to the sludge.
The racing was gruelling, and the racing was brutal. Battling through almost 260 km of tight, narrow, muddy lanes flowing with mud – including 55 km over legendary cobbled pavé sections like Mons-en-Pévèle, Trouée d'Arenberg and Carrefour de l'Arbre – all through a stiff headwind. Kilometre after kilometre of unforgiving, attritional racing through some of the toughest conditions you'll ever see in road cycling.
Podium debut for Mathieu van der Poel
And as the race unfolded, the extreme conditions played right into the hands of one Mathieu van der Poel. A four-time cyclocross World Champion who has everything you need to be successful at Paris-Roubaix – an outstanding set of physical attributes, and the world-class bike handling skills to go with them.
MVDP is a true fans' favourite thanks to his attacking, win-or-bust riding style, with an approach based around power and aggression over cagey tactical riding. He's a rider who acts rather than reacts, who always seeks to stamp his authority on a race.
And that's exactly the same energy that MVDP brought to the streets of Northern France on his Paris-Roubaix debut – and it oh-so-nearly paid off with victory. In a grandstand sprint finish at the famous Roubaix Velodrome, the Team Alpecin-Fenix rider came home in an incredible third place on his Canyon Aeroad CFR.
MVDP: a race to remember
Exhausted, MVDP lay in the Velodrome recovering for several minutes after crossing the finish line before sharing his impressions of an epic race.
"It was really hard, but this race was truly one for the history books. I am proud that I made it onto the podium at my first Paris-Roubaix. My legs were empty at the end of the race. During the final 30-40 km, I was at the limit. It was a really long finale which took its toll at the end of the race. But it was an amazing race that I rode the way I wanted to."
Paris Roubaix 2021 | © Tino Pohlmann