Lux World Cup vs Lux Trail
We've launched our new downcountry mountain bike, but how does it compare to our XC race bike?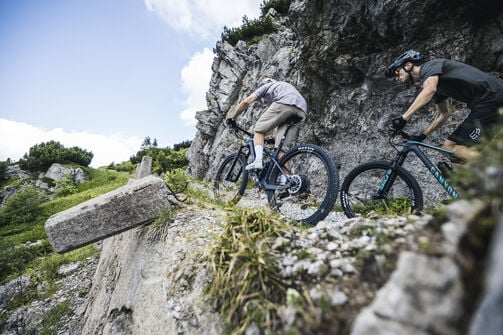 The Canyon Lux World Cup is our out-and-out cross-country racing rig and it's damn good at it. Seen at Mountain Bike World Cups throughout the year, it's a tried, tested and trusted full-suspension mountain bike that wins. It's born to win and it propels riders to the top step the world over. Not everybody races though, but you can still have a fun and fast mountain bike.
The Lux Trail takes everything that's great about the Lux World Cup like its lightweight frame and incredible pedalling efficiency. We made the Lux Trail slacker and longer travel to give you more control on technical, downhill terrain.
In adding these features, the term downcountry was born. It's capable on the downhills with all the climbing ability and stiffness of a cross-country bike. We've explained everything you need to know about downcountry in our blog.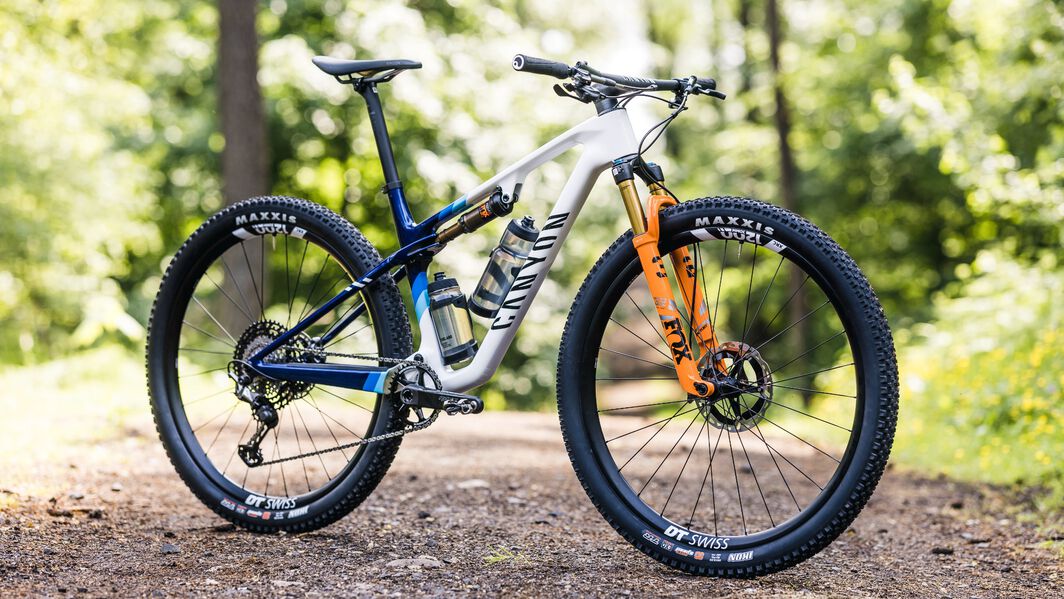 What is the Lux World Cup designed for?
Do you want to race cross-country? If the answer's yes then our Lux World Cup is perfect for your goals. It's our lightest (1535g frame, CFR size M) and is available in a range of specifications to suit every budding racer out there.
From Lenzerheide to Leadville, its race-winning DNA won't let you down between the tapes. The Lux World Cup's 100 mm of travel ensures stiffness throughout the whole race and an aggressive geometry guarantees faster handling around tight corners and flowy singletrack.
What is the Lux Trail all about?
If long, fast cross-country rides with a few more technical descents are more your cup of tea, our Lux Trail might just be the one bike you need. It's still super light, efficient and capable whether you're lining up for a race or not.
Here's what sets the Lux Trail apart from the Lux World Cup:
120 mm front travel

110 mm rear travel

Longer wheelbase

Shorter stem

Dropper post

Wider tyres

Wider handlebars
These changes give you increased control on the technical sections and make it a more comfortable ride when the going gets tough. You can drop the seatpost, throw your weight back and see what you're really capable of over some rocks, roots and steeper descents.
The Lux Trail opens up a whole new world of riding where you can get around in good time but enjoy every aspect of the trails underneath your wheels.
Can I still race the Lux Trail?
You can definitely still pin on a number and try your skills against the best. You'll see some of our athletes like Emily Batty riding the Lux Trail in some of her upcoming events.
The Lux World Cup is the best bike for pure, unadulterated cross-country racing similar those put on by your national governing body. It's for your local XC league, National Championships and World Cups.
The Lux Trail is more suited to stage races that involve flowy trails and some mildly spicy descents. Think events like the BC Bike Race, Singletrack6 or Sudety MTB.
Introducing the Lux World Cup
For years the Lux Cross-Country mountain bike has dominated local, national and international races. In 2022, we launched the Lux World Cup as a testament to the bike's racing DNA.
"By cleverly reducing edges and adding volume where needed, the design was a key element in reaching the high stiffness to weight ratio of the Lux World Cup," says Melanie Demming, Industrial Designer of the Lux World Cup. "Together with the new headset design and the integrated cable routing, this also contributes to a cleaner, and therefore, more modern and sleek appearance."
Compared with its predecessor, the new Lux World Cup gives a more confident ride due to longer reach and a slacker head angle. The shorter chainstays maintain the bike's reputation for a snappy, agile and direct handling machine.
To keep the bike super light, efficient and focussed on professional racing, we've specced a rigid seatpost. But if you decide you want to add one, we've made the seat tube shorter to allow even longer droppers.
The Lux World Cup is destined to cross the finish line first. If winning is also in your nature, this is the bike for you.
The Lux World Cup brings world championship DNA to the most ambitious riders.
View all