Mountain bike or hybrid bike - Which suits me better?
The following article explains the most important differences between hybrid bikes and mountain bikes, which will make your purchase decision much easier.
Typical question: hybrid bike or mountain bike?

Here we'll explain the most important differences between a hybrid bike and a mountain bike, which will make your buying decision much easier.
The Mountain Bike
The term mountain bike covers a wide range of different bikes, especially for sporty off-road use. The range extends from simply equipped hardtails to competition-ready full-suspension bikes. Subgroups of this category are enduro, downhill MTBs, dirt, or fat bikes. Most of these variants are now available with or without an electric motor.

In contrast to the hybrid bike, the mountain bike can be ridden almost anywhere. However, MTBs are only really fun when you get off paved roads, for example, on forest and gravel paths. These off-road specialists are in their element on challenging trails.

Under such conditions, they can show off their strengths to the full. This is helped by their chunky tyres, which provide excellent grip off the road but have a slightly higher rolling resistance on asphalt. Here, classic hybrid bike tyres have a clear advantage and are much more pleasant to ride. 27.5 inch (650b) or 29-inch wheel sizes have become established among MTBs.
The Gearing
An essential component of the mountain bike is the gearing. The classic MTB should master steep climbs as well as fast-paced descents and needs the right gear ratio. MTB setups typically include a single, small front chainring with a wide-ranging rear cassette to ensure you have the right gears for the trail ahead.

At the same time, 1x12 gearing has become common: With only one chainring at the front and twelve sprockets at the rear, they always offer the right gear, regardless of whether you're going steeply uphill or quickly downhill. If you want to make faster progress uphill or don't want quite so much effort, opt for an e-MTB.
The Brakes
On mountain bikes today, only disc brakes are used, which always ensure optimal deceleration even in dirt and wet conditions. Disc brakes can therefore be found on bikes of all price and quality levels.
Less is more
Mountain bikes are purists - everything superfluous is left out, as it only means extra weight, which makes climbs and bike handling more difficult. That's why you won't find mudguards, permanently installed lighting or luggage racks.
Sporty riding position
The seating position on a mountain bike is determined by the frame geometry; it is sporty and geared towards optimal propulsion. The suspension fork and shock ensure optimal handling in rough terrain, even on fast-paced descents.
At home everywhere
Mountain bikes adapt easily to changing terrain. Whether on gravel, muddy forest paths or challenging trails - an MTB copes perfectly with any terrain. A hybrid bike is much less flexible.

Whether hardtail, full-suspension, downhill or Enduro, with or without electric drive - at Canyon you are guaranteed to find the right bike that will bring you enjoyment for a long time.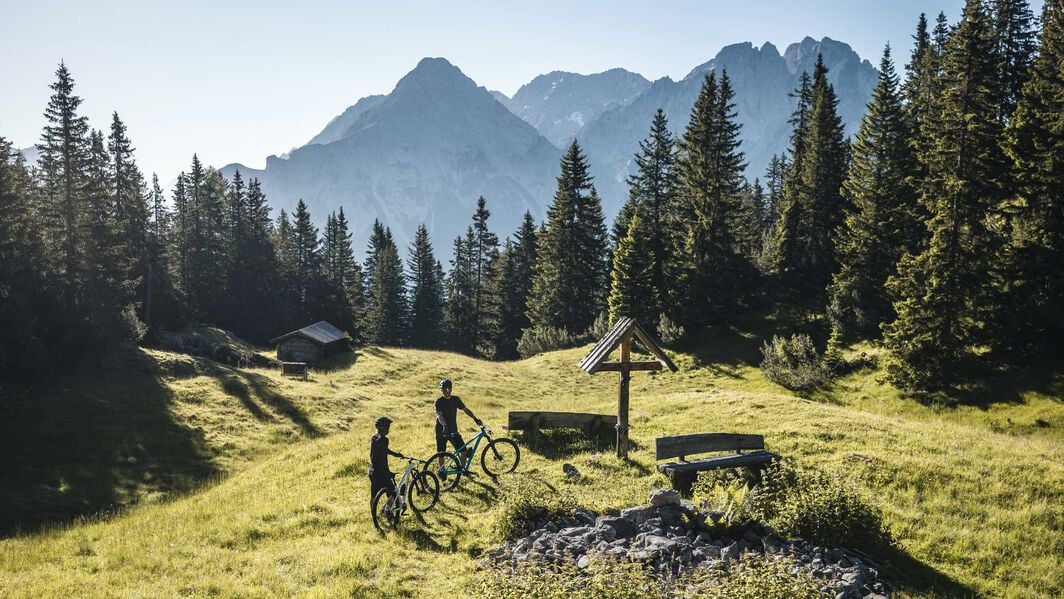 Mountain bike: the pros and cons at a glance
Advantages
Useable everywhere

Optimal off-road capability

Large choice (trail, enduro, downhill etc.)
Disadvantages
Sporty seating position, not quite suitable for everyday use

Not suitable for road traffic without lights

Higher rolling resistance on asphalt
The Hybrid Bike
If you are looking for a versatile bike, a hybrid bike is the best choice. A hybrid bike can be sporty and nippy, if necessary, but it is also suitable for shopping or longer tours. Hybrid bikes are very robust - so they can also cope well with larger loads. Hybrid bikes are comfortable city bikes but can also easily cope with gravel paths or forest trails. Challenging terrain and trails, on the other hand, should be reserved for MTBs.

The reason for this is the significantly narrower tyres compared to mountain bikes and different geometry. Most hybrid bikes have simple short-travel suspension forks at the front and no suspension elements at the rear.
The Gearing
Most hybrid bikes have chain gears with 20 to 30 speeds. Hub gears are also occasionally found, but due to a lack of sufficient gearing, they are really only recommended for short and medium distances.
The Brakes
High-quality hybrid bikes are usually equipped with hydraulic disc brakes. They are more reliable and at the same time easier to control.
Fully road legal
Unlike mountain bikes, hybrid bikes are equipped with mudguards, luggage racks, front lights and rear reflectors and are therefore road legal in Germany. A hybrid bike is fully suitable for everyday use and is fun not only on the road but also on light terrain.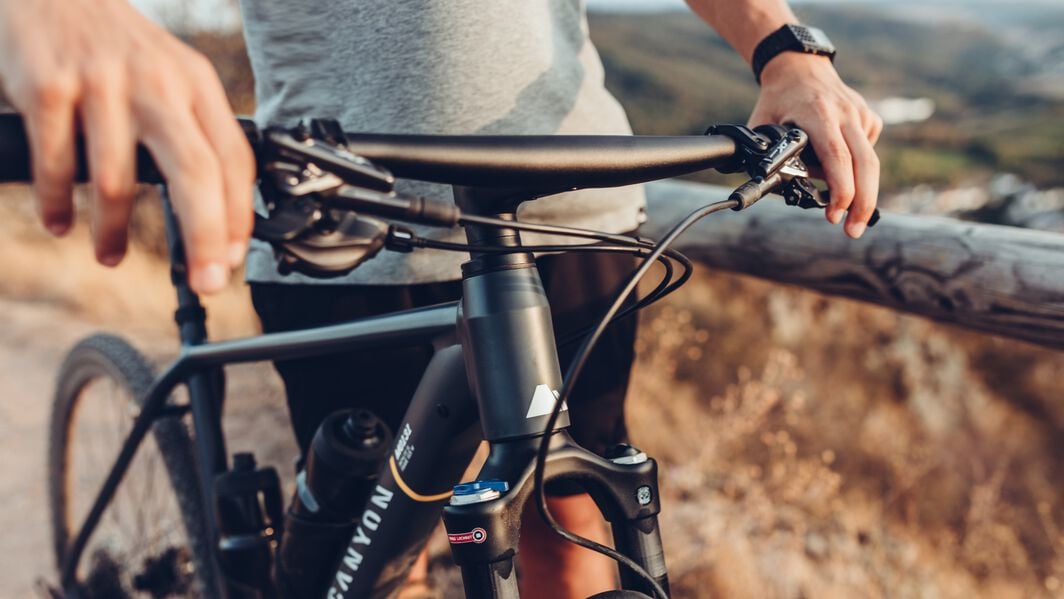 Hybrid Bike: Pros and Cons
Advantages
Fully roadworthy (StVZO)

Ideal for city and touring (also dirt roads)

Good suitability for everyday use (lighting, mudguards, stands)
Disadvantages
Not suitable for mountains and rough terrain

Suitable for everyday use, but not for sports use

Not as flexible to use as a mountain bike
Off-road specialist versus all-rounder - a comparison
Whether you will get more enjoyment from a mountain bike or a hybrid bike depends very much on the prevailing purpose of the bike. A hybrid bike is equally suitable for easy terrain as for asphalt and getting around town. An MTB, on the other hand, is the unbeaten champion for action-packed trails, mountains and gnarly downhills.
Weight: solid vs. light
Hybrid bikes (16 to 19 kg) almost always add weight, while mountain bikes (11 to 16 kg) are lighter. Depending on the materials used (aluminium or carbon) and the features, there are also outliers in both categories in one direction or the other.

Put simply, the weight has a big influence on the bike's handling. A heavier bike requires more power on climbs and is more cumbersome to handle. On the other hand, it is a bit faster on downhill sections. Don't underestimate the role of tyre tread, rims, and tyre pressure when it comes to the speed that can be achieved.
Seat Position
The seating position also differs greatly. On a hybrid bike, you tend to sit upright, which is comfortable and very good for everyday use. A mountain bike has a sporty, dynamic, and forward-leaning seating position that is tailored to off-road use.
Optics: inconspicuous vs. cool
Often, the design of mountain bikes is a bit more striking and eye-catching. This is why they are perceived as cooler, especially by many younger cyclists. The seating position alone makes an MTB look a bit sportier. A hybrid bike tends to be more understated on the outside, but it is usually the better choice for everyday use. And the range of bikes is now so huge that fans of both can find the right bike to suit their tastes.
Usefulness: suitable for everyday use vs. sporty
A hybrid bike clearly has the edge when it comes to luggage transport. It almost always has a luggage rack (or the option to install one) on which loads can be transported or panniers can be mounted. This makes bicycle tours lasting several days no problem. With a mountain bike, luggage transport is difficult - basically, only a backpack or some bikepacking bags are possible.

Another advantage of a hybrid bike is that it requires less maintenance. One reason is the mudguards, which protect both the bike and the rider from excessive dirt. In addition, the components of hybrid bikes are usually not as complex and maintenance-intensive.
Summary: Hybrid bike vs. mountain bike
Each type of bike has its advantages and disadvantages. To ensure that you are satisfied with your choice for as long as possible, you should think carefully about how you will mainly be using the bike before buying it. If you mostly ride in the city and occasionally go on a tour, a hybrid bike is a good choice.

The sports freaks among us who like to try out challenging trails, want to speed down a valley and rarely ride in the city are better off choosing a mountain bike. No matter which category you choose, at Canyon, you will find the right top-quality bike for every purpose and riding style, with a 30-day return policy.