Born between the tape – Canyon refocus on speed with the new Strive CFR
The Strive has staked its claim as one of the fastest Enduro bikes on the hill.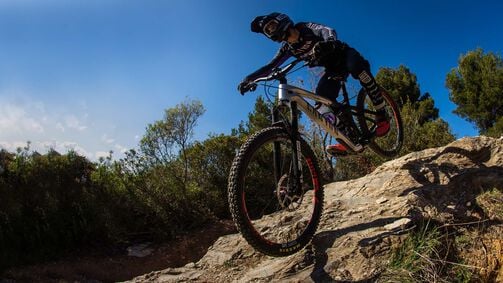 Since Barel first rode it to victory at EWS Finale Ligure in 2014, the Strive has staked its claim as one of the fastest Enduro bikes on the hill. With heaps of podiums and an overall Enduro World Series title to its name, it would have been simple to pick a new paint job for 2022 and carry on. But when the Strive was last updated in 2019, it was Canyon's only long travel 29er and as such was designed not just for Enduro, but for regular trail riders longing for larger wheels. Now, with the new Spectral and Torque platforms owning the 29" trail and freeride categories, it was time for Canyon to set the Strive free to become the pure racer it was born to be.

Incorporating feedback from the CLLCTV Enduro team, Canyon's designers and engineers revamped the Strive CFR with an uncompromised focus on speed and an updated design that pulls even more performance out of its signature, setup-changing Shapeshifter technology. From geometry and stiffness to kinematic and travel, no stone was left unturned. The result is no casual trail bike. It's a bike that was made to be pushed to the limit and find time on every track and any terrain. It doesn't matter if it's the EWS, a local series or a hotly contested KOM, the new Strive CFR comes out of the box ready to get on the box.

To make the previous Strive CFR truly race ready, CLLCTV riders and mechanics implemented various mods to give the bike a slacker head tube angle, a higher ride height and bottom bracket height, as well as a smoother and quieter ride. The new Strive CFR comes ready to be ridden to the limit with those mods baked in. Thanks to a combination of its longer reach, 63-degree head tube angle, lengthened wheelbase, updated kinematic and improved stiffness, the Strive CFR is more confident at speed than ever before without sacrificing its famous agility and handling. Factor in the setup-altering Shapeshifter 2.0 and reach-adjusting headset inserts and you'll find a bike made to be dialled in to the exacting demands of a wider array of riders for racing at the highest levels.

While Canyon have left the Shapeshifter unit itself unchanged, the kinematics it unlocks have evolved. By changing the Strive's geometry on the fly, the Shapeshifter helps racers pedal efficiently uphill and pump through flatter trails in Pedal Mode before flipping the switch to Shred Mode and pushing hard through tough terrain. Designed in collaboration with Fox, the Shapeshifter adjusts the bike's head tube and seat tube angles by 1.5 degrees and the bottom bracket height by 15 mm. At 160 mm of rear travel, the new Strive CFR boasts 10 mm more bounce than the previous model offering more sensitivity and traction than before, with no loss in big hit performance.

CFR stands for Canyon Factory Racing and only bikes that are engineered with the finest materials available earn the title. With the Strive CFR Canyon decided to focus all their efforts on performance so both of the new models are competition-ready CFR bikes. Optimised tube profiles increase stiffness in the front triangle to boost rider confidence while keeping enough compliance to sniff out maximum traction. Improved durability at critical points throughout the frame mean the Strive CFR is built for the seasons-long abuse coming its way. Rated at Canyon's Enduro-focussed Category 4, the Strive CFR is approved for punishing days in the mountains and was designed to handle nearly any natural feature out on the hill. Even after strengthening the frame the bike still weighs in at 2,700 grams including the Shapeshifter, just 100 g more than the lightweight Spectral 29.

Both bikes in the Strive CFR range are kitted out for racing. For riders still on their way to the top, looking for high level performance without an even higher price tag, the Strive CFR Underdog comes outfitted with the best-in-class Fox 38 Performance Elite Grip2 170 mm fork with beefy 38 mm stanchions, solid Shimano XT brakes and shifting and durable DT Swiss wheels. For those after that extra edge and the best of the best there's the Strive CFR. With Fox Factory level suspension and Shimano XTR components, the bike sits comfortably at dream build level.
About Canyon Bicycles
What started life in founder Roman Arnold's garage as Radsport Arnold has evolved into one of the world's leading manufacturers of road, mountain, triathlon, hybrid and kids' bikes as well as modern e-bikes. Officially renamed in 2002, Canyon works hand-in-hand with the best athletes on the planet to produce an array of award-winning bikes that embody a pure passion for riding. With a strong reputation for true innovation, implementing leading technologies, clean and clear design as well as the highest standards in quality and service, Canyon continues to expand worldwide, selling more bikes outside of its native Germany than within since 2008. As a pioneering direct sales brand, Canyon products are exclusively available online at www.canyon.com.
With numerous Red Dot Design Awards, Canyon Bicycles represent a combination of technology, design, and quality like no other company in the bicycle industry. In March 2023, they collected another award for the Roadlite:ON CF 9 LTD. So, what makes good bicycle design, and what's the creative process?