Canyon release 2022 Sender CFR Line-Up with fresh colours and updated specs
The race-winning downhill bike Sender CFR is back with new spec options, colours and more wheel size choice for the perfect setup.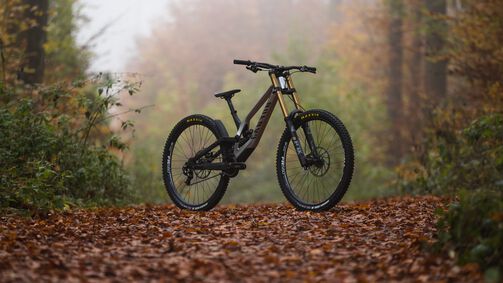 Last year, Canyon completely reimagined their downhill race bike – the Sender. Working closely with their own race team, taking learnings from the original design, and deep diving into the R&D to engineer something truly special. What emerged was the Sender CFR, a flagship, flat-out speed machine designed to do one thing – win races. Over the past year, the Sender CFR has proven its pace – with World Cup wins from CLLCTV riders Tahnee Seagrave, Phoebe Gale and Troy Brosnan. Now, for 2022, a refreshed line-up is here, based around that same race-winning frame but now there's new spec options, colours and more wheel size choice for riders to choose their perfect setup.

The Sender CFR pioneered many innovations you can now see across many Canyon MTB families. From its replaceable thread inserts, preventing terminal damage to the frame during wrenching mishaps, to the silencing frame protection and fully guided internal cable routing – all these features were born from developmental petri dish that is Downhill World Cup racing. And all these features carry real benefits for any full-suspension MTB – not only a gravity thoroughbred like the Sender CFR.

For 2022 the Sender CFR range sees some new specification options. Our top spec features a dream bike level build with Fox Factory Suspension, SRAM X01 DH Groupset, and Code RSC brakes, leaving no stone unturned in search of speed. Updated for 2022 is the introduction of our Sender CFR Underdog. Made for racers still on their journey to the top, the Underdog bike offers a little less show, but still plenty of go. Earning your stripes in Downhill racing often starts from humble beginnings. Heading from race to race, self-supported and on a tight budget means that for many a more affordable race bike, with more affordable parts bolted on to it, can be a welcome relief among the countless other outlays including fuel money, race entries and lift passes. With a component selection including a Rockshox Boxxer Ultimate fork and Super Deluxe C Ultimate shock, offering performance where you need it most, the Sender CFR Underdog is still capable of laying down some red hot times on the hill.

Also new for 2022 is an increase in wheel size offerings. Riders choosing size M and L frames can now pick between a full 29er spec for all-out wide open speed, or a more manouvarble and precise Mullet (29er front, 27.5 rear) configuration. That means more riders than ever can dial in the setup to suit their style, their terrain, and ultimately shave time from their race runs.

Finally, 2022 sees some fresh paint on the Sender CFR line up. With a sneak peek provided by the CLLCTV DH team in Maribor and Snowshoe this year, the Orange colourway will be available to buy on the MY22 bikes. Joining the head-turning Orange is a more subtle Silver/Black option bringing the understated, classy vibes.

The Sender CFR and Sender CFR Underdog will cost € 5.999 and € 4.699 respectively and will be available from 14 December exclusively at canyon.com.


About Canyon Bicycles
What started life in founder Roman Arnold's garage as Radsport Arnold has evolved into one of the world's leading manufacturers of road, mountain, triathlon, hybrid and kids' bikes as well as modern e-bikes. Officially renamed in 2002, Canyon works hand-in-hand with the best athletes on the planet to produce an array of award-winning bikes that embody a pure passion for riding. With a strong reputation for true innovation, implementing leading technologies, clean and clear design as well as the highest standards in quality and service, Canyon continues to expand worldwide, selling more bikes outside of its native Germany than within since 2008. As a pioneering direct sales brand, Canyon products are exclusively available online at www.canyon.com.