Short on travel, big on shred: Canyon introduce all-new Spectral 125
Swiss Army bike, quiver killer, one bike for any trail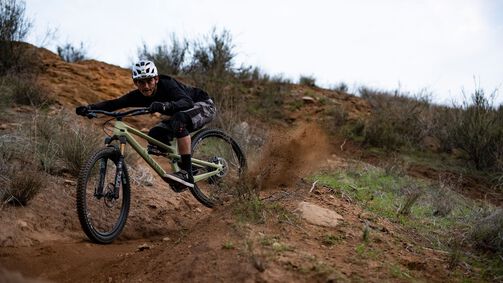 Last year Canyon set the bar for all-around trail weapons by updating the Spectral platform to include 27.5", 29" and mullet options. Now, the German brand is doubling down on its commitment to create the ultimate trail bike family with the all-new Spectral 125 – five models of which launch today.

A slack and aggressive short-travel 29er, the Spectral 125 is, above all else, a rowdy trail bike. It puts its 125 mm of rear travel to good use, making quick work of gnarly terrain while offering riders a closer connection to the trail. A bike that begs to be pumped through compressions and popped off every trail feature in sight. Gone are the days when a bike's capabilities can be measured in millimetres of travel alone. Progressive frame geometry, suspension quality, chassis strength and stiffness all combine to determine whether a bike truly shines on technical singletrack or rides like a dud, and the Spectral 125 doesn't just shine. It rips.

Using its longer-travel sibling as a foundation, Canyon designed a bike that takes the Spectral's all-rounder radness and ups the playfulness with more supportive suspension. The Spectral 125 also gets an added dose of eagerness and efficiency when it comes time to stamp on the pedals – all thanks to more anti-squat and a streamlined frame. Balancing an uber confident 64-degree head tube angle with a stout, yet nimble-feeling frame, the Spectral 125 sits on the bleeding edge of short-travel trail geometry. This is a bike that can get wild with the best of them yet has enough agility to turn even the mellowest trails into its playground.

At just 2,500 grams, the Spectral 125 full-carbon chassis is impressively light. By optimising the carbon fibre layup, the engineers at Canyon were able to reduce frame weight while giving the short-travel Spectral the same Category 4 strength rating as the Enduro race-winning Strive. The Spectral 125's high durability and stiffness may make it less forgiving on big hits, but those same traits also allow rowdy riders to push the Spectral 125 to its limits. Just like the longer-travel Spectral, all CF models use double-sealed bearings, replaceable thread inserts, full internal cable routing, and a flip chip geometry adjuster that lets riders tweak their headtube and seattube angles by a half degree and raise or lower their bottom bracket by 8 millimetres.

The AL version of the Spectral 125 is equally impressive. Weighing in at 3,000 grams, the alloy bike was designed to ride as similarly to the carbon model as possible while maintaining the same bombproof Category 4 rating. Keeping things simple, the bike loses the geometry-adjusting flip chip, but keeps the slack head angle and low bottom bracket used in the Spectral 125 CF's 'LO' setting as well as the steeper seat tube angle provided by the 'HI' flip chip setting. Toss in a dialled spec, smart cable routing and bomber steel pivot threads and you get a seriously capable bike that's still friendly on the wallet.

Canyon is offering five different Spectral 125 models at launch – two alloy models and three carbon versions – with global component specs shared in all markets around the world. The Spectral 125 range starts out with the Spectral 5 and its shred-ready alloy frame, Shimano Deore groupset, reliable RockShox 35 Gold fork, and tubeless-compatible tyres and rims. The flagship Spectral 125 CF 9 is kitted with SRAM's wireless GX AXS transmission, Fox Factory suspension, and light but tough DT Swiss XMC 1501 carbon wheels. Riders looking for something in between will have plenty to choose from.

The complete Spectral 125 family will be available to order on Thursday February 17 2022 at canyon.com.
About Canyon Bicycles
What started life in founder Roman Arnold's garage as Radsport Arnold has evolved into one of the world's leading manufacturers of road, mountain, triathlon, fitness, urban and kids' bikes as well as modern e-bikes. Officially renamed in 2002, Canyon works hand-in-hand with the best athletes on the planet to produce an array of award-winning bikes that embody a pure passion for riding. With a strong reputation for true innovation, implementing leading technologies, clean and clear design as well as the highest standards in quality and service, Canyon continues to expand worldwide, selling more bikes outside of its native Germany than within since 2008. As a pioneering direct sales brand, Canyon products are exclusively available online at www.canyon.com
Take a closer look at all our mountain bikes and find out which one might be right for you.