Best Cycling Destinations in Spain
From city bike paths along sun-dappled coastlines to winding climbs through forests and hills, Spain is a country that has to be explored on two wheels. This guide will talk you through some of Spain's best trails and spots for cyclists to prepare you for the bike trip of a lifetime.
Spain must be explored on two wheels, from city bike paths along sun-dappled coastlines to winding climbs through forests and hills, and it's one of the top destinations for cyclists.
This official Canyon guide will talk you through some of Spain's best trails and spots to prepare you for the bike trip of a lifetime.
Check out our list of the top 13 countries for cycling holidays for further recommendations.
Cycling rules in Spain
The laws around cycling in Spain are not too dissimilar to those in the UK or elsewhere. A few things to remember are:
Cycle on the right-hand side, never against the flow of traffic
Ride no more than two bikes abreast
Motorists should usually give you the right of way
Always wear a helmet on city roads
The speed limit is 30 km/h
Bike-Friendly Cities in Spain
Spain has several cities welcoming cyclists, offering great cycling trails without excessive traffic around town. If you're thinking of upgrading your bike before leaving, check out our in-depth city bike buyer's guide.
Cycling in Madrid
The country's historic capital is a great place to start cycling in Spain, particularly if you plan to get in some sightseeing. You can zip past Madrid's Plaza Mayor, Parque del Retiro, and the grand Prado Museum in just a few hours. It has over 40 miles of bike lanes and 13 different routes spread across the city and its surrounding urban area in what's known as 'the green ring.' You can also head off the main paths – the town's Gothic alleyways are worth exploring, though novices might want to avoid the busier avenues and boardwalks.
Cycling in Barcelona
The cultural and historical landmarks of this bustling Catalonian city make it a hugely popular destination for tourists worldwide, and cyclists are spoilt for choice here. Newcomers shouldn't miss out on Gaudi's modernist Sagrada Familia cathedral. You can also trace the town's history back several centuries earlier as you tour its stunning architecture from the Gothic era. You can check out the huge Ciutadella Park for a relaxing afternoon or breeze along the seafront. More adventurous cyclists might want to rent a bike around Tibidabo or Montjuic for some spectacular views of the region.
Cycling in Girona
You'll get the most out of your bike if you head to Girona, located in the north-eastern part of Catalonia. It's regarded as one of the best cycling destinations in Spain and is also one of the world's most appealing spots for cyclists of all kinds. Over 200 professionals use it as a training base due to its sprawling, varied road routes from the Pyrenees' foothills to the beautiful Costa Brava coastline. But you don't have to be a world-class rider to enjoy the city. It's known as a cycling hub so that motorists will be very courteous towards anyone on two wheels, and you'll feel very safe and secure out on the roads. Go at your own pace, and take in some of the impressive local sights – don't miss the charming Old Town, with its 13th-century Jewish quarter.
Cycling in Sevilla
Since the early 2000s, Sevilla has gradually established itself as one of the world's most cycle-friendly cities. It can boast over 75 miles of segregated bike lanes in the central region and further away, outside the limits of the Old Town. The popular SEVici bike hire scheme makes it welcoming for casual cyclists, and it could also save you lots of money and hassle if you're not inclined to travel to Spain with your best bike in tow. Over 2500 SEVici bikes are available from over 250 locations. The city also has plenty of great cycling routes, particularly if you head north towards the Sierra Norte national park. Try the Via Verde trail, which runs alongside a train track.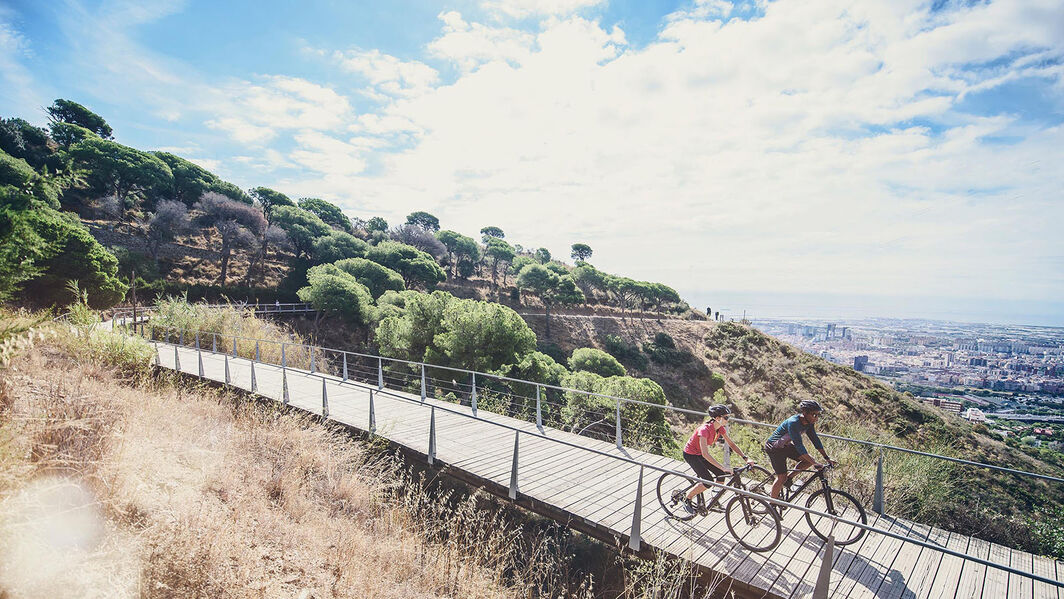 Off-Road Cycling Adventures in Spain
Cycling Around the Basque Country
On the border with France, you'll find the lush rolling hills of the Basque country, with countless red and white chalets dotting the landscape. If you don't mind a bit of a climb here and there, you can stop off and savour some of the region's globally-renowned culinary delights, either in small towns or the popular tourist hub of San Sebastian.
Cycling on the northern coast of Spain
To the west of the Basque country, you'll find many small country roads that offer some off-the-beaten-track excitement. While you're exploring the region, make sure you check out the village of Santillana del Mar, with its cobbled streets and impressive noble houses. There's also Santander's El Sardinero beach and several quaint fishing ports for a bit of downtime.
Cycling in Sierra Nevada Spain
Cycling in Spain doesn't get much more exciting than the winding trails of the Sierra Nevada foothills. These routes can often be challenging, with sharp hairpins and occasional climb gradients of over 20%. They're always clear and safe to ride, though, and the rides are more than worth the effort. The weather here is bright and sunny all year round, and even in the high season, it'll be much less busy than in the Pyrenees. Granada is a great place to use as a base for exploring this breathtaking region.
Global cycle tours
Canyon's partners offer exciting, accessible biking tours of various regions worldwide. Check out what other destinations are available in our wide-reaching global network.
Ideal for leisurely riding on mixed-terrain surfaces. With an upright ride position for all-day comfort. Wide tyres for plenty grip. And suspension forks for off-road stability.
See the bikes
We showcase the best cities to ride your bike in France. Jump in the saddle and discover these incredible French cities by bike!