Aeroad CFR and CF SLX 2021 bike build instructions
Watch the full how-to unboxing video
What's inside the tool box
Step-by-step Aeroad CFR/CF SLX build instructions

1. Open the box


1.1 Remove seatpost from box, then fold down the upper half of the side of the box.

1.2 Remove the wheel and cardboard toolbox from bike box.

1.3 Rest the fork over the edge of the box
2. Attach and assemble the cockpit


2.1 Remove the cardboard packaging from the cockpit, so the sides are freely hanging down as pictured.

2.2 Slide the cockpit sides into the centre of the cockpit.

2.3 Ensure that there is no gap between the bar ends and the cockpit.

2.4 Take the cockpit screws from the toolbox. Then take the supplied torque wrench to hand, ready for the next steps.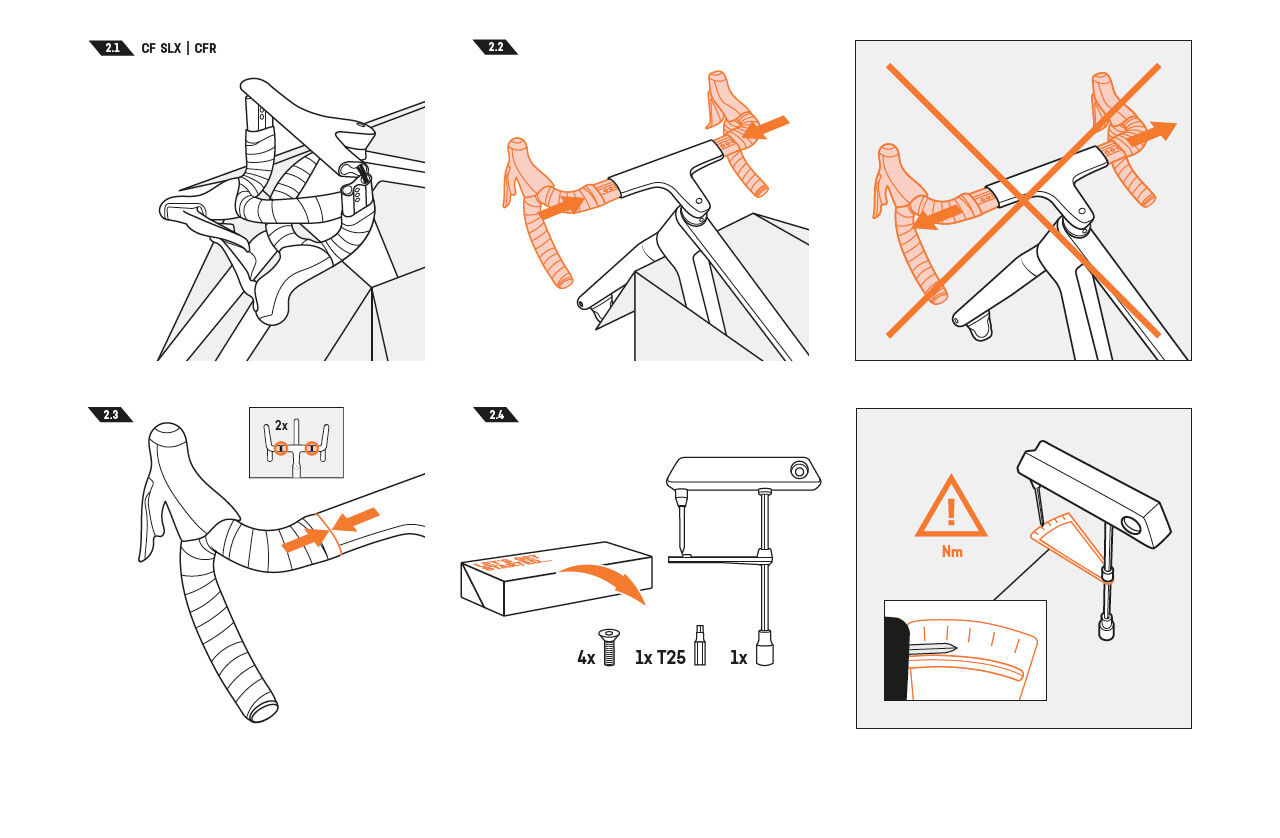 2.5-2.7 Next, tighten screws A and B to 3 Nm.

2.8-2.9 Then, tighten them again, this time to 6 Nm. Repeat on the other side of cockpit.
3. Attach the front wheel


3.1 Remove the orange stopper from the brake calliper. IMPORTANT: do not pull on the brake lever until you've installed the front wheel.

3.2 Guide the wheel up into the fork. Simply make sure you guide the brake rotor between the brake pads and it will work. If something gets stuck, remove the wheel and try again.

3.3 Take the through axle from the toolbox and use the orange and black torque wrench to tighten to 10 Nm.
4. Mount the seatpost


4.1 Before the initial assembly, the assembly paste may not be applied to the seatpost or seal. Make sure that the screw of the integrated saddle clamp is fully loosened. Then insert the seatpost so that it is slightly tilted forward, to prevent it hitting the seal. Once you have inserted the full width of the seatpost into the seal, you must now align the seatpost with the seat tube as you insert it.

4.2 Insert the seatpost to the depth you need. Make sure to respect the minimum and maximum depth markings indicated on the seatpost.

4.3 Using the black torque wrench supplied, tighten the seatpost clamp to 5 Nm. When the screw is tightened enough, the metal part of the torque wrench will move and touch the plastic casing.

4.4 Fit the rubber plug onto the seatpost clamp bolt.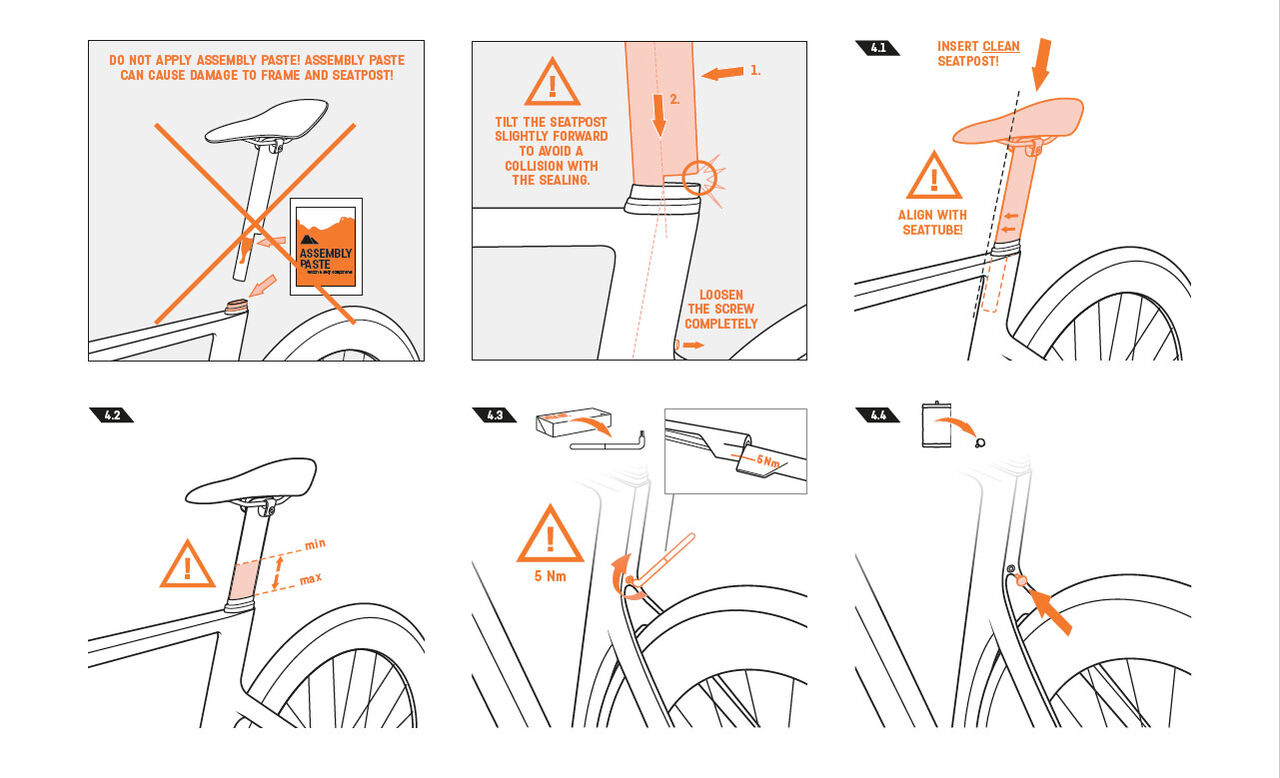 5. Final checks before you ride


Install your pedals as per the manufacturer's instructions

Check the bike's nuts and bolts are all properly tightened to the correct Nm value.

Test your brakes by spinning the wheels and squeeze the front and rear brakes independently of each other. The brakes should engage before the lever reaches the handlebars.

Pump up your tyres to the pressure stated on the sidewall of the tyre
Next: How to adjust the CP0018 aero cockpit
Disclaimer of Liability
Canyon consistently strives to ensure the quality and accuracy of the information contained in this Technical Support Centre. Any repairs or adjustments which you carry out on your bike are entirely at your own risk. If you are in any doubt what to do, you should send your bike to Canyon or take it to another qualified specialist. Canyon gives no guarantee or accepts no liability for any of the information contained in this Technical Support Centre.