Learn how to decide between our range of e-MTBs and give yourself a boost on the trails.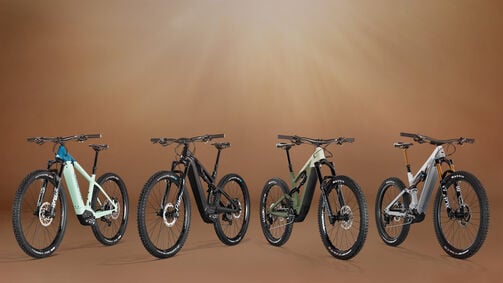 E-MTBs are here to stay - there's no two ways about it, but with so many advances in technology since they were first thrust along your favourite stretch of singletrack, it's hard to know what's what. Thankfully, we've pored over the reams of information out there and compiled what we believe to be the most comprehensive e-MTB buyer's guide out there.
What is an E-MTB?
An electric mountain bike (often abbreviated to e-MTB) is a mountain bike with an integrated electric motor to help you pedal. You must pedal to engage the motor, so nobody's getting a free ride! You won't pay any vehicle duties or taxes nor do you require a licence, but they do have a maximum speed of 25 km/h.
As soon as you reach the upper limit, they act like a regular non-motorised mountain bike albeit slightly heavier. Most e-bike drive systems have a number of different modes so that you can control the level of assistance you get from the motor. The mode you select will determine how much range you get out of one full charge - more on this later.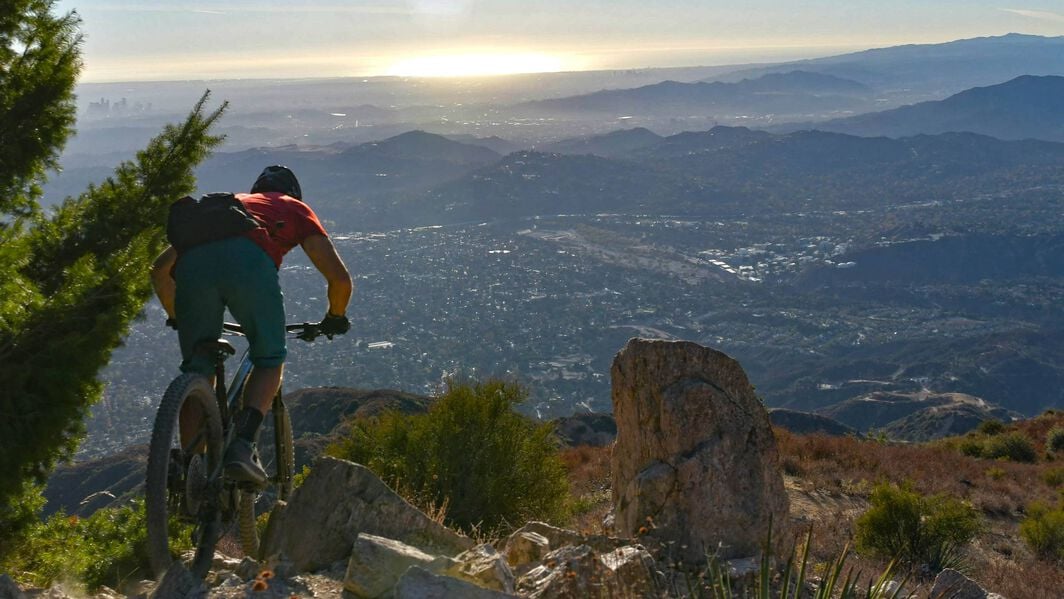 Do I need an E-MTB?
If you want to ride longer, faster and further on mountain bikes, you need an e-MTB!
There are many benefits to owning an E-MTB but one of the biggest plus points is how much they can increase your time on the bike. Gone are the days of slogging it up a climb and having to stop to catch your breath before you make your way back down. Not only are they useful on the ascent but they can also give you an extra boost on the descent adding to the thrill of the ride.
Newcomers to the sport can also benefit from riding an E-MTB with fitter friends showing you the ropes. If age and treachery have got the better of your mountain biking days, an E-MTB can add more fun to your wearying legs. Those returning from injury will find it easier with a bit of pedal assistance. An e-bike motor will ensure you still keep up with your friends and family, just like the good old days!
IT PROBABLY TAKES THE SAME AMOUNT OF TIME TO REACH THE TRAILS BY BIKE AS IT DOES IN THE CAR

Tahnée Seagrave – CLLCTV
What types of E-MTBs are there?
Similar to their regular bikes, e-MTBs come in similar setups depending on their intended use. At Canyon, we have electric MTBs that cover the whole spectrum of riding, so there's something for everyone.
Hardtail E-MTB or full-suspension E-MTB?
We dived into this topic in our article about the differences between hardtails and full-suspension mountain bikes. Hardtails do not have rear suspension, while full-sus mountain bikes have a rear shock. An electric hardtail is a great option for riders starting out in their mountain bike journey. They're easy to maintain and provide a great confidence boost when on unfamiliar trails or honing your skills.
Full-suspension e-MTBs on the other hand are a real revelation for all riders. Offering comfort, stability and versatility, a full-sus e-MTB will open many doors for many riders. They can handle more technical terrain and afford you some airtime (if you dare), however they are more expensive than a hardtail simply because there's more to them.
Hardtail & Full Suspension E-Bikes
Should I get an aluminium or carbon E-MTB?
An important distinction between most bikes on the market is the frame material. The weight of the frame will be less of a consideration when buying an e-bike since most of the benefits of a lightweight frame are negated by the additional weight of the e-bike motor and battery. Carbon e-MTBs are a little stiffer and easier on the eye, but they come at a higher price.
Aluminium e-MTBs are robust and more cost-effective for customers with very little compromise compared to carbon frames.
How much travel does my E-MTB need?
As a general rule of thumb, the more travel an e-MTB has, the gnarlier the terrain you'll be able to comfortably ride. Suspension acts as a dampener for rocks and roots, so the bigger the rocks you anticipate riding, the more travel you'll need.
An E-MTB with 130 mm - 170 mm of travel makes it the perfect all-mountain bike, no matter what you might face during your ride. Any less than that and you might prefer an electric touring bike. Any more and it's a gravity e-MTB designed for the toughest terrain out there.
Can I buy a second-hand E-MTB?
Used bikes are great for people who are new to the sport as they figure out what they like and dislike in a new style of riding. On the other hand, it's a little bit riskier than buying new unless you know what you're looking for or you buy from a verified reseller. Most of the horror stories from second-hand bikes come from the unknown history of the bike itself and it costing you an arm and a leg to sort out.
If you don't know anyone who can vouch for the quality of your new e-bike, its components and battery, we'd advise sticking to a new bike so that you don't have that weight on your shoulders. The Canyon Outlet is also a great place to start and we constantly update the stock as new bikes are launched or as we retire our demo fleet. There are bargains and plenty of them, so check that out first before scoping out the new bikes.
Don't forget, you can also use one of our many financing options to fund your dream electric mountain bike.
How much does a good electric mountain bike cost?
We've done a deep dive into how much electric bikes cost. Battery technology, weight improvements and innovation are constantly being updated to e-mountain bikes, especially as they're still relatively new to the market. As market leaders, we're passionate about only selling the best bikes we can and we know you'll be happy riding your new Canyon.
What about e-bike maintenance costs?
As with traditional bikes, most of the moving parts will need replacing at some point. Wear and tear is to be expected and you should factor this into your budget if you have one. The chain, brake pads, cassette and chainring are your most likely and most frequent repair costs but fitting these new parts yourself can be quite easy. Our guide to e-MTB maintenance gives an overview of the servicing you can expect on a regular basis.
One of the biggest maintenance tasks on your bike will be taking care of your e-MTB battery. If you store the battery correctly and ride it carefully, your battery will last a long time.
How far can I ride an E-MTB on one charge?
We get asked this question a lot and there's no one answer. Obvious factors like battery capacity, motor and rider weight will affect the distance you can travel but there's a number of other little hacks you can keep in mind if you want to extend your e-bike's range. Make sure your bike is clean and lubricated, keep your tyres pumped up and use eco mode as much as you can.
What else do I need to get to ride my E-MTB?
All our e-MTBs come without pedals, so that you can choose the system that works best for you. There are pros and cons to flat pedals and clipless pedals. You might prefer flat pedals so that you can easily put a foot down if you need to, or a specific pedal and cleat setup might be what you're after.
If you don't already have cycling kit, our MTB Starter Kit has everything you need to get out the door and onto the trail. If you have a wardrobe full of your favourite kit, you can definitely continue to use it out on the trails - you don't need any special e-bike cycling kit.
Which e-MTB is best for you?
Choosing the right e-mountain bike
So you've decided to take the plunge and you're going to get an e-MTB? Great news! First of all you need to decide what style of mountain biking you intend to do:
Cross-country (XC) e-MTB
For those who love riding around their local trails for hours at a time including the uphill sections. XC riding demands efficiency and they're typically the lightest of all the mountain bikes as they're usually hardtail.
Trail e-MTBs
The Jack of all trades where mountain biking is concerned. It's a great all round mountain bike capable of climbing and descending with around 130 mm - 150 mm of travel front and rear.
Enduro e-MTBs
Pedal yourself up to the top of the mountain on an enduro e-MTB and enjoy the sweet downhill descent where you can really test your technical skills. If you want to dive into e-enduro racing, the Strive:ON will power you to the finish line.
Downhill e-MTBs
Usually associated with uplifts and high speed, technical descents, a downhill e-MTB helps you cruise to the top of the trail and it'll handle whatever you throw at it on the way back down.
What do I need to do when my electric mountain bike arrives?
We deliver all our e-bikes with world-class shipping service DHL. They ensure your bike is delivered safely and quickly. When you take it out of the box, it will be 90% assembled. Download the Canyon App to watch the relevant unboxing video and you'll be rolling in no time.
We also supply the tools needed to do build your bike. The e-bike battery will be charged to 30% therefore you'll need to charge it up fully before you leave the house.
Can I transport my E-MTB using a bike rack?
If you're going on holiday somewhere or want to try out your local trail centre, it's easy to take your electric mountain bike with you wherever you go. Before you leave, take the battery out of the frame and store it inside your vehicle for the duration of the journey. E-bike batteries are best stored at room temperature, so it's safer this way especially on longer journeys.
We recommend using a tow ball mounted bike rack but make sure you double-check with your vehicle manufacturer regarding the maximum tow load. Ensure your vehicle's number plate is clearly visible along with functioning indicators and brake lights. Double check the bike is secure before you set off and enjoy the ride!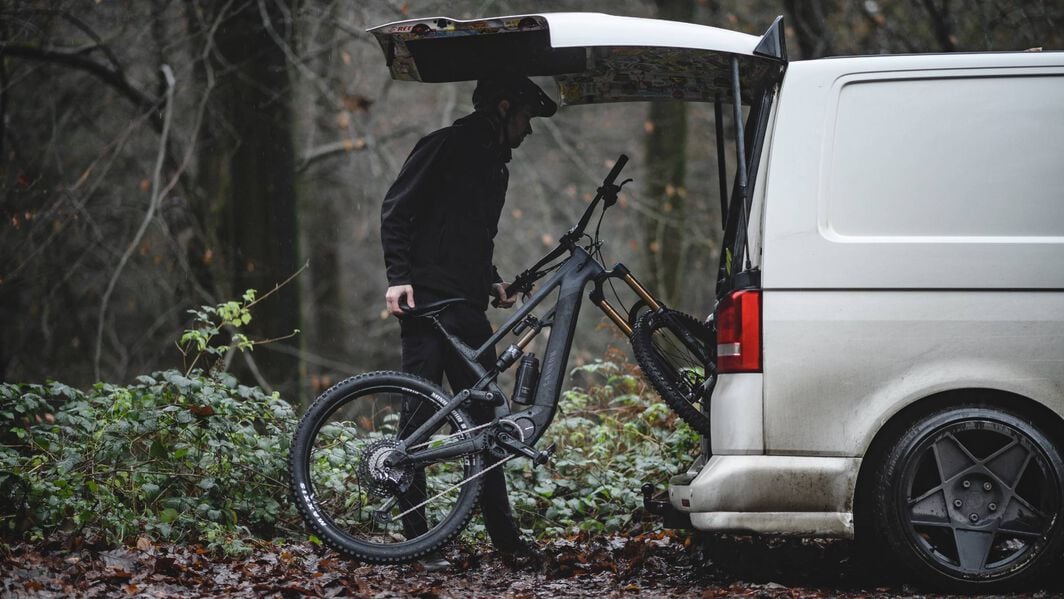 Here to help
The best E-MTB is one that makes you happy and we're confident you'll find the perfect Canyon E-MTB right here. Our friendly customer service team is happy to help with any further questions you may have or you can check out our E-Bike FAQs.
Riding your
e-bike
is fun and all but the prospect of having to clean it after a day splashing in puddles not so much. It needn't be a dreaded task with our guide to cleaning your electric bike no matter how mucky it gets.