Buying your first mountain bike
Which mountain bike is best for beginners? Glad you asked! As our range of mountain bikes expands, we've found that there's something for everyone no matter your ability, riding style or budget.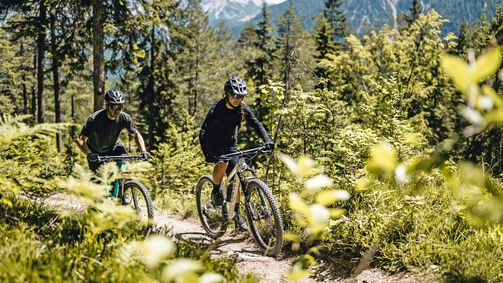 You never forget your first time mountain biking. When we cast our minds back, we remember the people we were with, the muddy smiles at the café, that one friend who went OTB (over the bars) for some stupid reason and importantly we remember the bike we rode. As a newcomer to the sport, you've got all this to come and that's exciting, so where do you start?
What is mountain biking?
Well, it's exactly what it says on the tin. Think of mountain biking as riding as far away from tarmac and sealed roads as possible whether that's desolate moorland bridleways, rocky mountain tracks or even in the confines of your local bike park. Under the umbrella of mountain bikes, there are four main types: cross-country, downhill, enduro and trail bikes.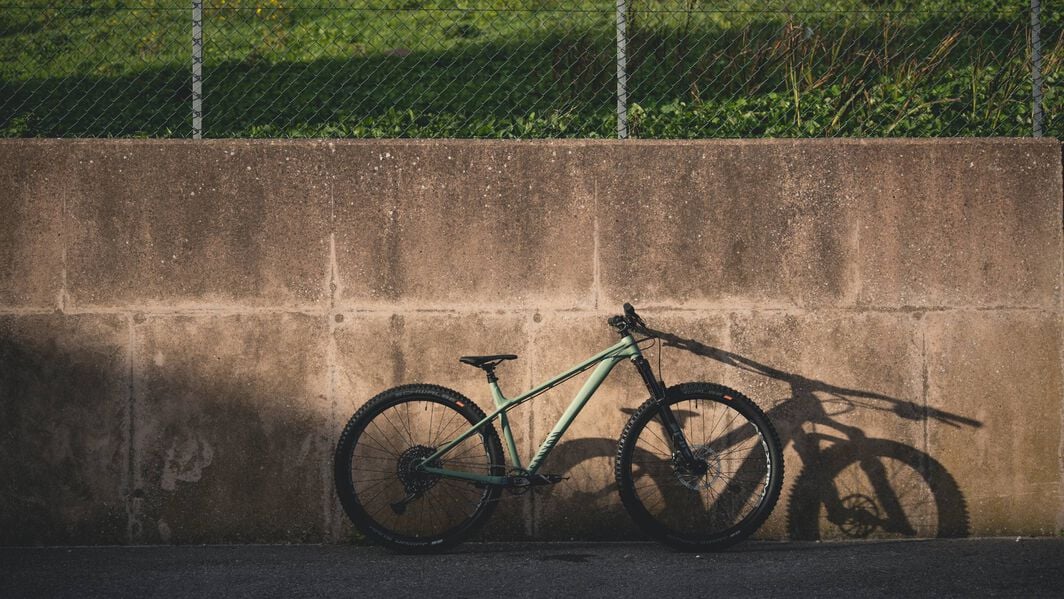 What's the best way to learn how to mountain bike?
You can't beat exploring your own back yard, especially recently as most travel has been off limits for some time. Exploring your local bridleways and gravel tracks is the best way to get used to a new bike and a new style of riding. Once you're comfortable, venture a little further afield like a bike park or some well-known trails nearby. The beauty of a bike park is the graded trails through which you can progress as you get to grips with your new steed.
Trail Grading
Green trails


Easy and suitable for novice riders. They tend to be flat and wide with occasional singletrack sections. There's nothing too steep and they're the ideal starting point for most riders.

Blue trails


The next level up suitable for riders with a bit of experience under their belt. These trails may include rooted and rocky sections. The climbs are a little steeper and may feature small technical features.

Red trails


Suitable for competent mountain bikers, these trails are mostly singletrack with changing surface types and frequent technical sections. You'll find boardwalks, berms, jumps and drop-offs on these trails so you'll need good fitness and stamina to get round.

Black trails


Not for the faint of heart – you'll need an expert level of experience for these demanding and challenging trails. As with red trails, you'll find all kinds of technical sections including downhill-style descents.

Ultimately, if you're having fun and pushing on the edges of your comfort zone, you'll be learning a bunch of new skills but don't overestimate your capability and work your way up through the grades.

Hardtail or full-suspension bike?

Most mountain bikes have at least front suspension, also known as a hardtail. Full suspension mountain bikes have more bounce out the back with a rear shock. Budget will likely dictate whether you can afford to splash out on a full-sus bike as they come at a higher price point.

Hardtails are a brilliant option for beginners because of their lower maintenance, high affordability and lighter weight construction. You may think you'll be at a disadvantage without rear suspension, but hardtails can tackle all but the gnarliest terrain and, if you're just starting out, you'll want to stay well clear of anything too sketchy anyway. That said, if you do find yourself a little out of your depth, the simplicity of a hardtail mountain bike will teach you a lot about how to ride properly.

If you decide further down the road that you want to upgrade to a full-suspension mountain bike or an e-mtb, you can still keep hold of your hardtail for commuting or lending to a friend.

27.5" or 29er?

There are many pros and cons to each wheel size but it's not really a topic to lose sleep over when you start mountain biking. Our smart sizing means our bikes are fitted with wheels appropriate for the frame size. This means smaller bikes have 27.5" wheels while bigger frames can accommodate 29" wheels, so you can guarantee an absolute blast while you're out exploring. You'll benefit from great traction and stability on either wheel size, so it's a win-win!

How much travel do I need?

The front suspension has a maximum and minimum compression which is what we mean when we talk about travel. A short travel mountain bike tends to have less than 120 mm of travel whereas long travel is anything over 140 mm, which is typically reserved for downhill, enduro and freeride disciplines that require more dampening as they roll over lumps and bumps at high speeds. Trail bikes are designed for going uphill and descending along flowing trails, so they favour shorter travel for better climbing efficiency.

How much does a mountain bike cost?

The short answer is as much as you want, but you needn't break the bank to have a great time on the trails. It's easy to get carried away when bike shopping (trust us, we know!), but a great all-round beginner's mountain bike can cost as little as 799eur.

A used mountain bike will be cheaper than a new one, but without knowing the history of the bike you could be opening a can of worms. Alternatively, you can use the outlet which guarantees the integrity of the bike after its service as a demonstrator or hire bike but with a tidy discount given its use and age.



What is the best mountain bike for beginners?

We've had great reviews from people who've ridden our Grand Canyon. It's perfect for total beginners and newcomers to the sport who want to dip their toe in the muddy waters of mountain biking. Riders have said how much they love the bike for off-road trekking and exploring the trails between towns and cities.

The Stoic is another great option if you're looking to hone your skills without your bank account taking too much of a hit. It's our do-it-all bike that's as much at home on a pump track as it is on singletrack and it won't let you down. Best of all, it's super easy to maintain no matter what you or the seasons throw at it.

How do I find out my frame size?

Years of research and millions of happy customers around the world has allowed us to aggregate our data and develop our Perfect Positioning System (PPS). All you need to know is your height and inside leg measurements and we'll find the perfect frame size for you.



Do women need a gender specific mountain bike?

The most important aspect of buying a bike is making sure it fits properly. Our WMN bikes are optimised for female riders with narrower handlebars, shorter stems and women's saddles. As the average woman tends to be slightly smaller than the average man, we've tweaked our range to offer XS – M WMN bikes.

What gear do I need to get started?

If you're already into road or gravel riding, the good news is most of your kit will suffice for the time being but there are some subtle differences you'll need to keep in mind…



Pedals

Mountain bikers ride with either flat pedals or clipless mountain bike pedals. Flat pedals don't have a cleat and can help with building confidence since it's so easy to put your foot down if you need to. You can use them with your everyday running trainers, however the additional grip and support of a specialist mountain bike shoe is worth the investment. Clipless pedals require a dedicated mountain bike shoe and cleat system, so you might want to research your options before you decide which setup to commit to.

Clothing

There's nothing stopping you wearing what you already have in your wardrobe whether that's you're a running shirt or a lycra jersey. Dedicated mountain bike gear is worth investing in from a comfort point of view. Mountain bike shorts and jerseys offer breathable fabrics and are tailored for the specific riding position. It goes without saying but a helmet is an absolute no-brainer for mountain biking – you never know what surprises await around the corner and it's always best to be safe than sorry.

Mountain bike accessories

While you could leave the house with just you and your bike, we have a few extras we recommend that'll guarantee you have an amazing time riding.

Glasses


Riding

glasses

offer protection from both the sun and mud, and some even have lenses for low light conditions making obstacles on the trail more visible.

Gloves


Keep your hands warm and prevent cuts and scrapes if you fall off with a pair of mitts or full-finger

gloves.

Puncture repair: tubes, multitool, tyre levers, pump


Unfortunately, we can't promise the puncture fairy won't pay you a visit but if they do, have your

puncture repair kit

handy and you'll still be able to pick up where you left off.

Lights


If you think your fun will spill into the twilight hours, use a

front and rear light

to make sure you can see, and others can see you. This is particularly important if part of your route is shared with traffic.

Water bottle or hydration pack


Stay hydrated – mountain biking can be a workout! The choice between a

water bottle

and a

hydration pack

is personal preference, so try both and see what works for you.

Snacks


Fuel for the ride that'll stave off the dreaded 'bonk' (low sugar levels) and keep you going all the way around your route.

There are many more accessories you can use when mountain biking such as heart rate monitors, GPS computers and power meters that have amazing potential to enhance your ride and your performance. We consider these tools nice to have, rather than need to have for beginners. Allow yourself time to ride your bike and settle into a new style of riding without sweating the small stuff. If you find you want to incorporate these components later, feel free.

Cleaning your mountain bike

The best way to add longevity to your components is to keep them clean. Experience tells us it's best to do it as soon as you get in so that you don't find a muddy bike when you next want to go out. All you need is bike cleaner, a few brushes and a bucket of water. Easy! While you're cleaning it's a good idea to check your brake pads, cables and other moving parts for signs of wear and tear.

Ready to ride?

We're looking forward to seeing you out on the trails. Don't forget you can sign up to our newsletter for all exclusive tips and bike launches.