Best pedals for your gravel bike
Which pedals should you ride over mixed terrain? There are a multitude of options for the best gravel riding pedals. Here are our favourites.
Gravel cycling is synonymous with riding the road less travelled. In doing so, you're going to come across rough terrain that challenges both your gravel bike and your riding skills. Part and parcel of gravel riding, and in particular bikepacking, is dismounting your bike to push over extremely technical sections.

As one of the main contact points with the bike, choosing the right pedals is important. They make a huge difference to your confidence and comfort while riding.

With that in mind, the best pedals for gravel riding are generally those that work with recessed cleats (more on that later) and can shed mud easily.

As most gravel bikes are sold without pedals, it's important you make the right decision early on, so that you get jump in the saddle as soon as your bike arrives. If you've tried other pedals but you're looking to upgrade, we have a range of options for you to choose from.

Finally, you'll also need to make sure the pedals you choose are compatible with your gravel shoes.
What are the best pedals to use on a gravel bike?
The best gravel bike pedals are the ones that enable you to ride confidently and comfortably.
If you come from a road cycling background you'll be familiar with a three bolt cleat system from brands like Shimano and Look. These cleats bolt to the sole of your shoe and are designed for efficient power transfer.
Those who ride a mountain bike will know all about trying to ride in muddy conditions. Flat pedals and clipless pedals are both popular systems to use in mountain biking. As a result there is a lot more choice.
Off-road clipless pedals are often double sided making it easier to clip in when you're on technical terrain. Shimano's SPD pedals are often seen on mountain bikes and gravel bikes. Another popular brand is Crankbrothers who've made a reputation for their premium quality MTB pedals.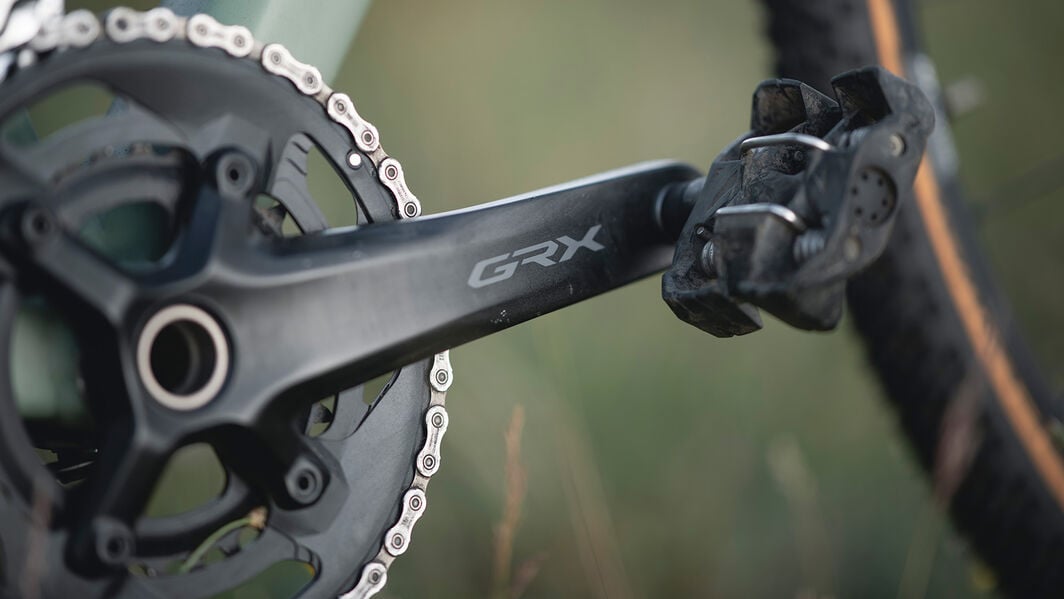 Should you clip in on a gravel bike?
Clipless pedals are common on almost every performance bike. Road bike riders, mountain bikers and even some commuters use clipless pedals every time they ride.
Clipping in helps with power transfer when you're cycling. Climbing is also a lot easier if your feet can't slip off your pedals.
Whether you should clip in is a personal decision but in our experience, you'll be a lot more confident and comfortable on uneven terrain using a clipless pedal system.
If you're in two minds about doing it, check out our article about flat vs clipless pedals to get the low down.
Can I use road pedals on a gravel bike?
There's no hard and fast rule saying you can't use road pedals on a gravel bike, however you're likely to run into issues pretty quickly.
Our Customer Service Manager in the US Robert Seldomridge prefers to ride road pedals on his gravel bike due to the types of roads he rides. "We often have long tarmac sectors and a fair amount of flowy gravel trails where I won't need to walk," he says admitting he uses Look Keo pedals on these rides on his Canyon Grail.
It's not uncommon to have to get off your bike and walk when you're out on a gravel or bikepacking route. Road pedals have cleats that are screwed on to the sole of the cycling shoes. When you walk, the cleat removes any grip you could get from the sole of a shoe.
Road pedals are single-sided meaning you can only clip in on one side of the pedal. During a race or particularly technical section, worrying about clipping in should be the last thing on your mind.
We'd recommend avoiding road pedals on a gravel bike, especially if you're new to riding off-road.
Can I use flat pedals on a gravel bike?
Flat pedals have their place in off-road riding. Popular with mountain bikers, flat pedals don't use cleats. Flat pedals make it easy to put a foot down over challenging rocks, roots or mud.
On bikepacking trips, you might prefer to ride in normal shoes. Flat pedals tend to have pins for grip and they can be used with any flat shoes.
Kari Korhonen, one of our Customer Service Agents in Scandinavia, is a left leg below knee amputee. He uses flat pedals like the Shimano GR 500 or Crankbrothers Stamp while he rides. He finds them easy to use in muddy conditions, he's able to change the position on the pedal easily and he can use different shoes with them. Though they're not everyone's cup of tea in terms of aesthetics, flat pedals can open up a world of riding.
Our recommendations for gravel bike pedals
Shimano gravel bike pedals
Shimano is a brand that's renowned for its value, reliability and high quality. Their range of pedals offers something for everyone no matter your budget. Spare cleats are easy to find should you damage or lose them in the course of your off-road riding career.
Popular Shimano pedals with our in-house Canyon gravel riders include:
Shimano PD M520
Shimano PD M8020
Shimano PD EH500
Our Brand Experience Coordinator Sebastian Schorr uses the PD M8020 when he rides his Canyon Grizl. "You can clip in on both sides. They also have a platform so you can still use them with normal shoes when you're commuting," he says confessing his loyalty to Shimano over the years.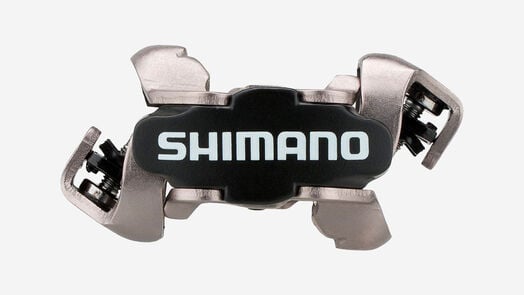 Other members of our team are big fans of the Shimano PD M520 pedals due to their great value for money, hard wearing cleats and the fact they're double sided. Though they may not tick all the boxes for everyone in terms of weight and looks, they are common across gravel riding and mountain biking.
Crankbrothers gravel bike pedals
A favourite brand for many of the team here at Canyon, Crankbrothers have established themselves as the off-road pedal tycoons. Their extensive range includes setups for every rider's preference including a whole host of shiny colours for those of a glamorous persuasion.
Our team recommends the following Crankbrothers pedals:
Crankbrothers Eggbeater
Crankbrothers Candy
Crankbrothers Stamp
For beginners to gravel cycling, the Crankbrothers Stamp offer brilliant grip without the worry of having to clip in. Sarah Wilson-Reissmann is a Senior UX Designer who uses her Canyon Grail on the trails around Hamburg and also for getting around the city. "These pedals are inexpensive, super sturdy and the pins work well with my gravel shoes or any footwear I'm wearing around town," she says noting that the latter may include a well-known German sandal brand.
Crankbrothers Eggbeaters are not just double sided, they're 4-sided to increase your chances of clipping in in a hurry. The minimalist design is something our Spanish Customer Service Agent Rafaela Gimenes really likes as this also helps when the trails are muddy. International Marketing Coordinator Fynn Timm is a fan having recently taken up bikepacking, however he notes the lack of a platform when trying to ride in normal shoes as one of the downsides. For this, the Crankbrothers Candy pedals tick the box.
Get the right pedals for your gravel bike
Once you've decided whether you want to ride flat or clipless pedals, you can choose which gravel bike pedals best suit you, your bike and your style of riding. Shimano and Crankbrothers are sought after brands that boast good value, robust and easy-to-use pedal systems.
Whether you're starting out or you're thinking of making the switch after years of the status quo, we take a look at the pros and cons of flat pedals and clipless pedals so you can make the decision.