How to prepare for your first solo bikepacking adventure
If you're preparing for your first bikepacking adventure alone, this guide is for you.
Solo bikepacking adventures can be the most freeing and inspiring experiences. You're out in the middle of nowhere with nothing but your bike, stars and the moon for company. We love riding with friends as much as anyone, but sometimes you just need to go it alone.
There are many reasons for solo bikepacking adventures, but to get the best experience, it does take some planning, so we have some tips to share. If you think you might like a bikepacking trip on your own, heed to our advice and we look forward to hearing your tales around the campfire one day.
Why go bikepacking alone?
Bikepacking is a challenge a lot of people enjoy with others. Taking on a solo bikepacking adventure can be too much for some people, but we don't listen to the naysayers. When a challenge presents itself, we tackle it head on. So why would someone choose to go bikepacking on their own?
Ride to your own agenda: sometimes it's nice to do things your way rather than compromising with others. If you want to ride slowly, stop to take photos or stay an extra hour on top of the hill first thing in the morning, you can.

An extra challenge: Bikepacking with friends is one thing but it's another to be completely self-supported and facing your fears alone. You'll feel so much more rewarded upon your return.

Time to yourself: it's rare in today's modern world that you get time alone in nature, free from everyday distractions. This solitude enables you to reflect on some of life's dilemmas no matter how trivial or complex. Answer all life's greatest questions during a night spent under the stars.
Canyon athlete Jenny Tough is one of the most experienced solo bikepackers in the world. Her advice? "Believe in yourself. It's so cheesy, but seriously!" she says. "It's going to be a little intimidating to start, but convince yourself that you've got this. Chances are, you've done all the things before: you've been for bike rides, you've (maybe) camped outside, you've used a map, etc... You're just putting all these skills together in one go. You've got this."
Tips for bikepacking alone
If we've convinced you to jump on the bike for a night (or more!) of solitary bike riding then we'd like to share a few tips before you clip in.
Bikepacking alone is so rewarding and can really unleash extra confidence you never knew you had. However, you are alone with no one else to sense check your decisions and no one else to share the load mentally or physically.
Share your plans: tell someone where you're going, share your route and suggested camp spots.

Ride a familiar route:

when riding alone, it's a good idea to

plan a bikepacking route

you know well. This leaves less of an opportunity for bike or rider malfunction. If you're nervous to bikepack on your own, a familiar route takes some of the uncertainty away, too.

Be cautious: you're a long way from home, possibly without phone reception and nobody around for miles. By all means have fun, but now is not the time to try new tricks. Know basic bike mechanics, so that you can get your bike out of trouble.

Don't forget important pieces of kit:

consult our

bikepacking kit list

for everything you need to carry. Remember to charge your

bike lights

and

GPS device

the night before. Create a list and check it a couple of times before you leave.

Have a back-up plan: before you set off, have an alternative route in mind. If you start to feel uncomfortable for whatever reason, have a plan B. Note down some nearby hotels along your route and towns through which it's easy to divert.

Safety first: invest in a satellite tracker if you plan to be out in the middle of nowhere for long periods of time without phone reception. It's easy to check in to let others know you're safe. If the worse comes to worst, you can also hit the SOS button for emergency services.
Set up your bike for a solo adventure
While relying on just your own tools and skills is empowering, giving yourself the best chance of success is where it all begins. So setting up your bikepacking bike properly is important.
M-Check your bike
A basic M-check involves inspecting the crucial parts of your bike for wear and tear. Don't leave this vital step to the last minute – if you need to order parts or visit your bike shop, you need time on your side.
Begin at the rear wheel ensuring your tyres, spokes and cassette are in full working order. Next, check your saddle and seatpost clamp. Avoid saddle sores by making sure your saddle is in the right position.
Your chainset should be cleaned and oiled so that it runs smoothly during your ride. Check the chainring bolts are securely tightened. Ensure the crank and pedals spin properly and don't creak.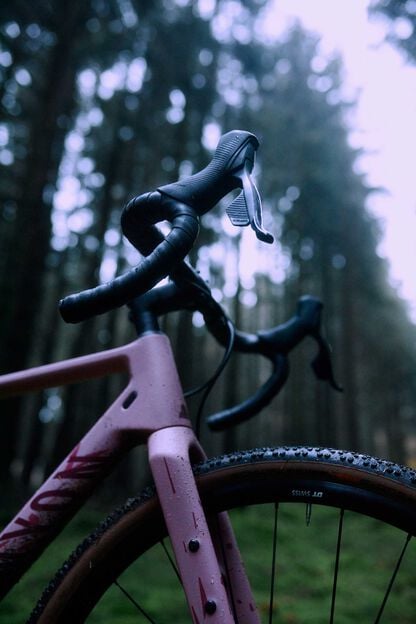 On the front end, double check your stem and handlebar bolts are fastened to the recommended torque (usually printed next to the bolt). Squeeze the brakes and check the brake pads on both wheels. Adjust the cables if necessary – braking is not something you should gamble on.
Finally, take a close look at your frame for any cracks or damage that may have gone unnoticed.
Attach your bike bags
Once your bike is mechanically sound, it's time to strap on your bike bags. Whether you're using a pannier rack or lightweight bikepacking bags, consult your kit list to make sure you've attached everything properly.
Before you leave for your trip, take your bike for a quick spin around the block to check everything feels just right.
Ready for your solo bikepacking trip?
It's time to pack your bikepacking bags and get out there. Our number one rule when bikepacking is that you must have fun. If you're not having fun, it might be time to rethink your plan.
What do you need to take with you on an overnight bikepacking adventure? Read our kit list before you head off into the sunset.