Hybrid bikes vs City bikes. Which should you choose?
Hybrid bikes and city bikes meet the needs of recreational cyclists from gravel trails to the city streets. Here's our guide on how to choose the best for you.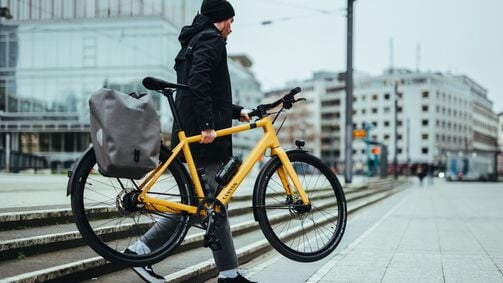 Hybrid bikes versus City bikes
Whether you are interested in taking up cycling as a new hobby or want to make the switch to two wheels for your daily commute, hybrid and city bikes cover an array of different types of bicycles. This makes choosing the most appropriate option for you a tricky decision. Read on to find out more about some of the key features of hybrid and city bikes whether you´re considering recreational cycling, training or commuting!
Modern urban mobility with hybrid and city bikes
City bikes are designed for urban mobility ease, whether you're commuting to work or heading to the grocery store they will be the perfect companion on the city streets. They usually include fenders (mudguards), luggage racks and low maintenance parts as standard, and in some cases integrated lights. These extra features can add some weight but, as an upside, generally city bikes are built a bit tougher to withstand life on the streets. The geometry of a city bike is also focussed on delivering a combination of comfort and visibility as well as excellent manoeuvrability, to aid you in negotiating busy roads and junctions as confidently as possible.

Hybrid bikes have recently undergone immense change. Lightweight variants with relatively smooth and narrow tyres are perfect for you if you're predominantly using road. Being very efficient to pedal, hybrids are ideal for covering longer distances. Flat handlebars offer improved comfort and visibility over a road bike. Usually featuring an alloy or carbon frame, their low weight makes them a cinch to carry. This is a very useful attribute if storing the bike at home or work involves a staircase or two.
Hybrid or city? Which one is right for me?
When making the decision on whether to select a hybrid bike or a city bike, the most important thing to consider is the intended use. If you're planning on cycling to work in the city, running errands, or exploring the urban environment on two wheels, then a city bike would make a great choice.

On the other hand, those that wish to venture a little further afield should consider a hybrid bike. Hybrids are still an everyday bike, but they'll go the extra mile to where a city bike might not. If you're a weekday commuter who enjoys escaping the city at the weekend, then a hybrid would be the perfect choice. It will be just as at home on the city bike paths as it is on light gravel roads or canal paths.
What is a hybrid bike?
Hybrid bikes combine features from both road, mountain, and touring bikes to create something that performs equally well on multiple surfaces. They draw on the strength and robust nature of both mountain and touring bikes and merge this with the sleek, aero nature of a road bike. It's in the combining of these features that produces a bike that performs well on varied terrain.
Hybrids – The all-purpose solution
Hybrid bikes generally have a flat-bar design, wide tyres (28-42 mm), and large gear ratios mean riders will feel comfortable on multiple gradients. With different variants across the category, many hybrid models also include front suspension, disc brakes, and electric assistance. Top modern hybrids comprise of either lightweight aluminium or carbon fibre frame designs.

Due to the inclusion of features from several bike types in one, the geometry of a hybrid will vary greatly. While all hybrids comprise of a design focused towards comfortable riding, the addition of features like front suspension can alter the geometry dramatically, leaving some with the sloping top tube similar to mountain bikes, while others would be more closely associated with a road bike.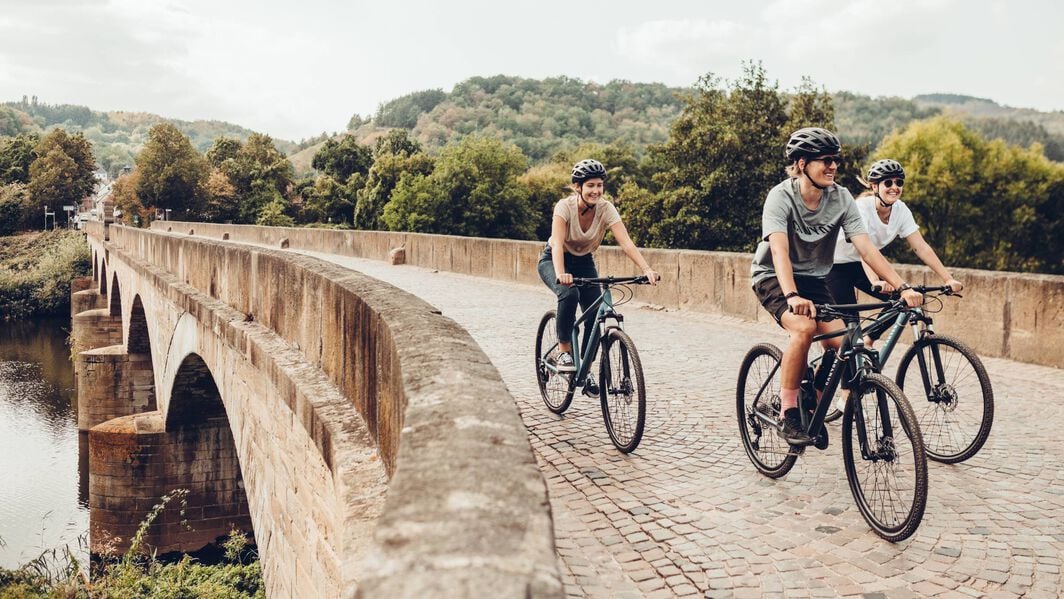 Who are hybrid bikes for?
Hybrids are the ideal option it you're looking to take up cycling as a new hobby or equally if you are wanting to make the switch to bike for your daily commute. They will be equally at home on the road as off it and will offer you a wide choice of terrain for both weekend adventures and exploring the city. With a comfort-first design, they appeal to those who seek a city escape whilst enjoying increased ease of urban mobility.
What is a city bike?
Also known as urban or commuter bikes, city bikes come designed for short-distance commutes and inner-city riding. City bikes incorporate many of the features of hybrid bikes and pair this with features that make moving around the city much easier.

City bikes target those who want to commute or complete daily journeys with ease. They are equipped with flat-styled handlebars and almost all models come complete with mudguards, chain guards, lights, and integrated pannier racks for luggage or shopping.

Where traditional city bike designs had minimal gearing, modern urban designs incorporate efficient drivetrains and wide ranges of gearing so riders are prepared for the hilliest of city streets.
Functional designs over speed
Reliable, stylish and functional, city bikes come designed to equip commuters and city explorers with all they need to bypass the traffic and public transport.

Designed specifically for city riding, bikes often feature racks to carry bags or shopping and mudguards to cope with adverse weather conditions. With flat style handlebars, they ensure the upright riding position which will enable the rider to feel safe and comfortable with negotiating urban centres.

City bikes have an emphasis on robustness over weight and come in a sturdy design built to handle the rigours of urban riding.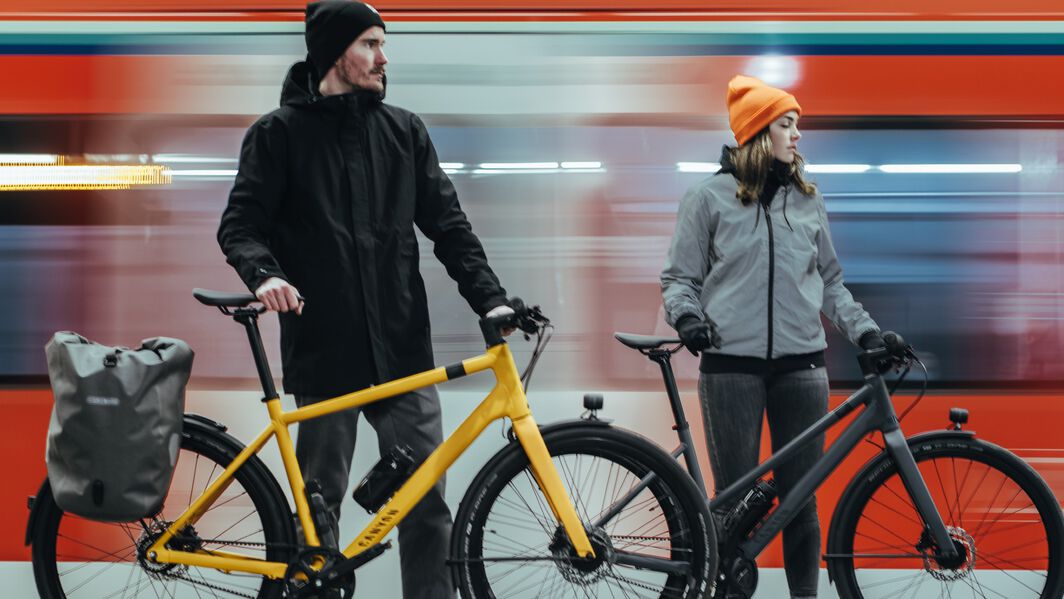 Who is a city bike for?
City bikes fulfil a number of roles and can be used for many different journeys. Some may use it as a commuter bike, while others may visit the market, explore the city sights, or simply get some evening exercise in the park.
Buying a Hybrid or City bike
With the collective shift toward greener and cleaner urban environments, we've stepped up to the challenge. To meet evolving urban needs, our lines of hybrid and city bikes strive to meet modern demands, whether you are thinking of making the switch to two wheels or just want to explore the city and find new places to ride.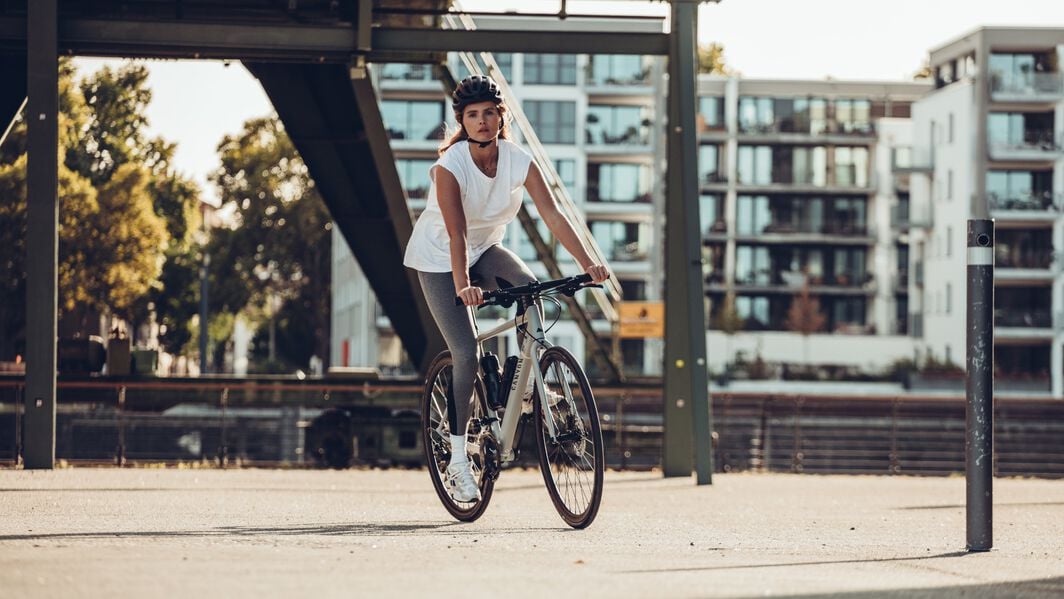 The Canyon line of urban bikes
Our Commuters feature sleek, functional designs in a series of fully-equipped commuting bikes to navigate the urban streets in style.

Built for all-weather performance, selected models come complete with integrated Supernova lights and puncture-resistant fast-rolling tyres, along with disc brakes, and panniers. They also include a belt drive system with internal hub gearing that makes them the perfect, low-maintenance urban companion.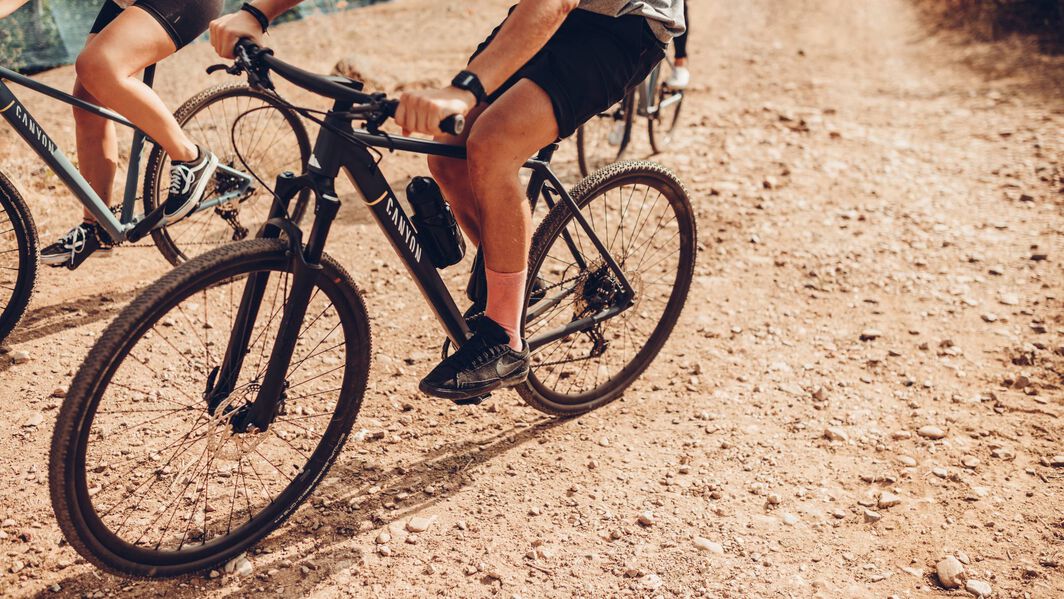 The Canyon line of hybrid bikes
At Canyon, we've taken the hybrid concept to new levels with impressive lines that extend the limits of how far you can go off-road. Our hybrid bikes incorporate three ranges and include our Pathlite, Pathlite:ON, Roadlite, and Roadlite:ON models.

The Canyon Pathlite range is the perfect entry-level hybrid if you're thinking of venturing on to some light off-road terrain, not just tarmac. Designed for agility, speed, and comfort, it comes with a lightweight aluminium frame, internal cable routing, front suspension, and disc brakes.

Geared for speed, the stylish Canyon Roadlite range comes available in both aluminium and carbon options. Each model is complete with hydraulic disc brakes and streamlined internal cable routing.

Finally, Canyon's Roadlite:ON range offers you the chance to ride further, faster and conquer hills and routes you may have previously dismissed. Complete with a 250 Wh motor courtesy of Fazua, the Roadlite:ON will keep you coasting at a steady 25kph while still offering the supreme versatility and lightweight option of classic hybrids. What's more the ingenious design from Fazua means you can remove the battery and motor system to reduce the weight and your ebike turns in to a lightweight conventional hybrid.


Discover our Hybrid Bikes
Let's talk about the benefits of electric bikes and how they can improve your health, both mentally and physically and save you money at the same time.