Guide to Canyon bike sizes
Our bike sizing is unique. We explain our wide range of bike sizes and how to measure yourself properly.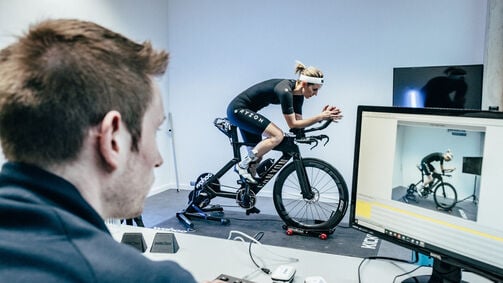 We understand the challenges of buying a bike online. We have adopted an innovative business model in this industry thus we're pioneering the way you can get your hands on world-class bikes.
Part of this process of buying a bike from Canyon is ensuring you have the right size bike. While we have a number of opportunities to test our bikes and a showroom at our headquarters in Koblenz, we know visiting us is not always feasible for everyone.
When you come to parting with your hard earned, how can you be sure about your Canyon bike size? We'll help you understand Canyon's unique sizing and how to measure yourself properly, so you can find your perfect bike size.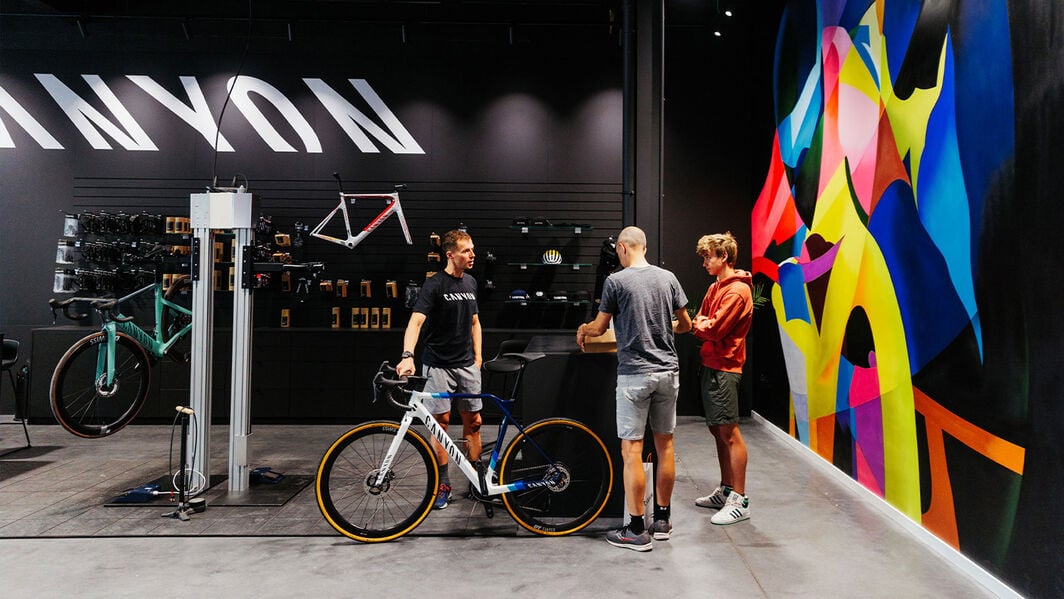 Overview of Canyon's bike sizes
Canyon bike sizes vary depending on the riding style:
From the very beginning we offered larger road bike sizes up to 2XL. Roman Arnold, our founder, struggled to find big enough bikes for his tall stature, so he took matters into his own hands.
Modern advances in geometry have made traditional Italian sizing, for example '52 cm' or '54 cm' obsolete. This measurement refers to the seat tube length. Since we have adopted modern geometry (shorter seat tubes and more exposed seat posts) and non-standard tubes on our fleet of bikes, the seat tube length is no longer a relevant indicator of bike size.
Not only does this mean we have a unique sizing range but it also allows us to offer a wider range of sizes than many of our competitors.
How do you measure yourself properly in order to find your Canyon bike size?
It takes just 5 minutes and 2 measurements to find your perfect fit. You'll need:
A wall
A tape measure
A spirit level or book
A helper (if you have one)
A pencil
Finding your height:
Stand barefoot with your heels, back, shoulders and head against a wall
Look straight ahead with your chin tucked in
Carefully place a book or spirit level on your head and slowly push it against the wall, so it's parallel to the floor
Mark where the bottom of the book is touching the wall
Measure from here to the floor – this is your height
Finding your inner leg length:
Take extra care when taking this measurement as it's the most important factor in getting the right bike size.
Wear cycling shorts and no shoes
Stand with your back against a wall
Tuck a spirit level or book between your legs
Pull up the spirit level into your crotch with both hands. This is where your saddle would be
The top edge of the spirit level to the ground is your inner leg length
Your PPS measurements can be stored in your Canyon account if you have one. Your size will be automatically displayed on the product page for each bike based on the saved information – easy!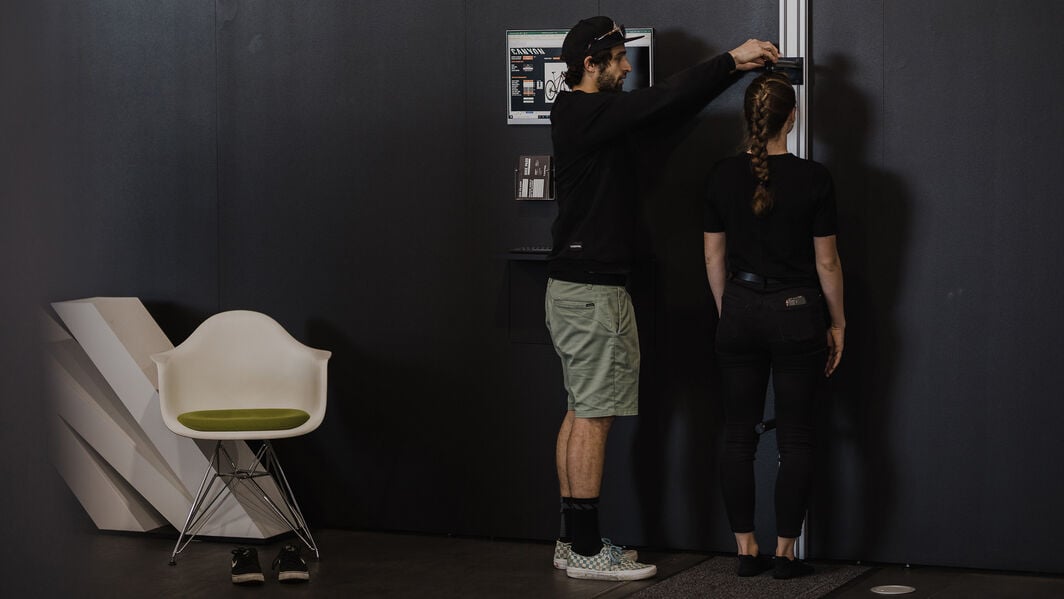 Why does Canyon sizing differ between worlds?
Road and gravel bikes have a much wider size range than mountain bikes due to the purpose of the bikes. Static fit is much more important on a road or gravel bike than it is on an MTB.
When you ride a mountain bike, your body moves around on the bike a lot more. Technical terrain, steep descents and tight corners demand a more dynamic riding position.
Road cycling is a much more static sport. That's not to say it isn't a skilled riding discipline. You ride in the saddle far more frequently on a road bike than on a mountain bike. Your contact from the saddle to the handlebars and pedals is therefore much more fixed.
So, a wider spectrum of sizes is available for road bikes in order to achieve the perfect fit for every rider.
How does PPS work and why should you trust it?
Our Perfect Positioning System (PPS) is the result of years of extensive research and data acquisition. 98% of people filling out the PPS form with accurate measurements are able to find their perfect Canyon bike size.
We use data from our showroom and external international databases to constantly improve the sizing calculator. From these data sets, we created a bell curve of measurements on which to base our bike sizes. Our showroom data ensures measurements are accurate, while external databases help us to consider cultural and international differences.
If you type your measurements in and the calculator doesn't return an answer, the chances are you're measuring yourself incorrectly.
We are constantly striving to improve our sizing, so if you find you can't find your perfect fit, drop us a line using the live chat and we can help you.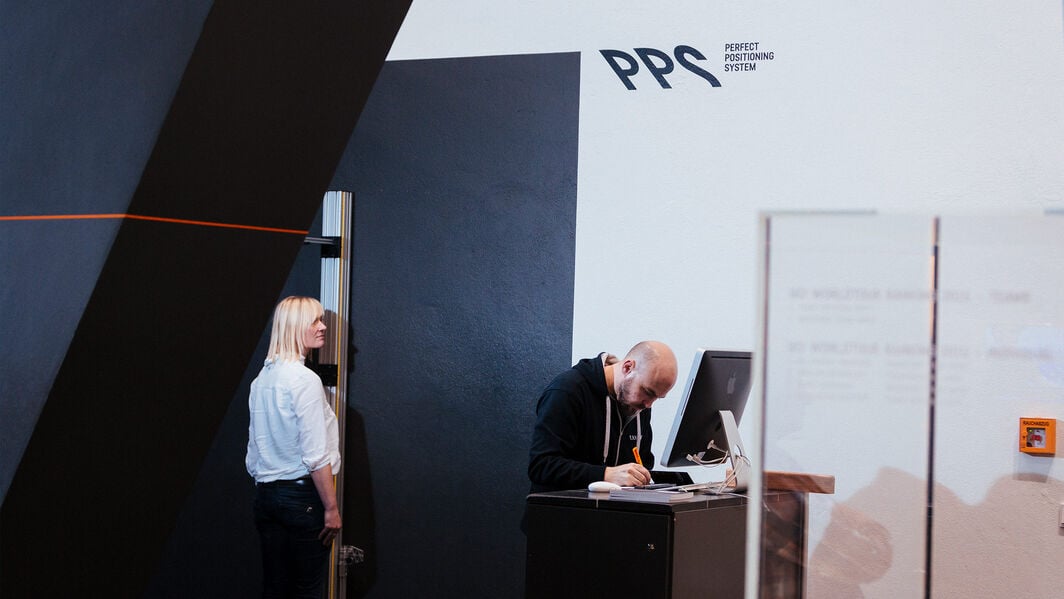 What has happened to the WMN range?
Over the last few years, we've made the decision to roll out inclusive sizing across our range of bikes. This means there are no specific women's bikes, but a wider range of sizes across the "unisex" bikes.
"Body height is the main difference between men and women in terms of physique," says Dan Heyder about the addition of smaller sizes to road bikes. "We have width adjustable handlebars on most of our road bikes now and saddles tend to be a very personal choice."
Some manufacturers spec bikes with female-specific saddles, however our deep dive into this topic reveals how individual a saddle is to your own physiology.
Other components are sized proportionally throughout the range. For example, a 3XS bike has shorter cranks and shorter stem than a 2XL bike.
How does kids' bike sizing work?
Our Young Hero bikes are the perfect bikes to get your child into cycling. While it's tempting to get a bike your child can grow into, this will set them up for a poor riding experience from the start. We want kids to enjoy riding and the best bike is a bike that fits straight away.
An ill-fitting kids bike means the suspension won't work as intended and the bike won't handle properly. This could mean your child decides to give up riding.
Follow the same instructions for the PPS above and you'll be able to find your child's perfect bike size. The saddle height can be increased as they grow before they outgrow the bike altogether.
A perfect size means a perfect bike
When you know which bike you want, simply put your measurements into the size calculator on the product page. Your new bike awaits.
Finding the best bike saddle can be a minefield. With help from Ergon, our guide will help you find comfort on the bike no matter where you ride.