Which cycling shoes do I need?
A good connection to the bike: why you should wear cycling shoes when riding and how to choose the right cycling shoes.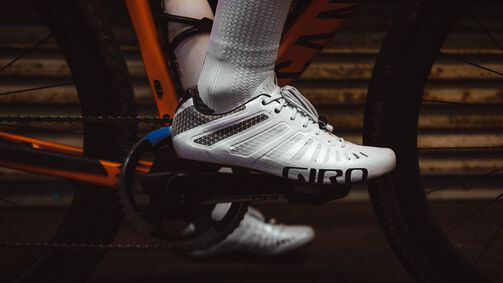 Choosing the right cycling shoes
Sandals, flip-flops, motorcycling boots and platform shoes are definitely not suitable for cycling. Even if you only use a city bike for short distances, you're probably aware that you need good footwear. A dedicated pair of cycling shoes for riding any kind of bike is a must, but what makes road bike shoes different to those for touring? Before you buy new cycling shoes, you should know which cycling shoes are right for you. This guide will help you choose the best shoes for your cycling.
What makes a cycling shoe a cycling shoe?
The shoe is one of the main connections between you and your bike. It's not quite as easy as a one-size-fits-all scenario when it comes to cycling shoes. Cycling shoes transfer power to your pedals with every pedal stroke. The stiffer the shoe, the more efficient the power transfer.

If you wear trainers with soft soles, you will sacrifice some power due to the flex in the shoe. This might be fine for everyday riding, but what about training and racing? Road bike shoes are often equipped with carbon soles for extreme stiffness and therefore highly efficient power transfer. While these shoes might be best for racing, you may want something a little more versatile for touring.

Cycle touring requires a balance between comfort and performance. You want to ride efficiently but also get off your bike and walk around. Cycling shoes for touring therefore have more flexible composite soles for good power transmission without sacrificing comfort.
Cycling shoes have to fit well
The main advantage of cycling shoes over other shoes is the improved power transfer to the pedal. To ensure this, the shoe needs to fit well. Your heel should be secured within the shoe and not slip out. The arch of the foot should be sufficiently supported, too. Though the foot should be secure, the shoe must not be too tight. If you're struggling to find the perfect fit, you could also use special insoles available for cycling shoes.
What should I look out for when buying cycling shoes?
Clipless pedals or flat pedals?
Cycling shoes that work with clipless pedals have fittings for the corresponding cleat on the sole of the shoe. Cleats are what bind your shoe to the pedal, similar to how ski bindings work. The combination of clipless pedals and cleats ensures a solid connection when cycling. The idea behind clipless pedal systems is that while you push down with one foot, you are able to pull up with the opposite foot. This enables an efficient power transfer. In order to safely remove your foot from the pedal, clipless pedals have a simple release mechanism. Simply twist your foot away from the bike to release your shoe and cleat from the pedal. Due to the efficient power transfer, clipless pedals are particularly popular and useful for racing bikes and cross-country mountain biking.

Cycling shoes for flat pedals on the other hand have a stiff and special non-slip rubber sole. The grippy sole ensures the shoe sticks to the pedal even without a clipless system. This option offers a lot of stability and security without having to connect your foot to the pedal. These types of cycling shoe are popular with:
Freeriders

BMX riders

Dirt bikers
In short: cycling shoes with cleats are ideal if you value efficient pedalling every time you ride. Cycling shoes for flat pedals are the perfect choice if you want to move your feet around freely when cycling, or if you want to leave your bike and walk around for a while.
How do I find the right fit and size for cycling shoes?
It's important to get a cycling shoe that fits properly. The first thing to do is to choose the right shoes size. When buying cycling shoes, the right size can differ from the shoe size of your everyday shoes. Some manufacturers give the foot length measurement to ensure you choose the right size. In order to achieve optimal comfort and to avoid pressure points, the width is also crucial for a comfortable cycling shoe. Tip: check if the manufacturer offers different widths.

Some cyclists use insoles in their cycling shoes to further aid comfort. Insoles have varying purposes: carbon insoles for example improve power transfer from the shoe to the pedal. Other insoles correct foot posture thus preventing injury.
What closure systems are available for cycling shoes?
There's more than one way to fasten your cycling shoes these days. Each method has pros and cons, so let's guide you through the benefits of each.
Laces
Probably the simplest fastening system are the humble laces. Touring and mountain biking shoes designed for flat pedals often use lacing. Road bike shoes with simple laces are also trendy. They distribute the pressure evenly over the entire instep on the foot thus preventing pressure points. Some cyclists simply prefer lace systems owing to the classic and traditional cycling heritage. However, there is one disadvantage: if you want to tighten or loosen your cycling shoes during your ride, you will definitely have to pull over and dismount.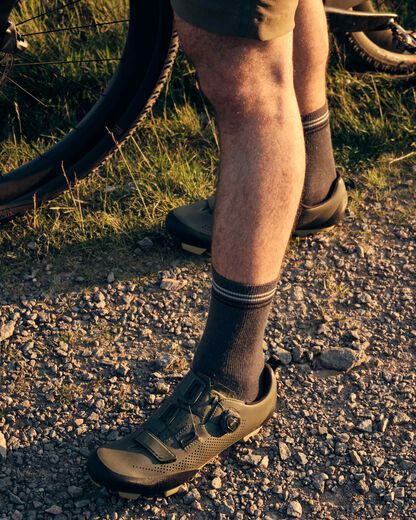 Dial closure
Some cycling shoes replace traditional laces with a dial and lace system. Simply twist the dial to tighten the laces and you're free to go. This system offers excellent support and stability. You can adjust the tightness while riding to fine-tune the fit.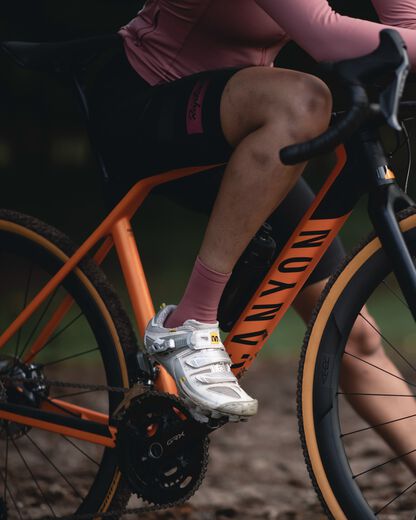 Ratchet closure and velcro
Entry-level shoes tend to use ratchet or velcro fastenings. Both systems offer good fit and distribute the pressure evenly. While it's easy to adjust while riding, these closure systems aren't quite as tuneable as the dial.
Mixed fastening systems
In order to be able to offer the best cycling shoes, some brands often rely on a combination of closure systems. For example, some cycling shoes have laces coupled with a dial closure to finetune the fit.
What types of cycling shoes are there and what do they do?
Before we look at the advantages of each type of cycling shoe, let's first get an overview. What types of cycling shoes are there? The distinction between a more flexible sole and a rigid sole, as well as those compatible with clipless pedals, gives you an idea that there are many differences.
Mountain bike shoes for mountain bikers

BMX and dirt riding shoes for those who love testing their skill

Road cycling shoes for everyone who loves speed

Touring shoes for those who need to walk as well as ride

Spinning shoes for those who like to hit the gym

Gravel cycling

shoes that offer a balance between road cycling shoes and mountain bike shoes
What can MTB shoes do?
If you often go mountain biking, you need durable and robust shoes. The soles must be stiff and have good grip, while the outer material must be weather-resistant. The shoe protects your feet from rain, mud, roots, rocks and all other challenges that nature has in store for you. With MTB shoes, you can walk well and have sufficient grip, even in the deepest mud.

Cross-country shoes have an even stiffer sole than enduro shoes. Like road shoes, cross-country shoes aim for maximum power transfer in race situations. Enduro shoes on the other hand are much more comfortable and aim to offer secure grip on and off the pedal. This means that different models of mountain bike shoes differ significantly.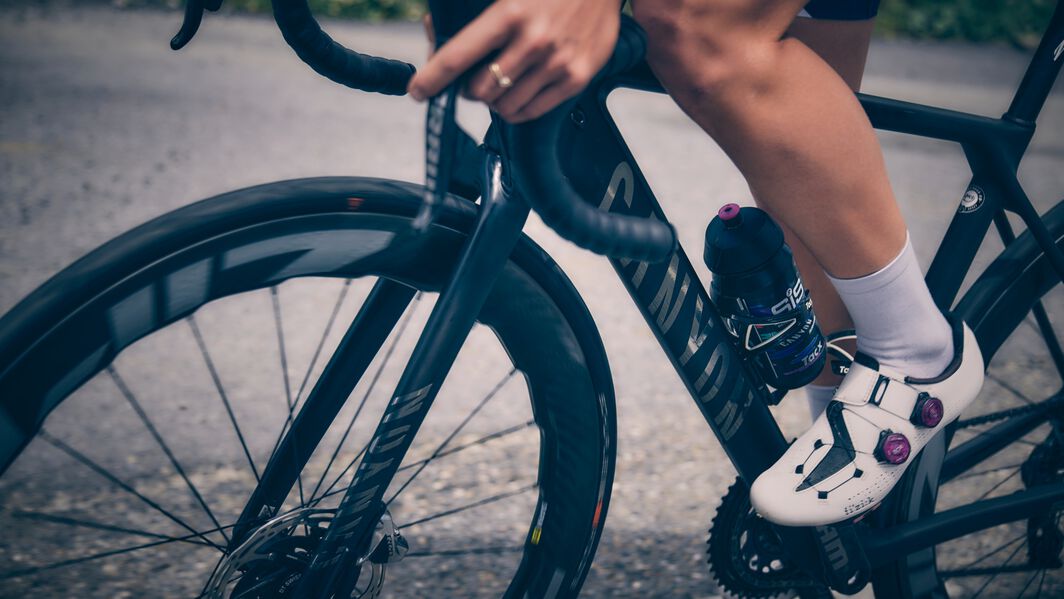 What can road bike shoes do?
When riding a road bike, maximum power transfer to the pedal is of utmost importance. Road bike shoes are extremely stiff and at the same time extremely light. The focus is clearly on offering the best performance on the bike. Walking in road bike shoes is not ideal. The cleats on road bike shoes are particularly large to enable high power transfer. Large cleats transfer the pressure from the foot over a large area evenly and therefore better to the pedals. This makes walking more difficult but ensures fast and efficient pedalling on the bike.

Some road bike shoes are lined on the inside with materials that flex with heat. Body heat is enough to make the soft fibres adapt perfectly to the shape of your feet. This has two advantages: power transmitted is even better and you avoid pressure points on your feet.
What can BMX and dirt shoes do?
Take a mountain bike shoe and make it even more robust and flexible, give it more grip and improve the outer material. If the shoes protect against flying stones and meteorite impact (joke!), you have created a BMX and dirt shoe. You'll have even more protection, grip and stability than a mountain bike shoe. You can also choose between flat pedal or clipless pedal compatibility.
What can gravel shoes do?
The gravel trend has also found its way into the cycling shoe market. Today, there are numerous models that are explicitly sold as gravel shoes. Gravel shoes are a mixture of road bike and mountain bike shoes. They offer the optimal compromise between efficient power transfer and comfort off the gravel bike. WIth a reinforced outer material, they offer protection against rocks and dirt while remaining lightweight. The sole is often stiff and firm without compromising on comfort. The soles of gravel shoes are designed in such a way that walking in them is also possible (useful for hike-a-bike-sections while riding). Rubber nubs and stufs gives you off-bike traction and necessary grip. This way, you can be reassured that you'll be able to navigate your next gravel adventure or bikepacking trip easily.
What are the advantages of touring shoes?
Cycle tourists don't spend all their time on the bike. You often walk or push your bike in some places, so these shoes must be comfortable. Therefore, flexible soles make perfect sense for cycle touring shoes. They often look like trainers and have a reinforced toe area to prevent debris from hitting your toes. In addition, the sole has more grip than most trainers, so that your feet don't slip off the pedals. Some touring shoes are compatible with clipless pedals, though you can hardly tell since the cleat is recessed into the sole.
Special spinning shoes – are they really necessary?
Some call it a spin bike, others call it a stationary bike: the idea is it's a fun workout without the need to ride outside in bad weather or along busy roads. Spinning is efficient cardio training and can help your existing training if you're a regular cyclist. Spin bikes often have double-sided pedals, which have a normal platform with loops on one side while the other side has a clipless system. You can use the looped side with normal trainers, however the other side requires clipless pedals.

It's best to choose a shoe that fits well, is breathable and has a slightly stiffer sole for good power transfer.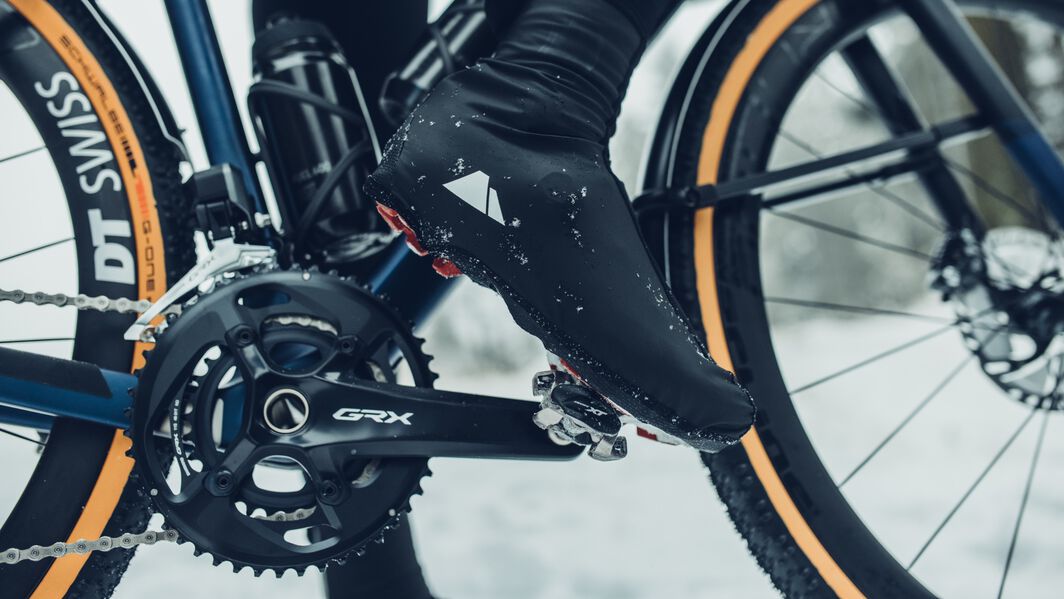 What are SPD shoes?
SPD stands for Shimano Pedalling Dynamics. The clipless system has been on the market since 1988 and comes from the well-known bicycle component manufacturer Shimano. The system is very widespread, especially in the mountain bike sector. SPDs allow you to walk in your shoes thanks to a recessed cleat that is sunk into the sole. The cleat is much smaller and therefore resists mud a lot better than a larger cleat. If you ride different bikes e.g. a cross-country mountain bike, a gravel bike and a road bike and you don't want three different pairs of shoes, an SPD system can be a good solution.

Are you still looking for the right electric mountain bike or racing bike for your perfect shoe? You're sure to find what you're after at Canyon.
Fahrradschuhe und Fahrradsocken
Whether you're starting out or you're thinking of making the switch after years of the status quo, we take a look at the pros and cons of flat pedals and clipless pedals so you can make the decision.