Flat pedals vs. clipless pedals - which is best?
Whether you're starting out or you're thinking of making the switch after years of the status quo, we take a look at the pros and cons of flat pedals and clipless pedals so you can make the decision.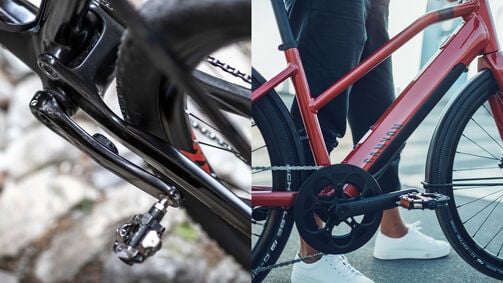 As a kid, you learnt to ride a bike safe in the knowledge you could put a foot down easily if you began to wobble. Happily, you probably carried on that way until you decided to delve deeper into the world of more serious cycling.
Just about every cafe in the country will have road cyclists clip-clopping their way to the counter on a Saturday afternoon but the recessed cleats in mountain bike shoes will fool even the most eagle eyed among us, so what's it all about?
What are clipless pedals?
Way back when road cycling involved a lot of steel, leather and wool, riders put their feet on a flat pedal and used toe clips and straps to secure their feet to the pedal. As technology improved, manufacturers ditched the toe clip (hence clipless) and replaced it with a cleat that screwed on to the bottom of riders' shoes that interlocked with a mechanism more similar to today's clipless pedals.
Look was the first supplier to do this by combining their experience in the skiing industry to the world of cycling. Among the first riders to use them were Tour de France stalwarts Bernard Hinault and Greg Le-Mond. The rest, as they say, is history.
The semantics of clipless pedals throws everyone: while they are clipless, you "clip in" when you use them leaving everyone confused as to the origin of the name in the first place.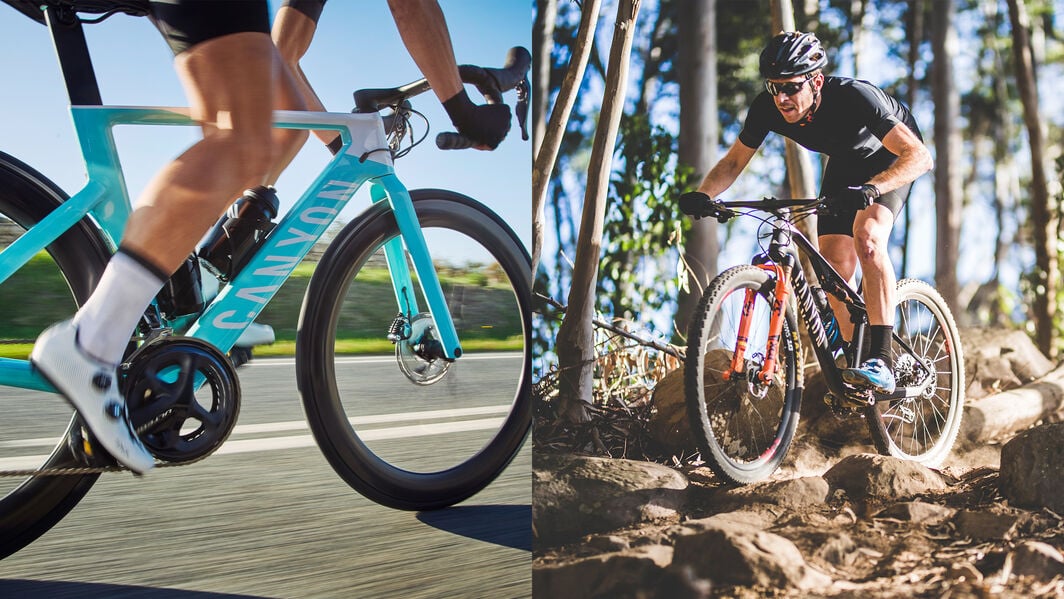 Mountain bike: Flat Pedals vs Clipless Pedals
The mountain biking population is split pretty evenly between the two camps of riding with flat pedals and using clipless pedals. Not so long ago, professional mountain bikers would always choose flat pedals but modern day trail design means high speed jumps and corners now favour clipped-in riders.
One of our resident mountain bikers, Markus Gebhard, can often be found on his local trails when he's away from his desk, so we asked him which pedal system he prefers. "I like the freedom to put my foot down when the trail gets technical, slippery or rooty," he says. A valid point especially if you're just starting out.
Flat pedals have a large surface area to increase the contact between your shoe and the pedal. Most mountain bike pedals also have little spikes that help grip to your mountain bike shoes. Though the spikes may seem like an accident waiting to happen, they make all the difference when you're descending and throwing your weight around the bike.
Unless you're racing, flats are a great all-rounder for local trails and bike parks alike. If and when you're ready to hone your skills then clipless pedals can help you reach that elusive next level.
Two of the most trusted brands out there are Shimano and Crankbrothers who offer both flats and clipless mountain bike pedals. They also have double-sided clipless pedals for clipping in quickly when the clock is ticking.
Gravel riding: Flat Pedals or Clipless Pedals
With the rise of gravel bikes comes the question of whether to use clipless pedals. Riding off-road can sometimes get technical but your route might also involve long stretches of dusty roads a la Strade Bianche, so what's it to be?
Canyon's Insights Manager, Giulia Mantovani, has analysed the data and recommends clipless mountain bike pedals for gravel adventures. "While I use flat pedals on my mountain bike, gravel riding is more often about endurance than technical skill, so for that reason I use clipless pedals," she says. This setup enables riders to push through sections of hike-a-bike while taking advantage of better pedalling efficiency when riding the rough stuff.
Road cycling: Flat Pedals or Clipless Pedals?
During a road ride, you're probably only going to unclip a handful of times since the main aim is to keep the wheels turning. Road cycling becomes a whole lot more enjoyable when you don't have to worry about your feet sliding off the pedals. Studies have shown that clipless pedals improve efficiency (power transfer) with some even claiming to be more aerodynamic.
Pedalling technique is as much of a science as it is an art and it takes years of practice to perfect (the pros make it look easy). Clipless pedals come into their own when climbing uphill because you're able to pull your foot and pedal up as you grind to higher altitudes.
The most common clipless pedals on road bikes are Shimano SPD-SL. They're affordable and replacement cleats are easy to find both online and at your local bike shop. Just like their groupsets, Shimano has a pedal for every budget including entry-level aluminium all the way up to Dura-Ace carbon clipless pedals.
But Shimano isn't the only brand making waves in a sea of pedals: Look and Speedplay have their own systems that you should look into, especially if you're a weight weenie.
If you're a new cyclist, spend a few weeks getting used to your bike and its setup first. Once you're confident handling your bike on your local roads, make the switch and enjoy being at one with your bike.
Falling off your bike because you forgot to unclip is something of a rite of passage for every cyclist - we've all done it. Once you get the hang of it though, it'll be second nature and you'll be clipping in and out between traffic lights and cafe stops smoothly before you know it.
Commuting: Flat Pedals or Clipless Pedals?
Since most commutes are within city limits, frequent stops at traffic lights and busy junctions create a good argument for flat pedals. You can wear your everyday shoes or trainers to pedal into work making the journey a whole lot easier first thing in the morning.
Commuting bikes are versatile bikes and you can use either flat or clipless pedals. You might find you're comfortable enough cruising around on flats, which is great.
If your commute is firmly into double figures in each direction or you're planning to ride in all weathers, clipless pedals can improve your commute. Specific cycling shoes are designed to keep your feet warm for your whole commute and they're often more water-resistant than casual shoes.
E-bikes eliminate the need for efficient pedalling since the motor takes care of that, so flat pedals are perfect for zipping around town.
Can you use mountain bike pedals on a road bike?
There are no rules against using mountain bike pedals on road bikes and in fact, some people prefer it to avoid the awkward waddle when walking around. They're also more practical in some circumstances such as cycle touring where you're on and off the bike more than usual. Another advantage is the ability to easily switch between bikes without buying a second or set of shoes.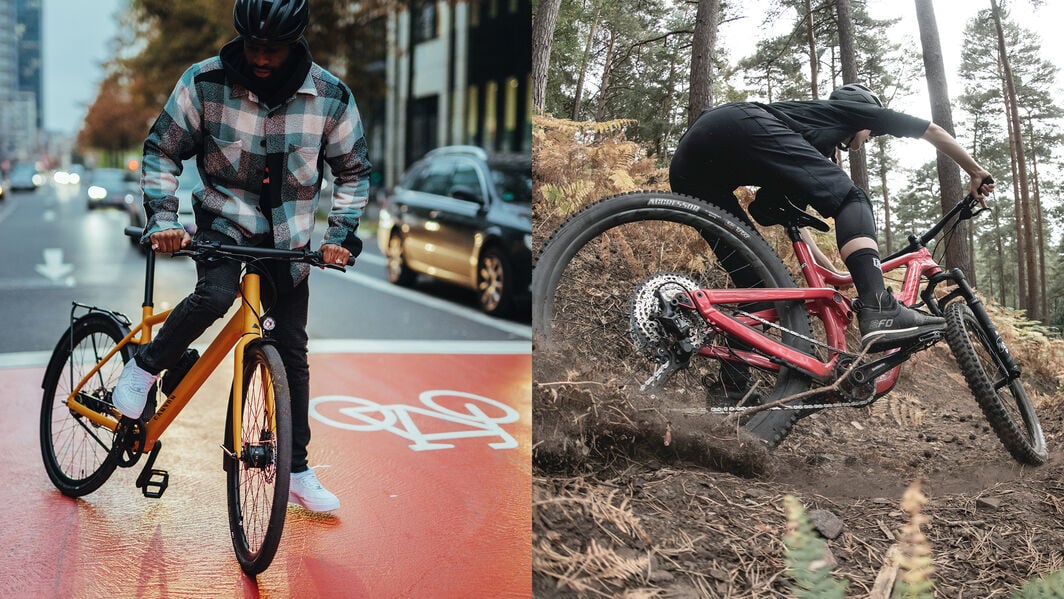 Pros and cons of flat pedals
Pros:
Easy to take your feet on and off the pedals if the terrain is technical or you're stopping frequently at traffic lights

Unlikely to be affected by mud and dirt
Comfortable and easier to use than clipless pedals
Cons:
Feet can slip around if you don't have the right pedals or shoes

Less efficient uphill
Pros and cons of clipless pedals
Pros:
More efficient power transfer and smoother pedalling technique

Secure foot placement on the pedal which stops your foot sliding off
Better for climbing up hills where you can take advantage of an upward pedal stroke
Cons:
Setup can be a bit tricky and it's important to get it right

Road cleats are not easy to walk in
More costly than flat pedals over time due to replacement cleats
Everything you need to know to start gravel riding and beginning your adventure when the tarmac ends.