Guide to winter bike maintenance
Prevent the harsh winter weather from dampening your spirits and ruining your bike with our tips.
With the cooler months upon us and the unforgiving weather about to make its mark on bike parts around the nation, it's time to protect your bike from all that winter holds with our guide to winter bike maintenance.
A typical winter's day ride involves riding your warmest cycling kit, choosing roads that are less likely to be frozen over and making a beeline for your favourite cafe. You'll warm up just enough to get back on your bike and chase the sunset back home.
It doesn't sound all that bad – until you factor in the wet, salty, debris-strewn roads you're likely to ride on. Foul weather takes its toll on your bike. You'll churn through chains, cassettes and tyres in no time if you don't set your bike up properly for the season ahead. Road salt, potholes and colder temperatures mean you could end up spending a lot of time at the side of the road due to more frequent mechanical issues.
With all this said, it's time to prepare you and your bike for all the wintery adventures ahead.
Do I need a winter bike?
You could swap bikes completely for a more sturdy, durable steed to see you through the worst of the winter. This means you can save your best bike for the best conditions and prevent the salty, wet roads from corroding your more valuable components.
A winter bike is typically a steel or aluminium equivalent of the bike you ride in summer with more robust components. While some people prefer to dedicate a bike to winter, it's definitely not a necessity.
We understand that not everyone can afford a second bike for winter. So, how do you save money and winter-proof your current steed?
Scroll through our tips to winterising your bike setup to keep you rolling through the harsh weather.
Light up your ride
It's worth investing in a good set of winter bike lights particularly if you ride a road bike among traffic. Visibility is often low in winter, whether that's due to rain, fog or mist. Not to mention the risk of running out of daylight during a bike ride. You'd be wise to keep a fully charged set of bike lights on your bike at all times.

Check the lights comply with local laws (StVZO if you're in Germany) and make sure you use them even when you think you don't need to. It's better to be safe than sorry!
Seeing and being seen are vital for safety, whether your riding takes you on or off-road, in the city or out of it. Our lights have been carefully developed and chosen to be StVZO-approved, possess a range of powerful luminations and provide you with maximum visibility, wherever you ride.
Discover more
Get your bike serviced
First things first: get your bike running smoothly in the best possible condition. Before the proper winter weather sets in, you should book your bike in for a service. Or if you're doing it at home yourself, make sure you cover the following:
Check that the bearings (headset, bottom bracket and seatpost) are greased properly
Check if the brake or gear cables have stretched (if so, they'll need replacing)
Check the drivetrain for chain wear – your chain should fit snugly into the teeth on your chainrings and rear sprockets
Inspect your brakes and bleed them if you know how to
Check your brake pads
Being able to stop in dark, slippy and unpredictable conditions is critical. Brake pads are relatively easy to check, remove and replace. But harsh weather is no friend of brake pads, so you should check for wear and tear before and after each ride.
Rim brake pads typically wear down a lot faster than disc brake pads. This is because the rim brake pads come into direct contact with the moisture and muck from the road. Brake pads on disc brake road bikes are a little more protected from the elements, but they still wear down more in winter.
Depending on your intended miles over winter, it's a wise decision to order some spare pads in anticipation. If your pads wear down, you can be back on the road in no time at all.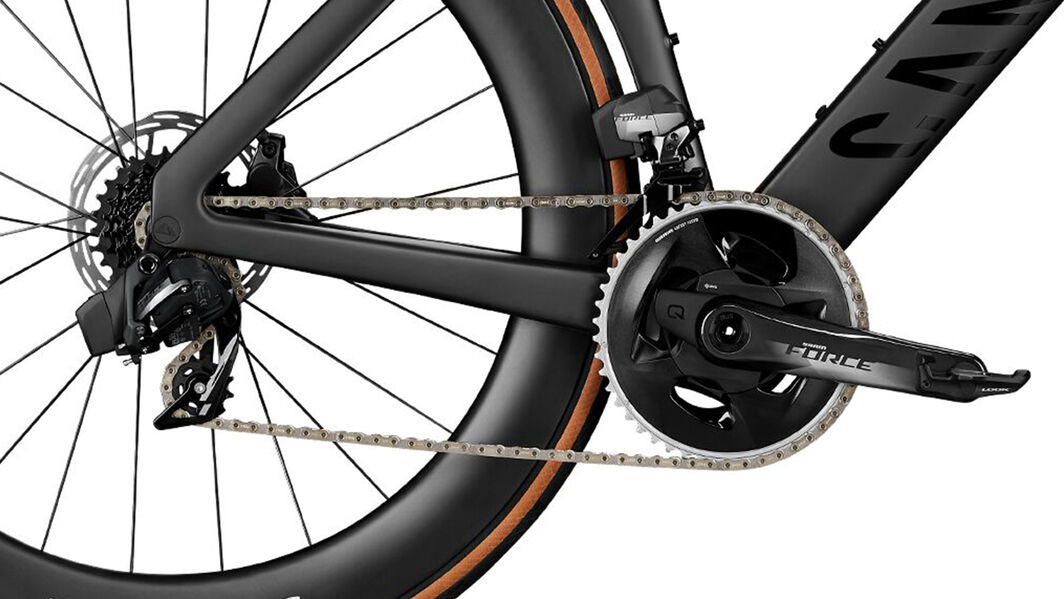 Fit a set of winter tyres
A more durable winter tyre often means fewer punctures. The roads and bike paths quickly become a game of puncture roulette during winter. A set of durable tyres are your best option to avoid spending time getting cold on the side of the road.
It's never a bad idea to switch tyres for winter. Combine this with slightly wider tyres, and you'll be comfortable rolling around the wintery lanes. Double check your bike's maximum tyre clearance before buying to ensure they will fit.
Learning how to efficiently change a flat tyre will also go a long way in helping you to stay warm. Patching the tube when you're back home will mean you can reuse your tubes instead of casting them into the bin.
Want to avoid tubes all together? Tubeless tyres are a great option. Tubeless sealant fills any smaller punctures to ensure you can keep riding.
In any scenario, carrying a high quality pump will help you get back on the road quickly.
Get a set of mudguards
Mudguards (also known as fenders) might be the least sexy accessory you can buy for your bike but we're going for comfort over style just this once.

Not only do mudguards protect your frame and components from the worst of the weather, but they also help keep your kit dry and clean. Avoid a big, dirty spray up the back of your shorts and jersey by installing a set of mudguards.
Shop our custom-made fenders and mudguards to find the fitting option for your bike, whether you're a committed Commuter or a Downhill enthusiast.
Discover more
Clean your bike regularly in winter
A dirty bike leads to a broken bike. Caked on muck can quickly corrode vital components and end up costing you more money in the long run. Not only that, but nobody enjoys riding a filthy bike.
Invest in good bike cleaning products and take the time to look after your bike. After a ride, wipe down your bike to get the worst of the dirt off. Once a week, do a full bike check and wash it thoroughly. All it takes is an hour or so of your time to keep your bike in good working order.
Learn how to properly clean your bike and you'll have it down to a fine art in no time.
Avoid the cold and ride indoors
Winter can be a cruel time of year. In remote areas and in northern cities, it can be particularly unforgiving. In some cases, you might prefer to stay at home and use the turbo trainer instead. It's safer and more efficient to do so in some cases. It also means you get out of doing some dirty bike fettling!
If you use the same bike for indoor cycling as you do outside, get yourself a set of sweat protectors to prevent your handlebars and headset from corroding. The salt in your sweat can quickly build up and work its way into hard to clean parts of your bike.
Our advice for winter
Winter takes its toll on rider and bike alike. Take the extra time to check your bike before and after your rides. Your bike and its many components will thank you for it and reward you with a long winter of discovering your local landscapes near and far.
Staying motivated in winter can be tricky. We asked a Mental Performance Coach for his advice.