Electric Touring Bikes Buyer's Guide
E-touring bikes are great for cycling holidays and discovering new places. Which one should you choose?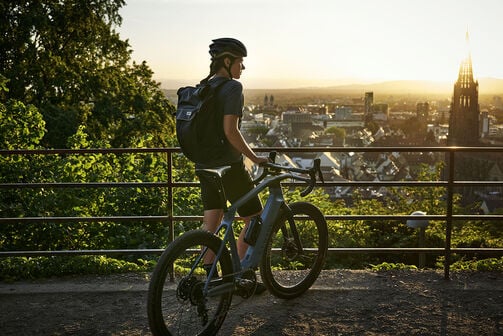 Touring by bike is no easy feat. It often involves long days on a fully loaded bike, but this shouldn't mean it's unenjoyable by any stretch of the imagination. Some of the most beautiful parts of the world are best accessed by bike. Cycle touring is one of the ways you can have an unforgettable holiday while keeping active at the same time.
The easiest way to manage the level of difficulty is by using an electric bike (also known as an e-bike). E-bikes have electric motors fitted to them, which provide assistance when you start pedalling.
What is the best electric bike for touring?
When shopping for a touring bike, you need to think about luggage mounts and capacity, comfort and battery range.
Luggage mounts
Just like any other holiday, you need to pack before you ride off into the distance. Some people are comfortable travelling with a lightweight setup, while others prefer their creature comforts like spare off-bike clothing and alternative footwear for other activities.
Loading all of this up in a backpack is as impractical as it is uncomfortable. You'll get sweaty very quickly and your shoulders will suffer the impact. Most good e-touring bikes have mounts for pannier racks or they're pre-fitted to the bike when you order. Pannier bags enable you to balance the weight of your luggage around the back of the bike for a safer and easier riding experience.
Bikes without pannier mounts can still be an option for cycle touring. Instead of a rack, you can use bikepacking bags. Bear in mind, these bags have a lower capacity, so are better suited to a lightweight setup.
Comfort
Riding your bike day after day gradually adds fatigue, so you want to know you'll be comfortable for as long as possible. You might decide an electric road bike or electric gravel bike is perfect for getting you to your destination as quickly as possible, however a more upright position might be more suitable if you're not a regular cyclist.
You're probably not chasing Strava QOMs/KOMs on your cycle touring trip, so think comfort and practicality. Wider tyres like those fitting on our Pathlite:ON and Grail:ON smooth rough roads and tricky trails giving you a more comfortable ride.
You will spend a good amount of time on your saddle, so pay particular attention to this part when you start riding. The saddle your bike arrives with may work for most people but if you experience discomfort, don't be afraid to swap it for something better for you.
Battery Range
The wonders of modern technology are constantly increasing the distance you can travel in one full battery charge. A robust and powerful motor like the Bosch Performance Line CX is reliable and can take you up to 120 km on a single charge. The range does however depend on rider and cargo weight, terrain and boost mode.
Are electric bikes good for touring?
Electric bikes are a great option for cycle touring particularly if you're new to cycling, have limited mobility or simply don't want to work up too much of a sweat while you're on holiday. Hills become flatter, energy levels remain a little higher and you still get to feel the wind in your hair all day long.
What are the disadvantages of electric touring bikes ?
The biggest disadvantage to cycle touring with an e-bike is finding charging points for your bike en route. Given the increasing popularity of e-bikes, many cities and countries are actively investing in infrastructure like conveniently placed charging points for e-bikes. Alternatively, you can always charge your bike at a hotel, campsite or other accommodation in the evening ready to go the next day.
Flying with an e-bike is also a little more complicated and may result in you having to hire a battery on arrival at your destination. You should factor this into your holiday plans if you're planning to ride further afield.
Pathlite:ON
Our dedicated electric touring bike with options for integrated panniers, lights and mudguards is a winner with cycle tourists the world over. It has up to 100 km of range in one single charge and is fitted with wide tyres and ergonomic handlebars for a comfortable ride no matter where you end up.
Comfort, durabiliy and hassle-free explains the Pathlite:ON. We built the Pathlite:ON to seamlessly accommodate the Croozer trailer, which is perfect for carrying children, pets and cargo.
View all
Grail:ON
Fast adventures begin on the Grail:ON, our electric gravel bike. As the lightest of the e-bikes in our line-up here, we recommend using bikepacking bags for a trip on this bike. There's clearance for up to 50 mm tyres (without mudguards), so you can really push your ability off-road at the same time as discovering hidden gems tucked away from the crowds.
Grand Canyon:ON
Exploring mountain trails has never been easier than on board our Grand Canyon:ON. Bikepacking bags and/or a light rucksack will help you discover the wonders of the mountains for a night or two. Keep your eye on the battery level and if need be, take a spare battery or plan your route around one of the many Bike Parks in Europe that increasingly cater for E-MTBs.
The Grand Canyon:ON is designed for reliability, ease of use and all-day adventure. Be free to explore the world by bike.
View all
Where will your e-touring holiday be?
If you need inspiration for your next cycle tour, why not check out the best bike paths in Germany? You can even call in at Canyon HQ on your way down the Rhein!