How to win a bikepacking race
We spoke to Jonas Fischer from RAD RACE for his tips and tricks for winning a bikepacking race.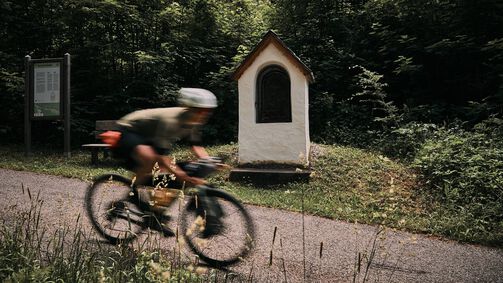 If you've ever enjoyed a gravel race, you might be thinking of taking on a bikepacking race as your next big challenge. The growth in the sport means there's plenty to choose from both close to home and further afield.
What is a bikepacking race?
Bikepacking races are self-supported, long-distance, mixed terrain bike races. The original race was the Tour Divide, a 4417 km race along the Great Divide Mountain Bike Route from Banff, Canada to Antelope Wells, New Mexico.
There are now many races around the world. In addition to the Tour Divide, other popular events include:
Transcontinental Race (Europe)

Silk Road Mountain Race (Kyrgyzstan)

Colorado Trail Race (USA)

Arizona Trail Race (USA)

Italy Divide

French Divide
As the bikepacking race calendar gets longer, the competition at these events gets stronger. So, what does it take to win? It would make sense to ask someone who has won a few bikepacking races, right? Well, we think the best to person to ask is the person who comes second.
We spoke to RAD RACE rider, Jonas Fischer. He has been riding bikes since he was a kid, but he decided to take on a bigger challenge this year.
"I did my first race when I was 11 years old, so I can't imagine my life without bikes," says Jonas. "My racing has developed from youth road racing to fixed gear to bikepacking holidays to one-day gravel races in Germany."
Having taken part in a few events, Jonas decided to give unsupported racing a go and he signed up for a bikepacking race: Seven Serpents
What is the Seven Serpents?
"I saw the race online, on Instagram, and it got me with the pictures!" laughs Jonas explaining how he initially came across the race. "It's in a nice area, it has nice gravel roads, it's not in the high mountains where I need mountaineering equipment, so I thought I should be fine with the equipment I already have."
The Seven Serpents route starts in Ljubljana in Slovenia and finishes in Trieste, Italy. Though the distance from start to finish is less than 100 km as the crow flies, this particular race forces participants to ride their bikes over 800 km via seven checkpoints.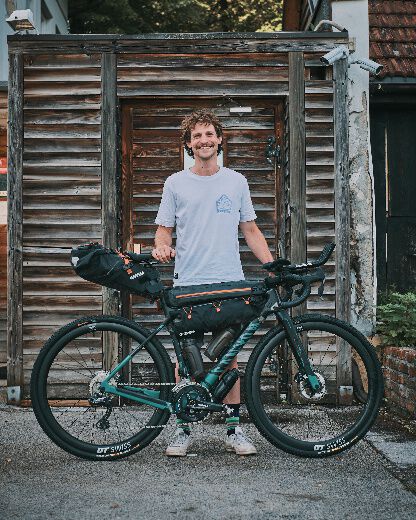 Racing Seven Serpents
As this was Jonas' first bikepacking race, he embraced the adventure. "Slovenia was as I expected; really great gravel roads, smooth gravel, you could go fast, some technical parts, sometimes you had to get off the bike and push for a bit. It was a really great mixture," he says.
It wasn't all sweet gravel roads, though. Croatia turned out to be a series of potholes and hike-a-bike terrain. Gaining any kind of advantage on competitors was a real test of strength as fatigue sets in.
With the added complexity of ferries to and from the islands, the race became less about just riding bikes and more about efficient time management.
The clock never stops
Managing your stopped time during a bikepacking race is essential if you want to win. Any time not spent riding towards the finish will count against you. Jonas knew he had to ride within his limits in order to survive 800 km of hard riding. In addition, the last ferry from the second island back on to the mainland departed at 7pm. If he missed it, he would have to wait until the next morning to make the trip across.
"I knew that if I got the ferry at 2pm from the first island, I had five hours to complete about 80 km of riding on the second island, which was plenty of time," says Jonas. "I was absolutely destroyed when I got to the second ferry," he admits owing to the shocking terrain. Unfortunately for Jonas, the pizza place at the port was closed upon his arrival, so he opted to get some rest instead.
Sleep strategies can get interesting during bikepacking races. It's a trade-off between constant forward movement and recovery in order to ride faster afterwards. Whether this encourages riders to ride tired is up for debate (some races now mandate rest periods) but most riders tend to get at least a couple of hours every night.
"It took me too long to set up my sleeping place, I slept for four hours and it took my too long to pack everything back up again in order to start the final 280 km," said Jonas hypothesising on what he could do to improve next time. "Not having dinner that night didn't help [my riding in the morning], so the supermarket stop also took me quite long!"
Moral of the story: keep your stops short and efficient.
Choosing the right bike for a bikepacking race
"I decided on the Canyon Grizl because I wanted to have aero bars," says Jonas explaining how he chose between that and the Canyon Grail. He also noted the benefits of the Grail's double decker handlebar but chunkier tyres won the battle of the gravel bikes.
"When I crossed the border into Croatia, I thought 'hmm I have 40 mm tyres but 50 would be nice right now!'" he laughs describing the huge rocks and potholes that lay before him. He persevered but eventually succumbed to sleep for a couple of hours.
"After my two hours' sleep on that first night, I arrived on the first island and I thought, 'I don't just need 50 mm tyres, I actually would like to have a hardtail' because the paths were really tough," he adds.
Deciding which bike is best for a bikepacking race is very tricky when you don't know the terrain. As this was the inaugural edition of the race, there were no previous riders upon whom to base the decision. The right choice might be perfect for 60% of the race. For the remaining 40%, you may find a different bike would've been better. Of course, bikepacking races are unsupported, so there is no van with a spare bike. Ultimately it's a compromise and most of the time the best bikepacking bike the one you already have.
Lightweight gear for racing
The laws of physics dictate that riders carrying less will travel faster (all other things remaining the same). You need less power to maintain your speed at a lighter weight. Travelling through places faster for days on end may be more comfortable using lighter weight kit and equipment.
However, this also comes at a compromise.
Lightweight kit comes at a high price financially and sometimes in terms of comfort. If you're willing and able to spend money on gear you think will help you get you the results you're after, then there's a whole world of weight-weenie content out there for you to soak up.
Creating a  bikepacking kit list is a good place to start for these races. Jot down everything you plan on taking and whittle it down to the bare necessities. What can you absolutely not do without? Once you're happy, try going on an overnighter to check whether you need anything extra or can leave something at home. Try not to change anything too close to the start of your race and figure out how to pack your bikepacking bags properly.
Jonas commented on his setup during our conversation stating he wished he'd have taken less food and perhaps changed from water bottles to a hydration vest with a bladder. In the end, he decided not to invest in the additional equipment and to instead use what he already had.
Learn how to hike-a-bike
Bikepacking routes vary in difficulty, length and even rideability. Routes on websites like bikepacking.com note the percentage of the route you can actually ride. The alternative to riding is of course pushing your bike. This is affectionately known as hike-a-bike.
When the trail gets too gnarly to ride, it's time to use your other muscles to conquer the course. Checking the map can reveal where these sections may be. Look closely at contour lines and the type of path or trail (if any). Segment times of other riders for these sections will reveal just how fast they actually rode.
The island of Krk in the Croatian section of the race paved the way for Jonas to experience true hike-a-bike. "I knew there was a part you can't ride. It's a super steep mountain and it's a hiking path," he says admitting he'd spent way too long living in Hamburg where it's flat and there are no mountains. "I'm used to riding my bike rather than carrying my bike. At this point [in the race] it wasn't even possible to push the bike because the path had huge rocks! On my list now is learning to hike-a-bike for a kilometre!"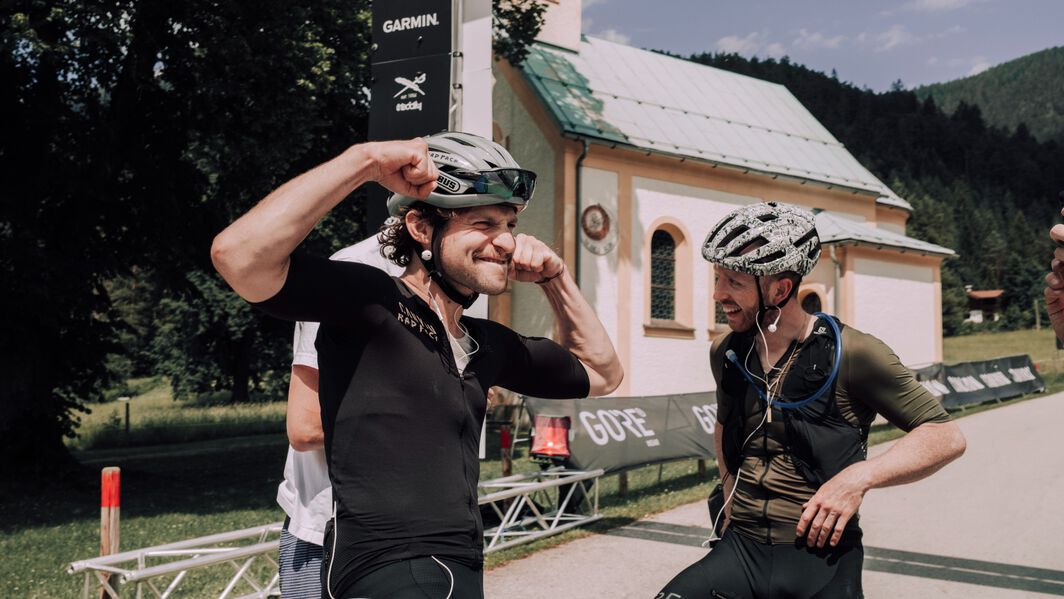 Tips for winning a bikepacking race
Jonas came second in this bikepacking race through Slovenia, Croatia and Italy. He learned a lot along the way and he now knows what it takes to win a bikepacking race. Here's a round-up of his lessons learned.
Pace yourself. Longer races are a slow burn. Don't go all out at the beginning then find yourself low on power for the remainder of the race. Know your limits and stick to them.

The bikepacking community is friendly and encouraging to beginners, so  ask questions  of others. They may be more experienced and be best placed to give tips and advice. If you're lucky, some will have local knowledge of the country or place.

Learn more skills.  From maintaining your bike at the side of a trail to increasing your strength in order to hike-a-bike quickly. You can never have too many on-bike and off-bike skills, especially if you're in the middle of nowhere.

Be efficient with your time.  Keep stops to a minimum and plan where they are. Complete a few tasks in one stop: toilet, buying food, charging your GPS for example.

Invest in lightweight gear.

  If you enjoy bikepacking and racing, the chances are you'll enjoy it more if you're not lugging around unnecessary kilos of gear. This includes cycling clothing, bike components and bikepacking accessories such as

bikepacking bags

,

GPS mounts

and

water bottles

.

Check the route.  Become familiar with where you will ride. Set custom cues on your GPS unit when you're about to hit a climb. Check the segments on Strava or study a map of the region. This will also help your knowledge of resupply points.
If you're preparing for your first bikepacking adventure alone, this guide is for you.