Hardtail MTB Buyer's Guide
How do you decide which hardtail MTB to buy? We'll show you how!
Mountain biking began with riders simply taking the only bike they owned, riding it off-road, and seeing what happened. Not surprisingly, the degree of awesomeness varied wildly. It wasn't until a decade later that front suspension became widely adopted and the hardtail mountain bike was born ("hardtail" meaning, in essence, "squishy up front and not-squishy-at-all out back").
Today's hardtails bring simplicity and affordable performance to riders of all skill levels. That's brilliant. Not all hardtails, however, are created equally or are even designed for the same kind of riding. We'll spell out the differences here and help you decide which hardtail mountain bike is perfect for you.
What is a hardtail mountain bike?
Hardtail mountain bikes have a front suspension fork to absorb all the lumps and bumps of the trails you'll ride. The rear end of the bike however is rigid — literally a hardtail. A hardtail mountain bike has all the usual traits of a mountain bike: fat tires, wide handlebars, and the kind of gearing that lets you scale the steepest climbs. Since hardtails only use front suspension, they're often times lighter than full-suspension bikes, though their lack of rear suspension can make riding over rocks and roots more challenging.
Hardtail mountain bikes have a front suspension fork to absorb all the lumps and bumps of the trails you'll ride. The rear end of the bike however is rigid — literally a hardtail.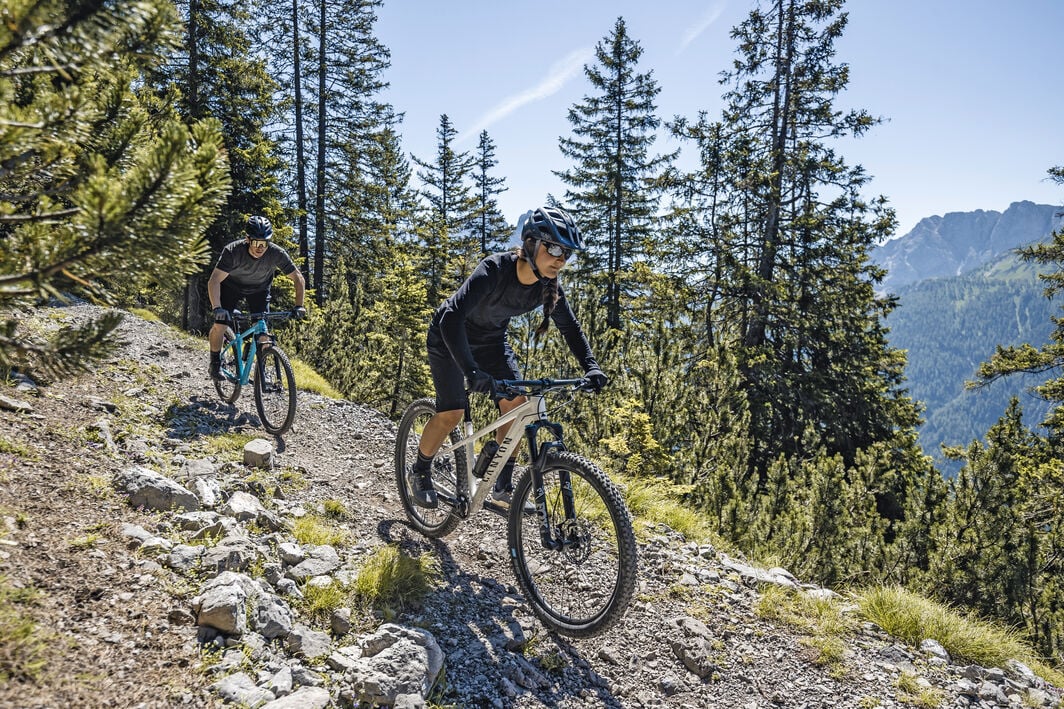 Are hardtails better for beginners?
Hardtails are simple, yet fun mountain bikes and are the perfect tool for honing your skills and enjoying mountain adventures.
Hardtail mountain bikes are certainly easier for beginners to maintain compared to a full-suspension mountain bike. The absence of rear suspension means there are fewer moving parts that need regular servicing.
Mechanics aside, if you're just learning to mountain bike, chances are good that the terrain you intend to ride might not be technically demanding enough to require a full-suspension setup. If, on the other hand, riding aggressive trails is on your menu and you still want the simplicity that hardtails offer, you should consider a hardtail like the Stoic, which features a longer suspension fork and more aggressive geometry.
Does riding a hardtail make you a better rider?
Although a lot of beginners will pick up a hardtail mountain bike for their first foray into the mountains, hardtails are great for all riders looking to improve their mountain biking technique. Without rear suspension, you'll need to harmonize your riding position and bike handling skills to navigate more technical sections of trail. Honing those skills will definitely make you a better rider.
Should I buy a 27.5 or 29er?
It's widely accepted that 29" wheels roll faster over rough terrain than smaller 27.5" hoops. However, at Canyon, we;re of the opinion that you should ride wheels that are proportional to your bike's frame size. It simply gives you better, more easily controlled, handling out on the trail. That's why we sell many of our XXS-S bikes with 27.5" wheels and our M-XL bikes with 29er wheels.
Do pros ride Hardtails?
Quick answer: of course, though it depends on the race course in question. Hardtails are popular in less-technical cross-country races because of their light weight and excellent pedaling efficiency. You'll see the likes of Mathieu van der Poel racing cross-country on his Exceed on smoother World Cup race courses.
Is full-suspension better than hardtail?
Again, it's a question of where and how you plan on riding. If you are aiming to consistently ride chunky, technical terrain, a full-suspension bike is definitely going to give you a smoother, more controlled ride. And at the end of the ride, if that ride has featured a fair bit of rocks and roots, your body will feel fresher if your bike has a rear end that's absorbing many of those impacts.
That said, if your trails aren't so technically challenging or you like to feel a more direct connection to the trail, a hardtail might be just right for you.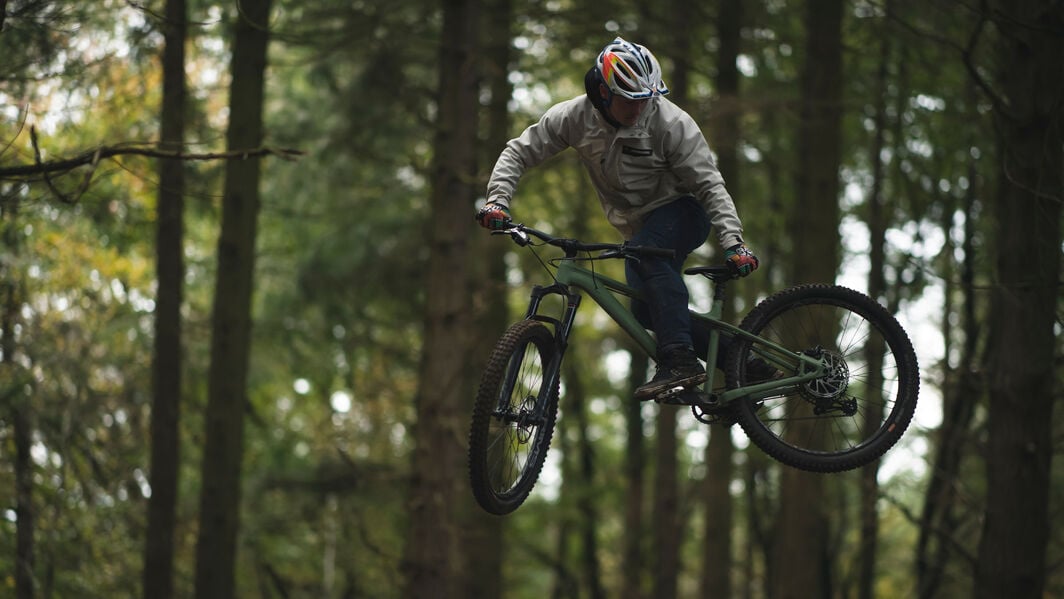 Can I do downhill on a hardtail?
If your goal is to clock that fastest time in a downhill race, you'll want a full suspension bike. Similarly, if you are looking for the smoothest way down technical trails, a full-suspension bike is also the best choice. But having said that, you can still rip downhills at high speeds on a hardtail. It simply requires more handling skill and the willingness to subject your arms, shoulders, back, and legs to more shock.
If you like a hardtail's very direct connection to the trail and you want to pummel the downhills, look into a bike like the Stoic, which features more front suspension and slacker/longer geometry than a traditional "cross-country" hardtail.
Should I buy an aluminium or carbon hardtail?
At the risk of sounding wishy-washy… It depends. Carbon mountain bikes are lighter and can be stiffer than most aluminum mountain bikes. However, aluminum bikes deliver much of the same performance at a more affordable price point.
Without getting too nerdy about frame construction, carbon bikes can be constructed ("laid up") so that parts of the frame that need to be stiff are ultra-stiff and parts of the frame that need to be more flexible are, indeed, more flexible. Carbon is a very tuneable kind of frame material and it can be used to create a crazy-light frame that's still quite strong. But since carbon frames require a tremendous amount of time to build by hand, they also tend to be more expensive than their aluminum counterparts.
How much should I spend on a hardtail?
As with any other bike, hardtail prices vary, but hardtails are often less expensive than a full-suspension mountain bike since they feature simpler frames and lack rear- suspension components.
You could search online or within your mountain biking community for second-hand hardtails, but when you don't know the history of the bike, you can never be 100% sure of what you're getting.
You can find good deals in  Canyon's mountain bike outlet where all of the bikes feature the same great warranties as our brand-new models and give you the peace of mind that you're getting a bike that'll last you years.
Which hardtail is best for you?
The first thing you need to decide is how you'll use your new hardtail. Figure out your skill level and where you want to ride. Are you planning on racing? Exploring your local trails? Taking a few rides with your family? How and where you ride will determine which model is best for you.
If you want to develop your mountain biking skills and are looking for a versatile, affordable option, our entry-level hardtail, the Grand Canyon, is perfect for you. It features a 120mm-travel suspension fork, a capable aluminum frame and components that won't let you down.

If you're ready to hit the jumps and slightly more technical terrain, the Stoic is a great choice. It packs everything we love about mountain biking into one accessible setup: it's simple, tough, and durable no matter where you ride.

At the premium end of the hardtail spectrum, we have the Exceed. It's designed to win cross-country races with its lightweight carbon frame and high-end components. The Exceed is the weapon of choice for many world-class competitors and hard-charging riders.
Canyon Hardtails Compared
| | Exceed | Grand Canyon | Stoic |
| --- | --- | --- | --- |
| Ridestyle | Cross-Country Race | Cross-Country/Trail | Aggressive Trail |
| Price from | $2,299.00 | $1,299.00 | $1,199.00 |
| Travel | 100 mm | 120 mm | 140 mm |
| Frame Material | Carbon | Aluminum | Aluminum |