Electric Bikes
Take everything that's great about riding—
the freedom, the thrill, the escape. Now picture...more.
More great rides, more power, and more fun.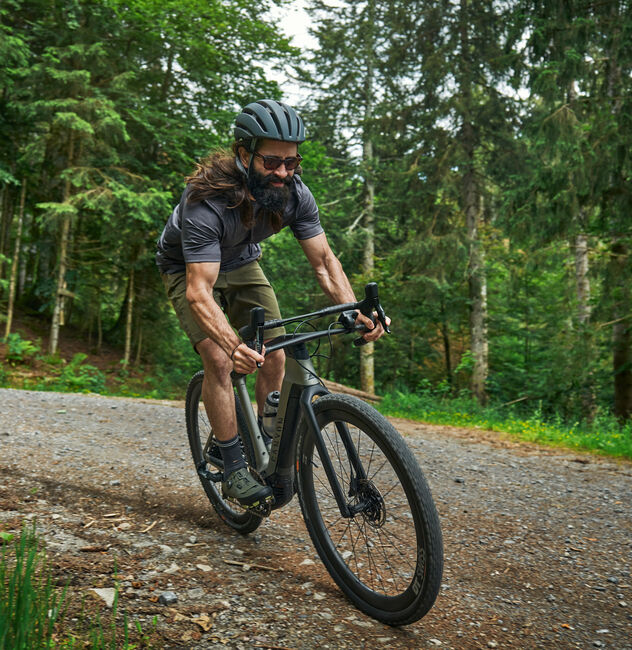 Electric Gravel Bikes
Somewhere between road and trail lies the next great adventure.
Electric MTB
No ride too long. No climb too steep. Every trail within reach.
PERFORMANCE MADE ELECTRIC
It takes more than a motor to make a truly great electric bike. It takes award-winning engineering and industrial design. That's precisely what you'll find here.
Proven Power
Quick to charge, easy to operate, and always a blast to ride—we partner exclusively with the world's best battery and motor manufacturers.
Tuned for the Ride
We blend state-of-the-art chassis with class-leading motors and batteries, optimized for riding. You get unrivaled handling and a smooth boost of power on every ride.
Color:

Infinit Red

Color:

Boundless Grey

Shimano Steps EP8 Motor, Rock Shox Lyrik Select

$5,299.00

Financing available for this product

Fully Assembled Delivery Available

Assembly & Delivery by velofix

Deliver, build, and dial in your new Canyon with Velofix

LEARN MORE

Bosch Performance Line Speed 28mph, Shimano GRX RX812 GS

$5,299.00

Financing available for this product

Color:

Eternal Blue

Color:

Stealth

Fox 36 Rhythm Grip, Shimano Steps EP8 Motor

From $5,999.00

Financing available for this product

Color:

Cloud Grey

Color:

Discovery Blue

Bosch Performance Line Speed 28mph, Shimano GRX RX812 GS

$4,999.00

Financing available for this product

FOX 36 Factory 29", Shimano Steps EP8 Motor

From $8,699.00

Financing available for this product

Bosch Performance Line Speed 28mph, SRAM Force eTap AXS 12s

$6,499.00

Financing available for this product

Rockshox ZEB R, 180mm, Shimano Steps EP8 Motor

$5,399.00

Financing available for this product

Shimano GRX RX812 GS, Bosch Performance Line Speed

$5,799.00

Financing available for this product
Velofix

Velofix is a full-service mobile bike shop that can be scheduled to meet your assembly needs, time frame, and location.

Learn More

Canyon approved local bike mechanics

A search engine for expert local bike workshops. Hand-picked by Canyon. And customer reviews are included, so you know you can trust your mechanic. Includes E-bike servicing.

Learn More
Buy an electric bike online
Whether in the city, off-road or on long country roads, a motor assisted bike makes riding an absolute breeze. Discover e-bikes at Canyon.
What is an electric bike?
An e-bike is an electric bicycle that supports you up to a speed of 15.5 mph (25kmh). Strictly speaking, an e-bike is a pedelec (pedal electric cycle) that uses an electric motor to support your own muscle effort. It must be pedal-assist only. Any electric bike capable of going faster than 15.5mph (25kmh) requires a license and registration plate in the UK and EU countries.
E-bikes compared to normal bikes
Canyon's e-bikes share many features with our non-electrical bikes. City bikes and hybrid bikes are available with low-maintenance internal gear hubs or lighter chain drivetrains. Since the gears are exposed to high forces, we equip our electric bikes with robust drivetrain components. Disc brakes are a must on e-bikes to bring you to a safe stop at high speeds.
E-bikes are usually heavier than normal bikes. But our models are among the lightest e-bikes on the market. Components are carefully matched to the purpose of the bike. Canyon e-bikes stand out with their minimal weight, strong performance and clean design. We adapt the geometry of the e-models: the battery and motor are integrated to benefit both the riding experience and appearance of the bike.
What range does an e-bike battery have?
There is no general way to tell how far you can ride on one battery charge. The range of an e-bike depends on the following factors:
Total weight: Weight of the bicycle + rider's weight + luggage. The more mass that has to be accelerated, the higher the engine power required.
Speed and riding style: If you maintain a high speed, the electric motor consumes more energy. The same applies if you accelerate and brake hard from traffic light to traffic light instead of letting the bike coast towards red lights.
Cadence: Many e-bike motors work particularly efficiently at a cadence of 75 revolutions per minute.
Wind conditions: In a headwind, not only do you need more power, but also the engine. In the city, this effect is not as strong as in wide open terrain.
Selected support level: Depending on the motor, you have different levels of support available. To save battery life, you should select a power-saving level.
Battery capacity: The size of an e-bike battery is specified in watt hours. While a large battery increases the range, it's also heavier and more expensive. The size of the battery depends on the e-bike's intended use.
What specs does an electric bike have?
The specification of a bike depends on the model and the area of use. Some Canyon city e-bikes, for example, have mudguards and integrated bike lights. With this equipment every rider is safe on the daily commute. For sporty e-MTBs or e-road bikes, fixed components for everyday use would add unnecessary weight to the bike.
Some Canyon e-hybrid bikes are equipped with a pannier rack and other options for carrying luggage. This guarantees enough space to stow away your groceries or travel supplies. Owners of the Pathlite:ON from Canyon can use a trailer to transport additional luggage.
Electric bikes from Canyon
We have numerous e-bikes in our portfolio to give you the best possible support in your riding style. Whether cruising, riding trails or commuting: maximise fun and power efficiency with an e-bike from Canyon.
E-road bike
Do you like to ride fast and hard, but want support on difficult sections? A lightweight e-road bike with an efficient Fazua motor is the right e-bike for you. The Endurace:ON is a sporty bike whether you choose the electric version or not. It allows you to ride harder and longer rides alone or in a group. Conquer every climb.
Gravel e-bike
Whether on smoothly paved roads, on cracked asphalt or on uneven forest paths, a gravel e-bike is fast and comfortable on every surface. The powerful motor of the Grail:ON gives you extra power in wind and weather. Choose your after-work ride, bikepacking tour or commuting route regardless of the terrain. Make the e-gravel bike into a bike for every occasion.
E-mountain bike
For off-road use, e-mountain bikes with a motor can support you on hilly rides over narrow trails. Use the extra power on relaxed rides or challenging adventures. With an e-mountain bikeyou can be flexible. Our mountain bikes and e-MTBs offer a wide range of geometries and components. TheGrand Canyon:ONgives you flexibility on all kinds of routes. The Neuron:ONplays to the strengths of a trail bike and soaks up the hits with efficient full-suspension. If you opt for the Spectral:ON, you can expect a combination of playful character, downhill capabilities and ambitious range. Amaze your training partners with the precision, aggressiveness and robustness of the Torque:ON gravity bike.
City e-bike
Do you want to do your daily city commute by bike without breaking a sweat? Our city e-bikesare safe and effortless on the road, whether early in the morning in rush hour traffic or relaxed at the end of the day. The Roadlite:ONis similar to our road bikes and is perfect for a brisk after-work cruise. The Commuter:ON has its DNA in its name. With practical features for commuting, you leave the frustration of the commute behind. The Precede:ON is an all-round machine that allows for off-road excursions. Benefit from a fully equipped setup and award-winning design.
Touring e-bike
With a touring e-bike, you can explore new places. Simply cover kilometre after kilometre and enjoy freedom. You can even bring some luggage if you want to. The Pathlite:ON is available as a step-through frame or in classic geometry. We take your preferences into accountwith a choice between internal gear hubs or chain drivetrain. Go on a discovery tour or start a cycling journey. With superior comfort and an optimal setup, a hybrid e-bike has your back.
What equipment do I need for my e-bike?
Depending on the purpose, equipment for an e-bike is similar to the non-electric models. You should always wear a helmet as it can be a lifesaver in the event of an accident. Bicycle helmets with integrated lights have become popular among e-bike riders who frequent cities and towns. They keep you visible and protected in urban traffic. For gravel, MTB or road bike rides, we recommend cycling accessories that will make your ride even more comfortable:
Cycling gloves: Cycling gloves prevent pressure points, blisters and slipping, especially in sweaty conditions. On MTBs, unpadded long-finger gloves are common. They protect you from scratches on the trail without distorting the feeling of grip. On a gravel bike the terrain decides whether mountain bike or road bike gloves are better suited for your route.
Cycling shorts: For long days in the saddle, a pair of padded road bib shorts is essential. They optimise your temperature management and comfort while in the saddle. On the MTB, depending on the discipline, padding is not necessary. Bike bib shorts are best for most gravel rides and bib tights for cold conditions.
Cycling shoes: Road bike shoes are connected to clipless pedals via cleats. The system varies for mountain biking. While you can walk well with MTB shoes, you should only take a few steps on road shoes. Since you sometimes have to push or shoulder your bike when gravel riding, we recommend an MTB system. If you mainly ride on the road, road bike pedals and shoes will suit you better.
Buy an e-bike online at Canyon
We sell our bikes online without any intermediaries. This means we can offer you excellent value for money. Additional advantages include a six-year warranty on your bike and flexible payment options.
Our online customer service is always at your disposal. Test rides of your favourite e-bike are possible at our European partners or directly at our headquarters in Koblenz. This makes it easy for you to find the paint finish, frame size and setup that suits you best.