Shimano EP8 motor: all you need to know
Shimano EP8 is the latest major development in e-bike motors. Let's take a closer look at what it means for e-MTB riders.
The Shimano EP8 is the Japanese manufacturer's flagship e-bike motor. As the successor to the Shimano Steps E8000, the new motor has boosted e-MTB rides around the world. Now, there's a second generation motor packed with even more features.
With a few new updates to the software, the new Shimano EP801 offers riders an unparalleled riding experience. In this article, we'll showcase the major updates and show you which bikes you can find both the EP800 and EP801 motors on.
Shimano EP801 upgrades
The second generation Shimano EP8 (EP801) is a subtle yet mighty upgrade from the Gen 1 (EP800) motor.
• Highly tuneable with the E-Tube Project app
• Compatible with Di2 for seamless electric shifting
• CAN and ACC accessory ports
Shimano EP801 tech specs
• 85 Nm maximum torque
• 250 watts of power
• 2.7 kg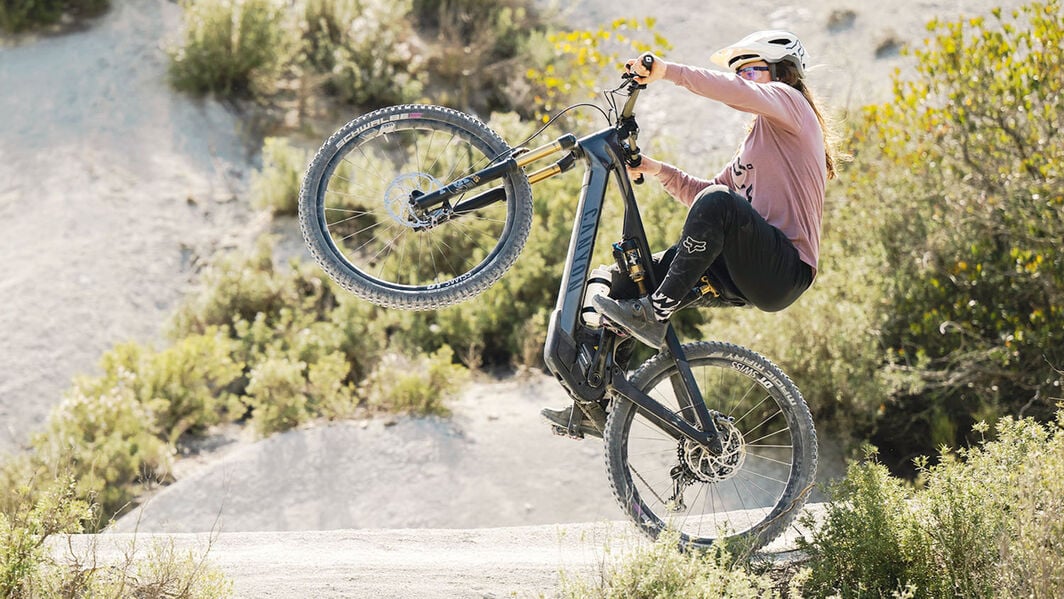 How does the new EP8 motor ride?
Shimano EP801 really comes into its own when you make use of the new intelligent shifting technology. "FREE SHIFT and AUTO SHIFT redefines shifting as you know it," states the Shimano website. "FREE SHIFT offers pedal-free shifting technology, so as you coast you can still change gear. AUTO SHIFT's automatic intelligent shifting technology takes things further by selecting the correct gear for the terrain."
Put simply, this motor allows you to concentrate on riding instead of shifting. If you're coasting downhill, the rear derailleur will move up or down the cassette automatically, so that you're in the right gear when you need to get going again. Smart!
In addition to all the tech, the EP8 motor (whether Gen 1 or Gen 2) offers a smooth, powerful and natural ride feel no matter the terrain or weather conditions. It'll never let you down no matter where you are in your ride.
Which Canyon bikes use the Shimano EP8 motors?
When two industry leaders come together, something magic is born.
Canyon bikes with EP801
Our new Spectral:ON is equipped with Shimano EP801 to give your trail e-MTB riding a real boost. Fine tune your bike with the E-Tube Project app and enjoy tuning your bike to your style. Combine the motor with Di2 and benefit from the FREE SHIFT and AUTO SHIFT features mentioned above.
FUN:ON – More range, less weight, more stoke. The Canyon Spectral:ON is the ultimate e-MTB allrounder for all those who can't possibly have enough fun.
Canyon bikes with EP800
The Torque:ON can rip up the trails like no other bike. As our dedicated downhill electric bike, you'll be constantly amazed at the capabilities of this e-MTB.
Throwing whips at the bike park or scoping burly lines in the backwoods, the Torque:ON range was made to shred trail, send jumps and bring you back to the top for more.
Shimano EP800 vs Shimano EP801
When the Shimano EP800 motor was launched, it received critical acclaim for its smooth pedalling, increased torque and improved walk assist mode. In addition, the original unit was renown for its heat dispersion qualities. This is particularly useful when the motor is working hard up steep climbs.
The new EP801 motor retains all these amazing features but the new generation comes with added compatibility with electric shifting and a better battery management system.
How does EP8 ride compared to Shimano E8000?
The predecessor to the Shimano EP8 motor was the well-loved and well-ridden Shimano Steps E8000 motor that has accompanied a lot of riders both on their local trails and those further afield. The synergy between motor and mountain bike give an unrivalled riding experience across all kinds of terrain both smooth and technical.
Shimano EP801 is significantly quieter and lighter than the E8000 motor leaving you wondering if the motor is even there.
Why should I buy a bike with EP8?
The EP8 motor is a reliable, robust and powerful motor that will see you push the limits of your comfort zone. Expand your horizons without breaking a sweat with the Shimano EP8 motor on board the Spectral:ON and Torque:ON e-MTBs.
With numerous Red Dot Design Awards, Canyon Bicycles represent a combination of technology, design, and quality like no other company in the bicycle industry. In March 2023, they collected another award for the Roadlite:ON CF 9 LTD. So, what makes good bicycle design, and what's the creative process?