THE SPECTRAL 125 CF IS A SHORT-TRAVEL SHREDDER. LIGHT. TOUGH. FAST…AND ROWDY AS HELL.
Unapologetically Aggressive
We made the Spectral 125's geometry unapologetically aggressive—slack headtube, long reach, and steep seat angle. Why? Because it lets you tackle terrain normally reserved for "big bikes". It's also just a hell of a lot of fun to ride.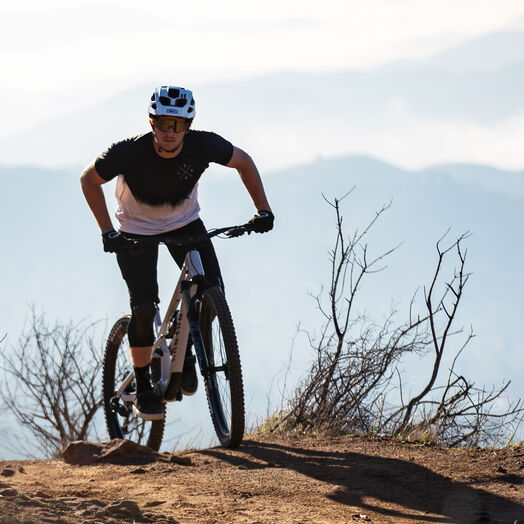 Fast on the Gas
The Spectral 125 isn't a one-trick "downhill only" pony. We won't tell you to put on a skinsuit and race cross-country aboard this bike, but thanks to a healthy dose of anti-squat (and clever engineering), the Spectral 125 sails up climbs.
LOOKING FOR A RIG THAT SLAYS TECHNICAL DESCENTS, YET CLIMBS LIKE A CHAMP? THIS IS IT.
SRAM GX Eagle, 12-speed, RockShox Pike Select+ 140mm

$2,999.00

$3,499.00

Financing available for this product
The Mountain bike experts
Spectral 125 FAQ
WHAT KIND OF BIKE IS THE SPECTRAL 125?

HOW MUCH SUSPENSION TRAVEL DOES THE SPECTRAL HAVE?

WHAT IS THE SPECTRAL 125's STRONG SUIT?

HOW DOES THIS THING COMPARE TO THE NEURON?

SHOULD I GET THE SPECTRAL 125 OR SHOULD I CHOOSE ONE OF THE LONGER-TRAVEL SPECTRAL (29/Mullet/27.5) BIKES?

WHAT'S THE DIFFERENCE BETWEEN THE LUX TRAIL, NEURON, AND SPECTRAL 125?

WHAT IS THE COMPLETE FRAME WEIGHT FOR THE CARBON "CF" FRAME?

WHAT IS THE COMPLETE FRAME WEIGHT FOR THE ALUMINUM VERSION?

WHAT SETS THE CARBON AND ALUMINUM SPECTRAL 125 FRAMES APART?

WHAT WHEELSIZE ARE YOU RUNNING ON THE NEW SPECTRAL 125?

WHY NOT A 27.5 OR MULLET? WHY IS THE SPECTRAL 125 A STRICTLY 29er AFFAIR?

CAN I SWITCH WHEELSIZES MYSELF AND MAKE THIS 29ER A MULLET INSTEAD?

IS THE SPECTRAL 125 GEOMETRY DIFFERENT THAN THE GEO ON THE STANDARD SPECTRAL? IF SO, HOW AND WHY?

WHAT SIZE OF SHOCK DOES THE SPECTRAL 125 USE?

HOW MUCH SUSPENSION SAG SHOULD I RUN?

CAN I SLAP ON A COIL SHOCK?

DO PIGGYBACK SHOCKS FIT? WITH A BOTTLE TOO?

WHAT BB STANDARD DOES THE SPECTRAL 125 HAVE?

WHAT IS THE MAX CHAINRING SIZE FOR THE SPECTRAL 125?

WHAT DROPPER POST TRAVEL IS THE SPECTRAL 125 EQUIPPED WITH?

WHAT'S THE MAXIMUM TIRE SIZE (WIDTH) FOR THE SPECTRAL 125?
Velofix

Velofix is a full-service mobile bike shop that can be scheduled to meet your assembly needs, time frame, and location.

Learn More

Canyon approved local bike mechanics

A search engine for expert local bike workshops. Hand-picked by Canyon. And customer reviews are included, so you know you can trust your mechanic. Includes E-bike servicing.

Learn More