Pauline Ferrand-Prévot and Canyon part ways
Thanks so much for everything - Canyon and Pauline Ferrand-Prévot part ways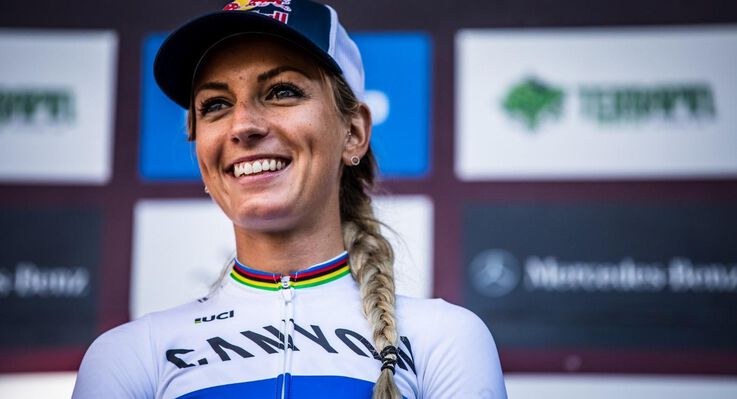 The only rider in history to simultaneously hold World Championships in road, cyclocross, and cross-country. With a fine palmarès including further World and European Championship titles, National Championships and World Cup victories. Pauline Ferrand-Prévot is one of the most successful athletes in her sport. She's also a truly unique character, and we can proudly say that she was an unbelievable brand ambassador for Canyon, too. Thank you, Pauline!

On 31 December 2020, our partnership will end, and Pauline will move on. Closer to the centre of her life, her family. It's a move we understand, and yet it's one we know will leave a gap in our Canyon family. Roman Arnold, founder of Canyon, explains: "Pauline has enriched Canyon enormously since 2017 – and I'd like to emphasise that I don't just mean that in sporting terms. Of course, we were delighted with every one of her wins: on the road, in cyclocross, and especially her two current cross-country World Championship titles. But Pauline is more than the successful racer we all see: she is a stunningly positive character and a true ambassador for the sport. Pauline is a role model: she stands up, she fights, she doesn't lose sight of her goals. I wish her all the best for her sporting and personal future." Ronny Lauke, Team Manager CANYON//SRAM Racing, adds: "I am delighted that CANYON//SRAM Racing, together with our partners, have been able to bring Pauline back to where she belongs: at the top of the sport. I wish her all the best for the future."

In 2016, 2019 and 2020, Pauline Ferrand-Prévot demonstrated that nothing can stop her from achieving her dreams. After the Olympic Games in Rio de Janeiro didn't go the way she wanted, she was on the verge of ending her career. But happily, she chose a different path and signed with CANYON//SRAM Racing in 2017. In her first two years with the team, Pauline won two French XCO National Championships, racked up multiple XCO World Cup podium finishes, took XCO World Championship bronze, and became national cyclocross champion. Then, the run ended abruptly, when she had to undergo her first surgery for endofibrosis in early 2019. This was followed by a long period of rehab. Then came a sensational comeback – an XCO World Cup win in Val di Sole, gold at the XCO World Championships in Mont-Sainte-Anne, and another win at the XCM World Championships in Grächen. Then, at the beginning of 2020, a second operation, another round of rehabilitation, and another comeback. But even this year, so challenging in so many ways, could not stop her: after picking up second and third place finishes in World Cup races, Pauline won the XCO World Cup race in Nové Město, became XCO World Champion once again, and went on to win European Championship gold.

Pauline Ferrand-Prévot is an asset to her sport, and to everyone who gets to work with her. From everyone in the Canyon team, from the bottom of our hearts: thank you very much for everything, and all the best for your future!