How to Beat the Kokopelli Trail's Fastest Known Time with Peter Stetina
Go inside the underground world of Fastest Known Times as elite cyclists discuss Peter Stetina's attempt at mountain biking's most-coveted FKT: The 140-mile Kokopelli Trail.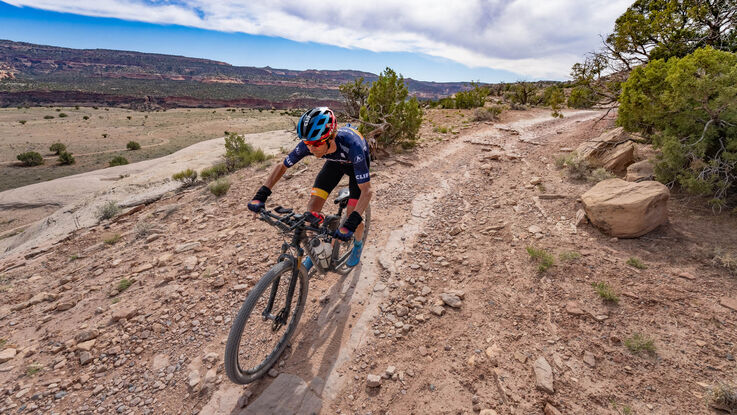 "FKT" = Fastest Known Time; Peter Stetina Explains
What are the rules of a "Fastest Known Time" effort?
For those who don't know, "FKT" stands for Fastest Known Time and it's a course record on a known trail or course. It should be fully self-supported with no outside assistance—no water handups and no tool caches. The athlete should complete the route as if you were just doing your own trail ride. It's based on the purity of a simple bike ride. And the community that recognizes the FKT have embraced the "honor system" in terms of enforcement of those rules and guidelines.
Explain the Kokopelli Trail to someone who's never ridden it:
The Kokopelli Trail is a world-renowned, popular trail that's ridden in sections—but start to finish, it is a point-to-point route that spans 140 miles from Moab, Utah, to Loma, Colorado. With over 18,000 feet of vertical climbing, it has sections of road, pavement, sand, and even Moab-style rock. There are 8-minute hike-a-bike sections on the way up and chunky, ledged drops on the descents. It's a legitimate mountain bike course and a "bucket list" ride that everyone should do, just to do it—whether you're going out for the "fastest" or "funnest" known time.
FASTEST KNOWN TIMES ARE MEANT TO BE BROKEN

Peter Stetina
Tell us about the competitive atmosphere among the pros who attempt these FKTs:
The day before my FKT attempt on the Kokopelli Trail, I was on a Zoom call with the current record holder, Kurt Refsnider and he was so supportive that he was given me tips—where to find water, discussing conditions, etc. He wants to see the time beaten. This community is so supportive—they want to see the time beaten, and watch the progression, which is beautiful.

What bike did you ride?
I chose the Canyon Lux dual-suspension cross-country race bike. The suspension is so progressive that it handles like a bigger bike for the gnarly terrain, but still is super efficient for the pedaly stuff. A few add-ons: Third water bottle mount on the top tube for extra hydration, a top tube bag for nutrition and aero bars—for the haters; hey, the extra hand position option helps keep you comfortable on such a long day in the saddle.
If your FKT is ever broken, will you ever go back and reattempt?
There are so many other adventures out there and this attempt was such a focus for my 2021 season preparation, that conditions would have to be perfect for me to consider going back… For me, these Fastest Known Times are meant to be broken.