How is a HBCU Pioneering a Shift in Competitive Cycling
Inspired by Major Taylor, one of history's great cycling legends, St. Augustine's University is stepping out of their comfort zone to challenge the cycling status quo as the first Historically Black College and University to field a collegiate cycling team.
St. Augustine's University (SAU) is a private liberal arts college that sits on 105 lush acres just north of downtown Raleigh, North Carolina.
In an average year, it has fewer than 1,000 students, a smaller enrollment than many high school graduating classes.
But this tiny college is doing something big. In May of 2020, it became the first Historically Black College or University (HBCU) in the United States to formally establish a cycling team. The Falcons will compete in USA Cycling's Atlantic division, which includes powerhouses like Duke, NC State and Wake Forest.
Inspired by Major Taylor
It's an historic first for HBCUs everywhere. But it's a milestone that echoes the singular achievement of Marshall Walter Taylor, better known as Major Taylor. The world's first Black superstar athlete and the world cycling champion in 1899. 121 years ago, he was the Jackie Robinson of his day.
Just as Major Taylor pedaled through prejudice and outright racism to succeed in a white-dominated sport, the young Black cyclists at SAU know they'll have to overcome tremendous obstacles, too.
Starting from Square One
For some on the co-ed squad of 12, the first step began with learning the basic skills of cycling. A few racers on the team are already champion track and field athletes, and one or two aspire to compete in cycling at the Olympic level.
"I've had to learn absolutely everything… how to take corners, how to shift gears," says Brandon Valentine-Parris, one of the Falcon cyclists and a Caribbean native.
"We are starting from scratch," says Dr. Mark Janas, a professor in the SAU business school who's co-leading the Falcons. "We started with virtually no equipment. We were literally teaching basic balance and cornering and shifting."
Fortunately, the SAU team has been welcomed into the cycling community by a bevy of backers who believe in the team's mission and want to see it succeed. Canyon Bicycles has outfitted the students with cyclocross bikes and Zipp has joined the project as a wheel sponsor. Saris and Stages Cycling have met the team's training needs while Major Taylor Cycling Wear and Fizik have stepped up to provide apparel and footwear.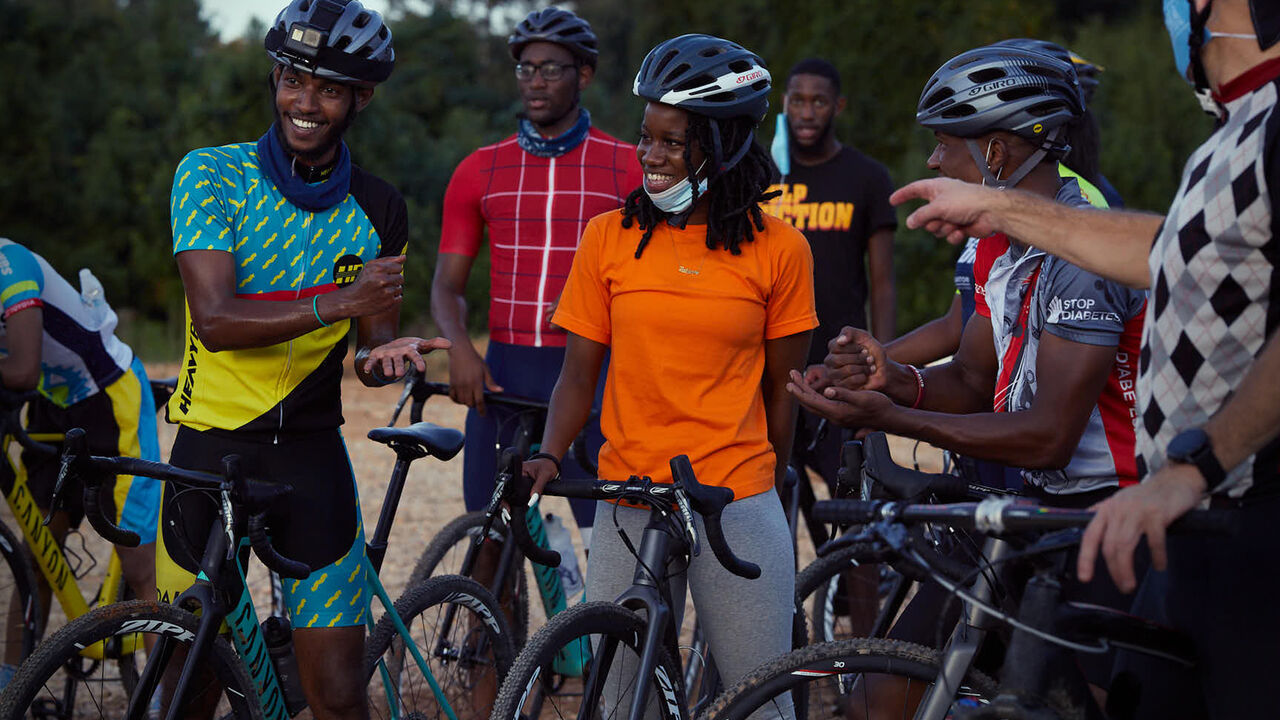 Jumping Barriers
The SAU cyclists are starting off by tackling the discipline of cyclocross, which consists of numerous laps on a short course that blends dirt, pavement, grass and obstacles requiring riders to frequently get on and off their bikes. Partly due to the pandemic, there have been many sessions of virtual cycling on platforms like Zwift.
In fact, esports engagement was a big reason the team's founders made the somewhat unusual decision to establish the club sport under the umbrella of the business school rather than the sports department. The athletes will move on to BMX and road cycling later in the season.
For now, the SAU cyclists are discovering the thrill of the race, the challenges of training, and the joy of riding for its own sake. They're also discovering that they have a special role to play — whether they knew it or not when they signed up to race.
"This is the most I've cycled in my entire life. Honestly, I just love it," says Christopher Ingram, an SAU team cyclist from Freeport, New York. "Most kids would say this is a white sport. It's up to riders that look like me to change the sport. We like to ride, too."
"Most kids would say this is a white sport. It's up to riders that look like me to change the sport. We like to ride, too."
Samuel Cudjoe - SAU Team Member
Pioneers in Cycling
As fresh-faced as these racers are, they know they have a mountain to climb. They understand that they'll be squaring off against much better prepared riders at other schools. They also know they're trying to outrun ingrained perceptions around what a classically trained cyclist should look like. Or what sports a Black athlete should play.
But have no doubt, they're ready. They're ready to represent and they're ready to race.
"For us, being part of a sport that is predominantly white, it's a game changer," says Samuel Cudjoe, the SAU team member from Trinidad and Tobago. "We're pioneers in cycling. We're starting something, not just for us but for other HBCUs."
"This team plays a strong role in the racial justice movement," says Lavar Stubbs, a Falcons cyclist from the Bahamas. "We're the first HBCU school with a cycling team… [Being] a trail blazer, that does not scare me. You can't worry about falling. Stay headstrong. Have no fear."
"The benefit of competing in a sport that is traditionally white is that we're bringing diversity, awareness and talent," says Umar Muhammad, a professor of sport management at SAU and the other team co-leader. "SAU being out in cycling allows us to tell our story but also allows us to carry other stories home with us. And share with other HBCU campuses that we're part of a bigger community, part of a bigger landscape of cycling in this world."
Documenting History
The world of sport, cycling and otherwise, should turn its gaze toward these young pioneers and acknowledge the trail blazing the SAU cycling team has done in the first few months of existence. The larger story here is one of an opportunity to make cycling more inclusive for all. The riders at St. Augustine's are driven by a mission to inspire other HBCUs to ride. This moment may very well be a flashpoint of inclusion and diversity in collegiate cycling.
We look forward to providing a platform for this story to be told and celebrated as we follow this team through their first year of discovery and triumph.