Built to excel no matter the conditions, the Inflite is a thoroughbred racing machine. Fast and agile thanks to its modern geometry, our CX bike is loaded with performance features for race day and comes in both carbon and aluminium.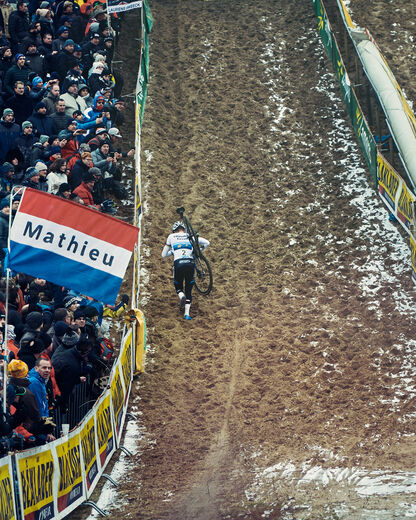 Light & Durable
Weighing just 940 grams in size M, the high-end carbon frame of the Inflite CF SLX sets the standard for a modern cyclocross bike. Its aluminium counterpart weighs 1480 grams.
Mudproof
In a race, mud can quickly add a couple hundred grams to your bike. To avoid this our engineers minimised the surface area at key points of the frame to keep you mud-free and riding fast.
Aggressive. Agile. Adept.
Mathieu van der Poel
A once-in-a-century talent, any race with Corendon–Circus' Mathieu van der Poel on the line could end with him standing on the top step of the podium. As the overall World Cup winner, Netherlands National Champion and European Champion, his 2018 cyclocross season was truly exceptional. It was his next-level bike handling and world-class fitness that got him to the top, but he couldn't have done it without his Inflite CF SLX. Just like Mathieu, the Inflite was born to race.