The idea behind this movie came from spending more time here in California and realizing how incredible the riding is.

KC Deane - Canyon Pro Rider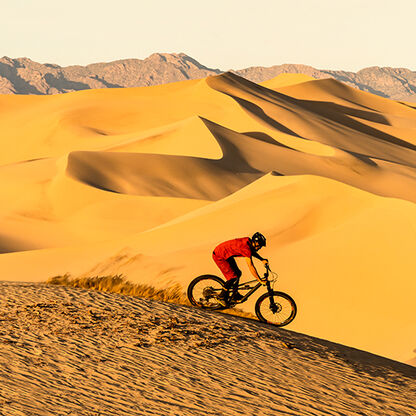 The Quest for Epic—at Home
Finding Undiscovered Treasure: Have you really, truly, discovered all that your home trails have to offer? While Deane's new film highlights California's wild, undiscovered trails, he also challenges us to find the hidden gems in our own backyard.
California by Trail—As You've Never Seen It
KC Deane's California Trail Quest
KC Deane is what could be best described as a globetrotting adventurer. Equally adept on two skis as he is on two wheels, he's as excited about unspoiled backcountry powder as he is loamy singletrack. Not many athletes can claim a pro status in both skiing and mountain biking, resulting in a diversity that includes covers of skiing magazine, as well as having ridden Red Bull Rampage (which he did in 2014).
Whether it's creating an apparel brand photo campaign or performing for a snow, bike our outdoor magazine covershoot, KC is used to loading his gear, grabbing his worn passport and heading to far-flung locations to shoot epic content. Switzerland. Iceland. Canada. China. That stands to reason that we expect him to go on The Search; we've become tempered to the fact that you have to "go" to find epic. Go away, go out there, to experience awesome. That it requires a passport to see things awe-inspiring, to experience things epic.
But sometimes, amazing is right under your nose.
"I've done so many big international trips, I've learned you don't need to go that far to go to an incredible place. I wanted to find crazy locations—but in our own backyard," the California resident said.
So KC challenged himself to find epic—at arm's length. He loaded his Canyon Spectral onto his car and aimed to experience California by mountain bike, in the most unconventional—and unexpected—locales. The result of that search is Golden State Journey, an exploration of amazing experiences that exist off the well-worn paths.
"The idea behind this movie came from spending more and more time here in California and realizing how incredible the riding is," Deane says. "There's the Sierra the high desert, sand dunes, and they're all so close to each other."
To that end, Golden State Journey passes on the California singletrack everyone knows. Downieville, Northstar in Truckee, Soquel in Santa Cruz, Flume in Tahoe, Pine Knot in Big Bear, all awesome trails… but Deane was convinced there was a different flavor of amazing out there to discover. So KC began The Search. The result is three wildly different ecosystems: the crusty but lunar terrain of Alabama Hills, the offroad dunes of Dumont and the end-of-the-world lushless of San Luis Obispo. It was a lark to see what each area offered, but each brought its own brand of natural amazingness.
"Having a freeride background and knowing areas like Ocotillo Wells and Glamis, areas with great motocross history, I felt like I wanted to see what was possible in Dumont," Deane says. "And I had a good feeling about Alabama Hills; it's directly at the base of Mt. Whitney, the highest point in California."
The film shows what trail riding can be in three different ecosystems, and that none required a lift pass, massive drops, or jaw-dropping commitments. Just pure fun and adventure. Dumont Dunes was especially exciting for Deane.
"The fact that you could ride the dunes—I mean the way the winds had packed the sand, it was one of the coolest ride experiences I've ever had," Deane says. "And it was a full OHV area, which really was great to show off the different land use. I wanted to be sure there would be no filming in anything questionable. To be able to ride there—heck, to be able to just take a landscape photo there—it was amazing."
Alabama Hills and San Luis Obispo segments also showed that uniqueness that California represents to him. "It's interesting how it turned out," he says. "I don't wanna claim to be a local, but there's a reason I moved here. California is one of the best places to mountain bike, not just in North America, but in the world."
California may be his calling, but he recognizes that with a little effort, the trail right out your door just might blow your mind—wherever you are.
"There's so many that leave the state or country, that are always looking "outside," but this spawned the idea of making people think about what's in their own backyard. Whether it's California or South Dakota or New York or Ohio, people ought to be saying 'what else is there to see… have I seen everything?' You can find the beauty wherever you live."
From a day of wild exploration to world-class level enduro races, Canyon trail bikes are all-round performers. They make light work of steep climbs and tough descents in equal measure, and with their progressive geometry, they stay comfortable—even on big, all-day outings.
More Trail Bikes