MTB or e-MTB: which one should you choose?
Deciding between an MTB or e-MTB is not easy. This guide will help you make the decision. Read on to find out more.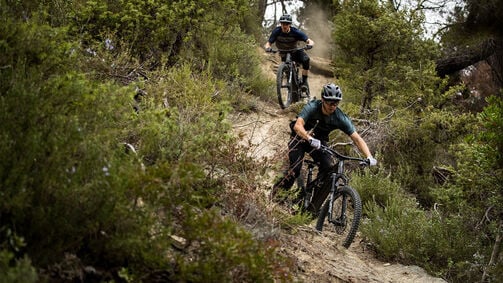 If you're tantalisingly looking at trails and thinking just how amazing it'd be to take a mountain bike on them, or maybe an electric mountain bike would be better? No, definitely a traditional mountain bike. But an e-MTB would surely make those climbs easier...
The verdict around mountain bike vs e-mtb is open to debate. We get it.
In addition to all the other decisions when buying a new bike (27.5", 29" or mullet? Shimano or SRAM? Which suspension fork? Trail, Enduro or Downhill?), there are now electric motors to add to the equation.
And with the rise of electric assistance on some of the coolest mountain bikes you've ever seen, it's sometimes hard to decide which type of mountain bike to go for.
So, the big question is: how do you decide between a mountain bike and an e-mtb?
What's the point of e-mountain bikes?
Mountain biking can be hard work but it's fun. Mountain bikes are primarily designed for going downhill fast. But to go downhill, you need to go uphill.
Here's where electric mountain bikes come into their own.
Like other e-bikes, e-mtbs are fitted with a motor that assists with speed. You can save your energy for the fun stuff like whizzing downhill time and again. Make light work of the crushingly steep ascents. Squeeze in one more lap of the bike park before heading home. Steep sweaty slogs are a thing of the past with an electric mountain bike.
Can I turn my mountain bike into an electric bike?
Why would you need to fork out for an e-bike that can take on the same sort of trails as a regular mountain bike? It's a valid question. But there's a reason both bike types exist – and it's not just convenience.
We spoke to our Global MTB Category Director Sebastian Maag to understand why you should avoid converting traditional mountain bikes into electric mountain bikes.
"In theory, you can convert any single bike into an electric bike and there are many suppliers that offer retrofit kits. But e-bikes and MTBs are classified differently and are therefore subject to different guidelines," says Sebastian, before diving into the technical reasons. "There are other forces and loads that can lead to damage. Such an intervention also changes the intended use of the product and therefore voids your warranty."
The main differences between e-MTBs and MTBs
Stand an electric MTB and traditional MTB side-by-side and you'll be hard-pressed to point out the differences beyond a couple of subtle physical features. The bigger differences manifest during the ride itself.
Pedal power vs battery power
Purists will say you can't beat regular mountain bikes for really challenging yourself on the tricky climbs. Physically overcoming obstacles, gradients and terrain with just your own power is hard to beat.
Electric mountain bikes take the sting out of the trail particularly when riding uphill. A small boost means you can conserve energy, enjoy the landscape and have more fun on the descent.
Ride quality
It's hard to compare e-mountain bike rides to regular mountain bike rides. They're two very different experiences. Pedalling an enduro bike uphill will get your muscles working but result fatigue much earlier than if you rode an e-MTB. On the latter, you'll still get a good workout, but you'll get to the top faster.
When it comes to the descent, the two bikes ride differently due to their weight and geometry. Each bike has its own ride characteristics – like all of us. Ultimately, it comes down to personal preference.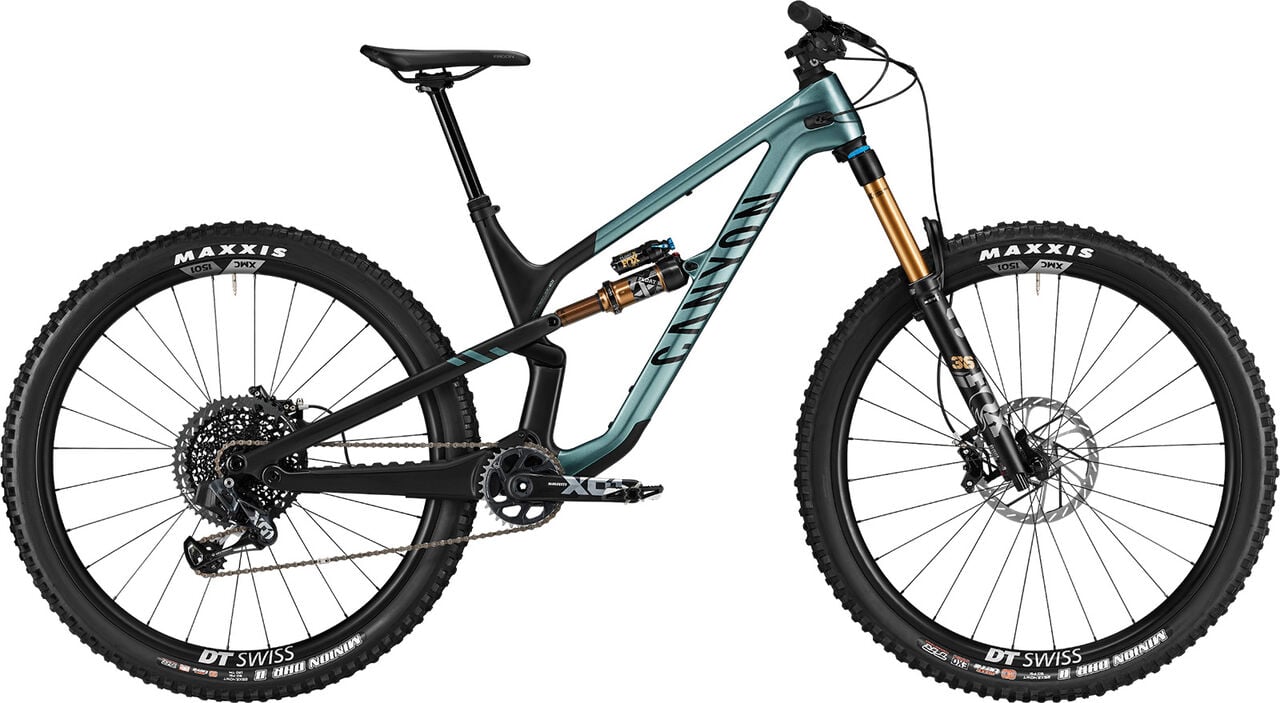 MTB vs E-MTB comparison
Swipe to compare the Spectral and Spectral:ON mountain bikes.
E-Bikes vs Mountain Bikes: the pros and cons
The best way to compare the two types of mountain bikes is to take a closer look at the advantages and disadvantages of each.
Pros of electric mountain bikes
More relaxing to ride
Saves time riding uphill meaning you can get in an extra run before sunset
They make bringing your kids in the trailer with you a breeze
Everyone can ride together regardless of ability
Cons of electric mountain bikes
Heavier than traditional mountain bikes
Cleaning and maintenance can be tricky
Batteries can drain quicker in colder weather
Batteries cannot be taken on aeroplanes
E-Bikes vs Mountain Bikes: the pros and cons
Pros of regular mountain bikes
An excellent form of physical exercise
No restrictions on some events or competitions
No range anxiety (apart from how far you are from a snack stop!)
Lighter and therefore easier to load into a car or van
Cheaper than a like-for-like electric version
No electric motor or battery maintenance to worry about
Cons of regular mountain bikes
Requires more energy particularly on climbs
No option to add power if you're struggling
More travel often means a heavier bike (less of an issue with e-bikes)
What do our Canyon crew members say about E-MTBs vs mountain bikes?
We're lucky to have some amazing riders living and breathing bikes here at Canyon. There are many reasons why members of our team have chosen a regular mountain bike over an electric mountain bike, and vice versa.
Kari Korhonen, 42 from Rauma, Finland
I used to ride bikes everywhere. They were my life. In January 2017, I suffered an injury to my left ankle which eventually led to me losing my leg from my shin down.
I got back riding again in the summer of 2017 having been fitted with a prosthetic leg. I rode the Grand Canyon and I loved it. I had difficulty distributing the pedalling force evenly. This was especially difficult on climbs!
Once I got myself a Spectral:ON, everything changed. It helped me to understand my cadence issues and power distribution. I learned to do technical climbs - it literally transformed my riding.
After riding my e-bike, I took my regular mountain bike for a spin. I was able to climb those technical demanding climbs which I could not climb earlier!
"I would recommend an e-bike to anyone who is coming back from an injury or just trying to learn to ride bikes again."
E-MTBs enable me to ride in spite of my injury

Kari Korhonen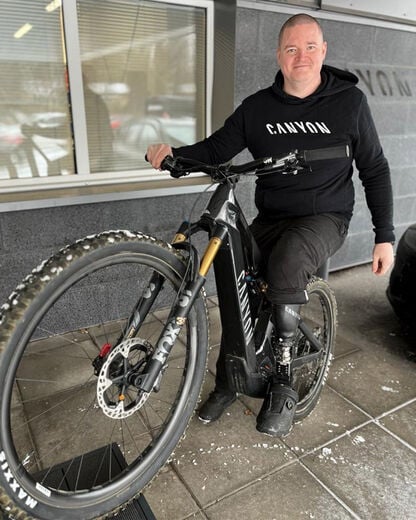 Credit: Janne Mikkonen
Markus Gebhard, 41, from Boppard in Germany
Riding an e-MTB is not lazy at all. E-MTBs are fun: more time outside, more time on the bike. I ride my electric MTB in nasty conditions that I wouldn't ride on my regular mountain bike.
I recently spent a few days in Italy discovering new areas and trails. The Torque:ON was just perfect for it. I set up a route on Komoot and just went for it. I got lost, I went to places that I could never have reached without the motor assistance. I even mastered some really challenging climbs.
The faster you go, the lighter they feel. And if you ride your Torque afterwards, it feels like the lightest freeride bike in the world.
"I would not go for an e-MTB only (yet) as I love my conventional bikes – but as an addition to my bike garage, I love it."
I love my conventional bike and I love my e-MTB too

Markus Gebhard
Credit: Janne Mikkonen
Natalia Gonzalez, 40, living in the mountains of Madrid, Spain
I've had several e-MTBs in the past and I always end up going back to a traditional mountain bike for one reason: I struggle to control them on fast descents. While they're good for simple trails, long rides and general recreation, I really began to dread fast, technical descents. I weigh just 48kg and a 25kg bike going downhill is more than I can handle. Nowadays, I love my Lux World Cup!
I went back to my regular MTB

Natalia Gonzalez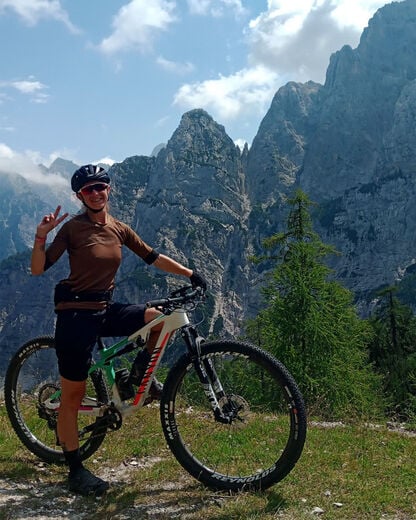 Credit: Janne Mikkonen
Should I get an e-MTB or MTB?
We want you to have fun whilst you're out in the fresh air whether that's on an electric mountain bike or traditional mountain bike. As you have read, there are pros and cons to both.
If you're looking for physical challenge, a light and playful bike to hone your skills on, a mountain bike is for you. If you're restricted with budget, you'll find a great MTB that allows you to go on big rides.
An e-MTB will take you further for the same amount of effort as a regular mountain bike. They're great for repeated laps, particularly tricky climbs and finding more adventurous trails in your riding vicinity. The more battery capacity, the more fun you can have on the trails without needing to recharge.
They can, as we saw with Kari, be an excellent way to get back on the bike after injury or illness.
Check out our mountain bike buyer's guide or e-MTB buyer's guide for the full review of our models.
About the author

Claudia Krug

Meet Claudia, our SEO copywriter who switched from horseback riding to the excitement of exploring the wilderness and mountains of Europe on her bike. The passionate bikepacker, history buff and craft beer enthusiast dreams of one day riding The Great Divide. Join Claudia on her after-work rides around Leipzig, Germany, as she continues to explore the world on two wheels.
Our special suggestions on trails you need to ride with your e-MTB! Explore Italian Alps, Dolomites and volcanos with your e-bike: hardtail or fully.