Canyon at Sea Otter USA 2021
Will you be joining us at Sea Otter this year? Read below to get a run down of all things Canyon at this year's Sea Otter in Salinas, CA! Discover our expo, bikes available to demo, rides on tap, and coffee to be consumed at the event this year.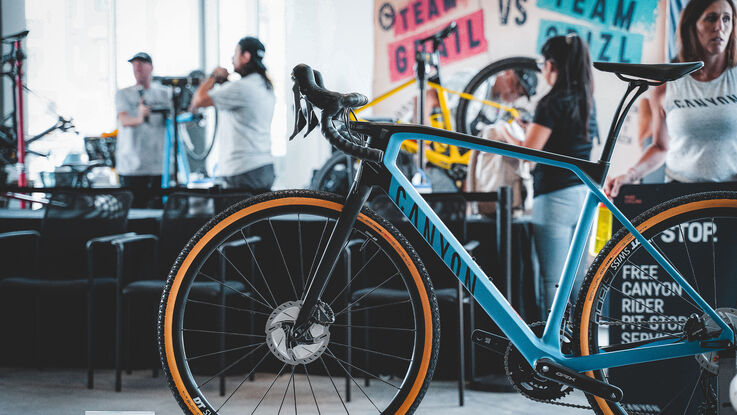 When and where will Sea Otter Be?
If you're planning to come to Sea Otter this year, we look forward to seeing you! The event kicks off at 9 AM, Thursday October 7th, and runs through Sunday, October 10th. Canyon will be open to all between 9 AM and 6 PM, Thursday-Saturday, and we close at 4 PM on Sunday, the 10th. The event is going to be held at the Laguna Seca Raceway in Salinas, California. As the first Sea Otter since its hiatus in 2020, we are pulling out all the stops to celebrate its return!
What Can I Expect From Canyon at Sea Otter?
As mentioned, we are working to ensure that this year's Sea Otter is the best yet! We will be located in booth A2, on the asphalt surface. Some of the highlights of Canyon's offerings include:
Coffee bar and custom blends courtesy of Captain+Stoker Coffee

Rides led by Canyon athletes

Canyon swag

Giveaways and prizes

Bikes available to demo

A full team ready to answer any and all questions you may have about our bikes, our brand, or anything in between!
Demo Canyon Bikes at Sea Otter 2021
What we are most excited to be able to offer riders this year at Sea Otter is the chance to demo some Canyon bikes- if you have questions about sizing, ride type, or are picking between two models, you can have all these questions answered at this year's event!
In order to demo bikes at this year's event, simply come by our booth, speak with one of our team members, and we would be more than happy to get you signed up and squared away for a demo. All demo bikes must be ridden in the 'Ride Zone' as is specified by Sea Otter.
Join us at Captain+Stoker for rides and premiers!
In addition to our booth, we will also be running a pop-up shop out of our friends' coffee shop, Captain+Stoker. Captain+Stoker will be offering signature Canyon blends all weekend (Friday and Saturday) and serve as our HQ-away-from-HQ. Besides rides and coffee, come explore some display bikes like our Spectral, Torque, and STCHD
Be sure to join us at Captain+Stoker for the following events:
Friday, October 8th
Join us on Friday for all things Impossible Route! Jeremiah and Tyler will have some fun planned for those present, and Friday evening join us in unveiling the newest episode of Impossible Route

Be sure to give us a follow on Facebook for exact event details and locations leading up to the event.
Saturday, October 9th
Captain+Stoker owner, Tyler Ellis, will be hosting a movie premier at the shop! Catch the premier of Tyler's film "CLLCTV."
As always, we will have more information readily available concerning event details and locations via our Facebook page. Be sure to give us a like and follow to RSVP for all the events at Sea Otter!
Come Ride With Canyon Athletes at Sea Otter
We are excited to be hosting Canyon athletes at Sea Otter this year. Be sure to keep an eye on our social channels as we announce rides with riders, with details to follow. Please do keep in mind events can be subject to change, so keep a close eye on our news channels to be kept abreast of the weekend's happenings.
Paul Bas will be giving a talk and demonstration on eMTBs from the booth, with a ride to follow after. Our own Pete Stetina will be hosting a meet and greet at the booth on Saturday, with a ride to follow after. And lastly, the rough and rowdy crew of the Impossible Route Series, Jeremiah Bishop and Tyler Pearce, will be on-site to teach you how to tackle the impossible.
Enter Giveaways to Win Bikes And Adventure Packages!
Be sure to swing by our booth at Sea Otter to enter our two giveaways that we are running! The first giveaway is for our brand-new Lux Trail. You can sign up at the booth, and the winner of the bike will be drawn at the end of Sea Otter! Be sure to hang around all weekend to see if you won our newest MTB offering.
We are also running an adventure package giveaway in conjunction with our Impossible Route! The giveaway runs through December, so you have ample time to get signed up and registered for the giveaway. Don't hesitate to ask us questions should you have any!
We've launched our new downcountry mountain bike, but how does it compare to our XC race bike?

8/18/21

What are the main differences between the Canyon Lux Trail and Neuron mountain bikes? Keep reading to find out.

8/19/21

From our Future Mobility Concept to testing our best e-bikes, here's what you missed at IAA 2021.

9/15/21