Looking for a new all-purpose bike but can't decide between the Pathlite and the Roadlite? There are a few important differences which we highlight in this overview.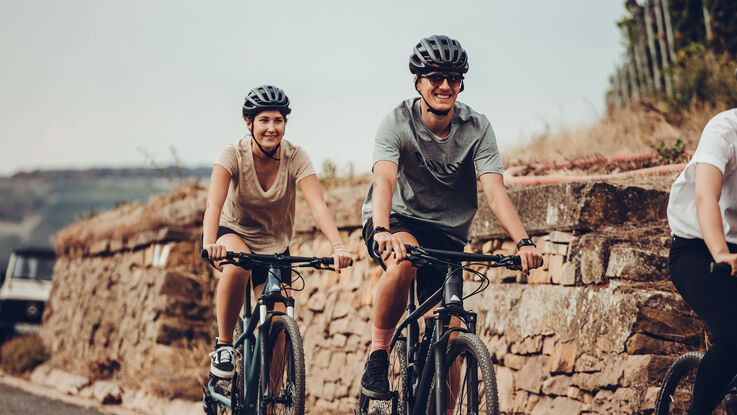 The Roadlite is categorised as a City Bike , whereas the Pathlite is a Trekking Bike . Although these two types of bikes may look similar in terms of components, there are significant differences.

The Roadlite is derived from our road bikes and is geared towards light weight, agility, and on-road speed. The Pathlite doesn't offer quite the same level of performance, but it is a shining example of outstanding versatility. It is ready for anything on or off the road, from extended adventure trips on dirt roads and gravel paths to your daily commute through the city.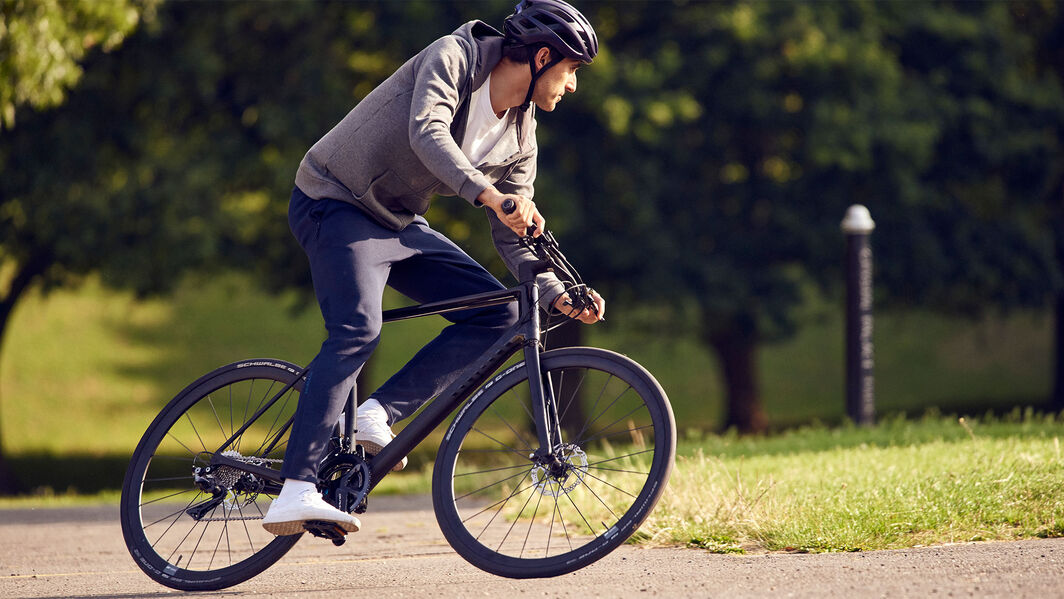 What are the differences?
Although the two bikes are similar in many ways, there are a few key differences between the Pathlite and Roadlite series.

The Pathlite offers a great ride and good handling on asphalt, but it really comes into its own on gravel and dirt roads. Thanks to its suspension fork and wider tires, it is suitable for almost any terrain and offers a comfortable, adaptable, versatile, and reliable ride.

But like any all-in-one solution, the Pathlite cannot match the absolute on-road performance of the Roadlite. Thanks to its lower weight, narrow tires, and improved aerodynamics, the Roadlite offers superior responsiveness, speed, and agility.
Geometry
The Pathlite features a more relaxed frame geometry than the Roadlite. A longer head tube enables a more comfortable riding position on the Pathlite, which is also why the top tube has more of a slope than the almost horizontal top tube on the Roadlite. This makes the Pathlite more forgiving, which is a real asset on off-road terrain. In comparison, the Roadlite is significantly more agile and responsive on the road.

Overall, trekking bikes like the Pathlite are geared more towards stability and comfort, with a higher ride than city bikes like the Roadlite. The higher bottom bracket provides added clearance for rough terrain, while the longer wheelbase gives a smoother ride.
Wheels & tires


The Pathlite's tires are at least 40 mm wide. Many riders consider this the perfect balance between on-road efficiency and off-road grip. Wider tires make the Pathlite a more comfortable ride with greater versatility compared to the Roadlite.

Many road bikes and performance-oriented hybrid bikes also tend to have somewhat wider tires these days. Thanks to the latest findings on rolling resistance, more and more riders are choosing 28 mm tires for their road bikes. The Roadlite's 30 mm tires show significantly lower rolling resistance and optimised on-road performance compared to the Pathlite. But they are no match for the off-road versatility of the Pathlite's tires.
What do the two bikes have in common?
Disc brakes as standard

Disc brakes have been firmly established as the right choice on MTBs for many years now. Both our Roadlite and Pathlite ranges have hydraulic disc brakes across the line, providing reliable braking power and control under all conditions.
Pathlite


The Pathlite is built for all outings that go beyond the pavement. It is fast on any kind of surface, which makes it the perfect bike for exploring gravel paths and easy trails as well as comfortable rides.

Its light aluminium frame is equipped with rugged, lightweight components and features low-maintenance integrated cables and comfortable long-range geometry. With its suspension fork, MTB drivetrain, and 40 mm tires for low rolling resistance on the road and enough grip on rougher terrain, this bike provides an excellent all-round experience.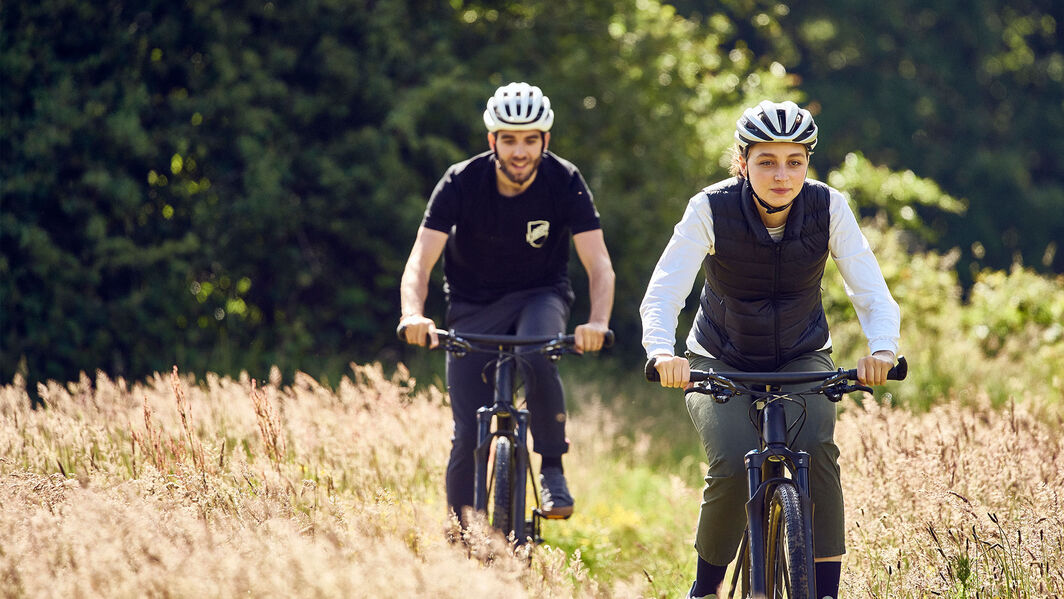 Roadlite


Race bike performance paired with the comfort and handling of a flat handlebar: The light-weight Roadlite with its minimalist frame design is the right bike for you if cycling is part of your workout routine or you simply enjoy taking relaxed rides or longer tours on the weekend.

The Roadlite is available with carbon or aluminium frame options: Both the CF models and the AL version offer tried-and-tested Canyon quality and award-winning designs.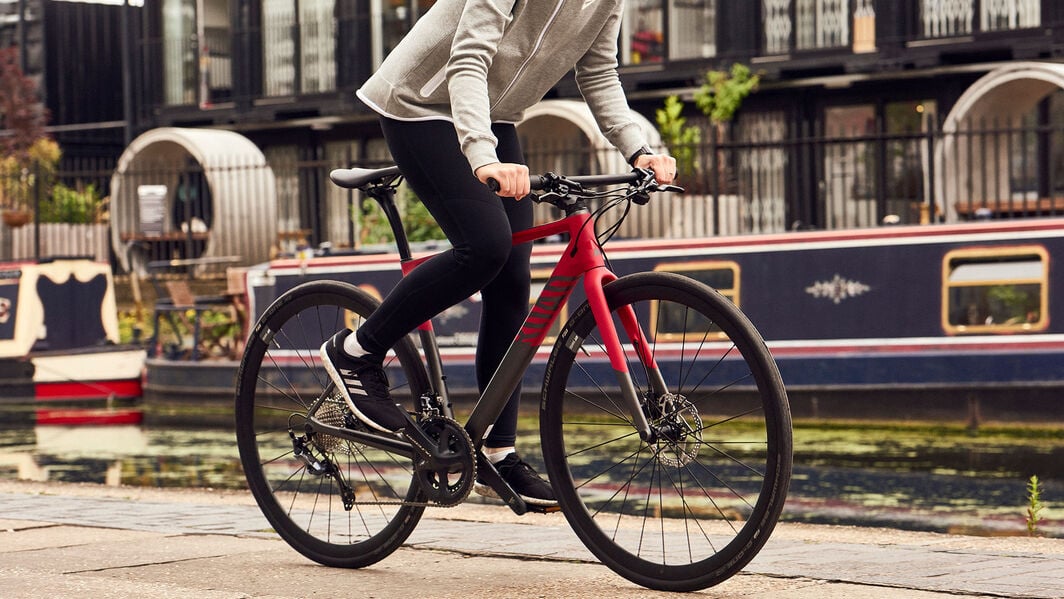 Which bike is the right one for me?


That depends primarily on your specific requirements – and on how much off-road riding you plan on doing.

The Roadlite can't go everywhere the versatile Pathlite will take you. Instead, it offers unmatched on-road performance, speed, and lightweight agility while being a lot more comfortable than a race bike.
Frequently asked questions
I live in the city and need an sporty bike that I can ride every day – which bike is a better match?

I want to stay in shape – or get in shape – and go on the occasional relaxed pleasure ride.

I commute to work on a regular basis, but also want to go on longer tours on the weekends.

Can I also ride the Roadlite on dirt roads?

I like going on extended tours, sometimes for several days. Which bike lets me add a rack?

Which bike has the more sporty geometry, and why?

I'm looking for a fast and agile bike that doesn't compromise practicality.

I'm looking for the perfect bike for back roads and bike paths.

Please log in to add to your wishlist

You have successfully opted out

There was an error, please try again later.